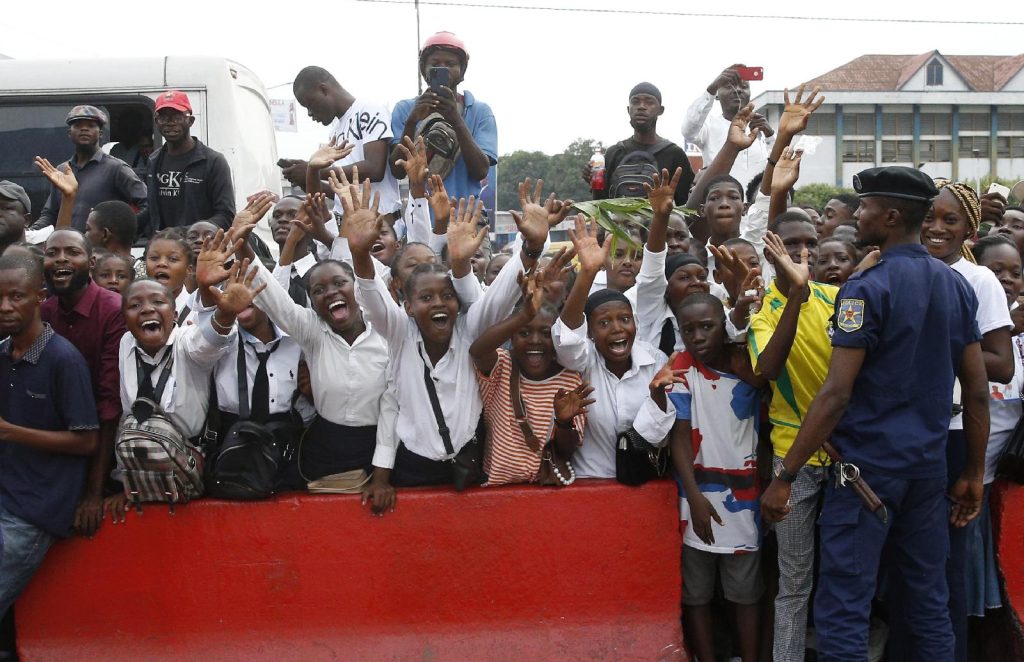 KINSHASA, Congo. After flying across the equator, Pope Francis was welcomed warmly – in every sense – to Congo where Catholics make up the majority of the population and where, for decades, the Catholic Church has been at the forefront of efforts to bring peace, education, and health care to the people.
With a small crowd cheering and a boy and girl offering him flowers, the pope arrived at the airport. But the real welcome came on the road leading into the city where thousands of people stood and cheered.
During the seven-hour flight from Rome to Kinshasa on Jan. 31, the pope told reporters he was happy finally to be able to make the trip, even though "I had wanted to go to Goma" in the east, "but with the war it was not possible."
Before leaving his residence at the Vatican, Pope Francis met with nine refugees from Congo and South Sudan, where he will travel Feb. 3. The refugees are assisted in Rome by the Jesuit Refugee Service's Centro Astalli.
About two hours into the flight, when the chartered plane was flying over the Sahara Desert, the pope led everyone on the plane in a moment of silent prayer for all those who, "seeking a bit of well-being, a bit of freedom," felt forced to try to cross the desert "but did not make it."
Too often, he said, they end up being thrown into "lagers," detention centers in Libya, "and suffer there. Let us pray for them."
Leaving Italy, the pope sent a telegram to Italian President Sergio Mattarella explaining that he was making the trip "moved by a deep desire to meet brothers and sisters in the faith and the inhabitants of those dear nations, bringing a message of peace and reconciliation."
In addition to cardinals from the Secretariat of State, the Dicastery for Evangelization, and the Dicastery for Promoting Christian Unity, Pope Francis included in his official entourage Congolese Sister Rita Mboshu Kongo, a theologian and member of the Daughters of Mary Most Holy.
The pope has referred to Sister Mboshu Kongo as the "bishop" of the Congolese community in Rome "because the mission of a bishop is to serve" and that is what she does.
A bishop's role, she told Vatican News on the eve of the trip, "is not to command and give orders, but to say to the others, 'Let's get up and walk together.'"
She said she thought the pope invited her to join the entourage for some on-the-job training, as if to say, "'Look, daughter, at how I act, and you must do the same with your brothers and your sisters.' I have so much to learn."
"For us, Pope Francis is an untiring missionary, a card-carrying evangelizer who is visiting our country to pray with and for the Congolese," she said. "He is like a father who has heard the screams and cries of his children and says, 'Don't give up. Continue. God is with you.'"
The wounds of Congo and its people are deep, she said. "There are criminals who continue to slaughter the innocent without pity. There are people without scruples who want to grab strategic minerals."
"The pope is going to denounce and announce," Sister Mboshu Kongo said. "He will denounce the evil so that those who foment war will renounce their diabolical ways, and he will proclaim Jesus Christ, light of the world."