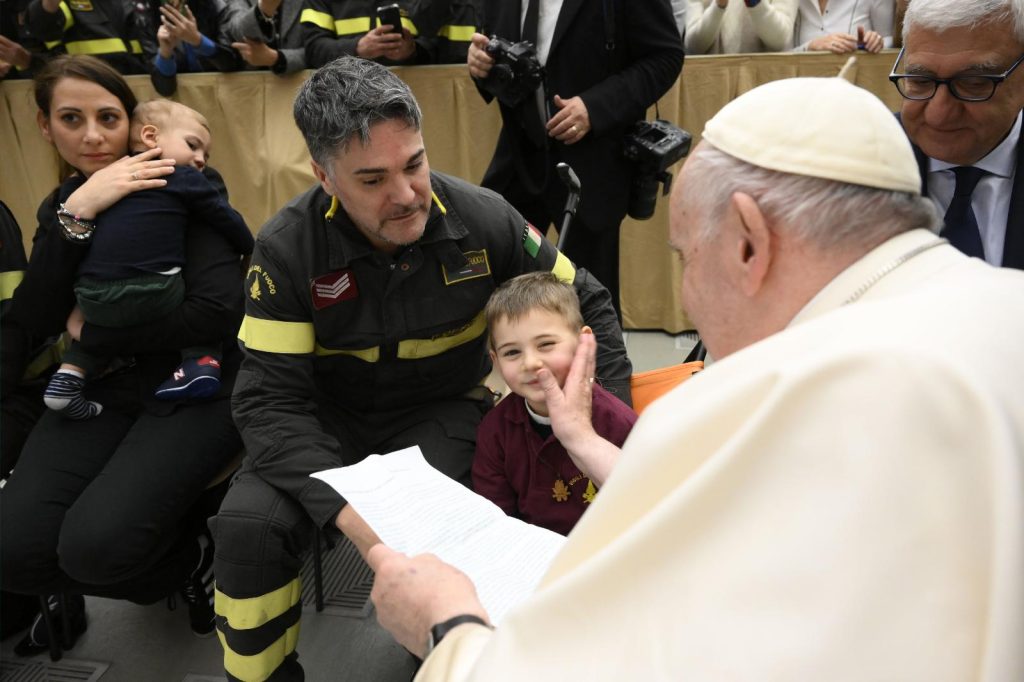 VATICAN CITY. Pope Francis offered a little prayer for firefighters: "Lord, let them not have work."
Meeting hundreds of Italian firefighters and their family members Dec. 10, the pope praised them as true good Samaritans, always ready to save others from calamity.
"Your sense of dedication — and this is decisive, you have so much of it — promptness, selflessness, courage and willingness to sacrifice even to the point of risking your own lives are well known and people are rightly proud of it," the pope told them.
Service to others, both in emergencies and in the work of education and prevention, is an essential part of building a healthy society, he said, and is a value that must be cultivated on and off the job.
With Christmas approaching, Pope Francis urged the men and women to think of how they should embody the virtues Jesus displayed: "closeness, compassion, tenderness; solidarity, service and brotherhood."
Born in a stable, "God came to save us by being like us," the pope said. "He did what you do: he came to rescue us when we were in danger, to save us, and he did it in the most radical way, knowing that he had to give his life to save us."
Pope Francis prayed that "the Virgin Mary, who went in haste to her cousin Elizabeth to help her — and you always go in haste when you are needed, don't you? — may she be your model."