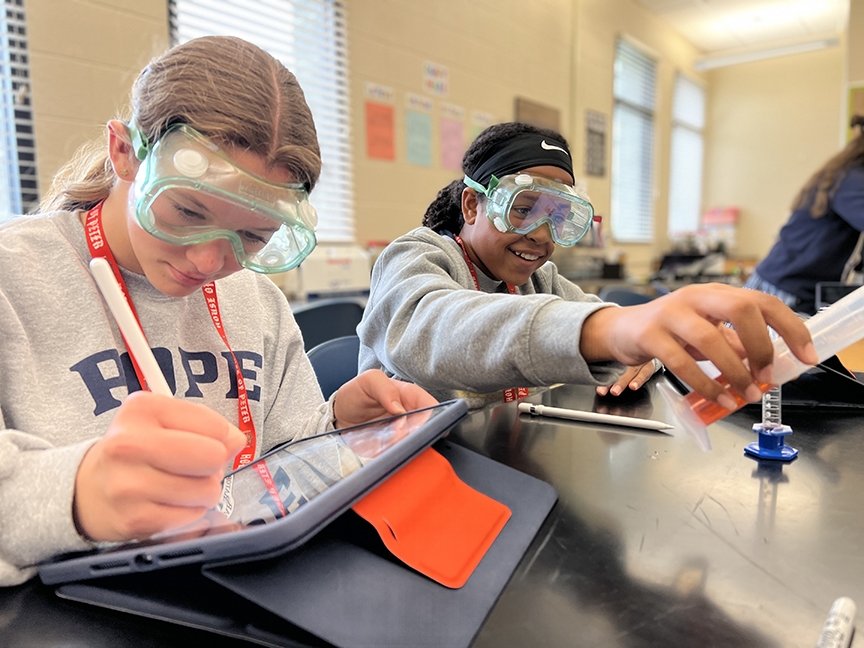 Pope John Paul II Preparatory School has been named an Apple Distinguished School for 2022–2025, recognizing its innovative implementation of a 1:1 iPad program, allowing teachers and students to engage in collaborative learning, access cutting-edge educational resources, and create original, meaningful, and professional digital products in each of their subject areas.
Apple Distinguished Schools are centers of innovation, leadership, and educational excellence. They use Apple technology to create an academic environment that inspires creativity, collaboration, and critical thinking and have documented results of academic accomplishment.
"Student learning is enhanced through the creative and collaborative power of technology," said Pope Prep Dean of Faculty and Instruction Jennifer Dye. "Technology resources support the needs of students and teachers, including a state-of-the-art maker space, computer lab, and robotics facility, which empower them to innovate and apply their understanding.
"Through the power of technology, we push boundaries through our willingness to explore," Dye said.
The selection of Pope Prep as an Apple Distinguished School highlights the school's success as an educational innovator by providing a stimulating learning environment that engages students and provides tangible evidence of academic achievement.
"The use of technology within our school touches everything our students do," Dye said. "Our science and math teachers can design authentic problems utilizing iPad for data collection and modeling, underpinning the conceptualization of big data.
"In language arts and social studies courses, students use technology to engage collaboratively and to produce high-quality presentations that synthesize content," she added. "Our visual arts and marketing program engages students in developing creative content through photography, videography, editing and graphic design. World language and performing arts students utilize audio and video production tools to share and demonstrate their proficiency.
"We hope to continue providing meaningful professional development for our faculty and increase community engagement through our collaboration with other professionals in the Apple Distinguished School program in the future," said Dye.To learn more about Pope Prep's Apple Distinguished School designation, visit https://www.popeprep.org/academics/technology/apple-distinguished-school.