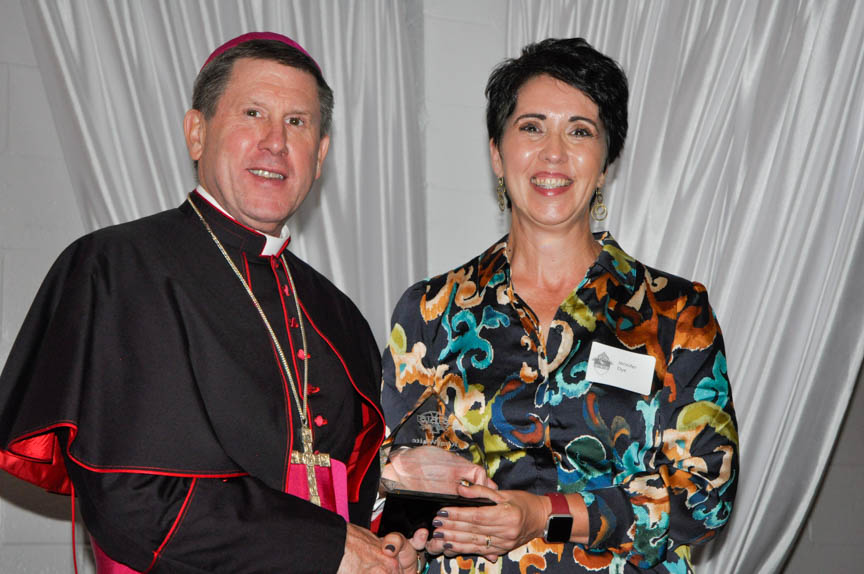 Bringing the Haiti 180 Mission Program to Pope John Paul II Preparatory School in Hendersonville, sewing and distributing hundreds of masks to frontline workers at the start of the COVID-19 pandemic, and just her general compassion toward students are the reasons why Jennifer Dye, dean of faculty and instruction at Pope Prep, was chosen as the 2022 Christ the Teacher Award winner during the seventh annual Advancement in Catholic Education Awards Event on Thursday, Sept. 15, at the Catholic Pastoral Center.
"I am completely humbled," Dye said about receiving the award. "When I think of the greatest teacher of all, that is Christ. He is the example I strive to be like daily, however, I know that I will never come close to his example."
The Christ the Teacher Award is presented each year to a teacher who has taught in one of the 16 diocesan schools for more than eight years and "exhibits outstanding leadership, dedication, and commitment to Catholic education, and designs or implements a program that serves not only the school but the community. This person is Christ-like," said Dr. Rebecca Hammel, superintendent of schools, during the award presentation.
"(Dye) is described as a convincing example of what it means to be 'Christ the Teacher' to students in her school and across the diocese," Dr. Hammel added. "She exercises compassion and sensitivity to others' needs when leading projects and initiatives and, even in frustrating times, exercises the patience and calm acceptance that reflects the prominence of faith in her life."
Dye is in her 21st year at Pope Prep and is one of the founding members of the faculty who helped open the school in 2002. For her first 15 years, she served as chairperson and teacher in the Science Department before moving on to serve as the director of the Innovation and Entrepreneurship Program for the next seven years before taking on her newest position this school year.
"Dye's contributions to the Pope Prep community are extensive. She is credited for developing the science curriculum in partnership with the math program, pioneering science modeling pedagogy within her department, and most recently, developing the innovation and entrepreneurship program," according to a press release released by the school on Sept. 16. "Dye led the accreditation process that resulted in earning the STEM designation for Pope Prep. She spearheaded the effort to implement the 1:1 iPad program and to enhance the meaningful use of technology through the Apple Teacher program, including submitting an extensive application for Pope Prep as they work toward becoming an Apple Distinguished School.
"Dye has had a tremendous influence on her students' success throughout her 21 years at Pope Prep," the release continued. "With an emphasis on using science and innovation to serve others, Dye has created opportunities for her students to use their research to influence global change."
Seeing students find their success is what Dye loves most as she reflected on her years of teaching.
"I truly believe that every student can succeed," Dye said. "The path to success may be different, but if they are willing to do the work and seek support, they can all succeed.
"The joy of seeing students do hard things is incredible," Dye said. "I began my career as a science teacher and often students would walk in believing that they would never do well. What they needed was to find small success each day to build confidence in themselves, and I had to believe in them when they didn't. They learned the value of being able to do hard things, asking for help when they needed it and developing new skills.
"What makes this so much easier is that I teach in a Catholic school," she added. "We can talk about the beauty of what we are studying and see it not as something that is known, and we must learn but as a true exploration of God's truth and his creation.
"It also allowed us to find strength in our faith and our community when things were challenging and allowed us to celebrate when things were good," Dye said. "I never felt able to truly meet my students where they are when I taught in a public school" prior to coming to Pope Prep.
Teaching her students in the classroom is not all Dye has done. She has also taught them through her example in the community. First, in 2017, after she met Sean Forrest, who runs the Haiti 180 Mission Program, which serves the poor in the Caribbean country's rural communities.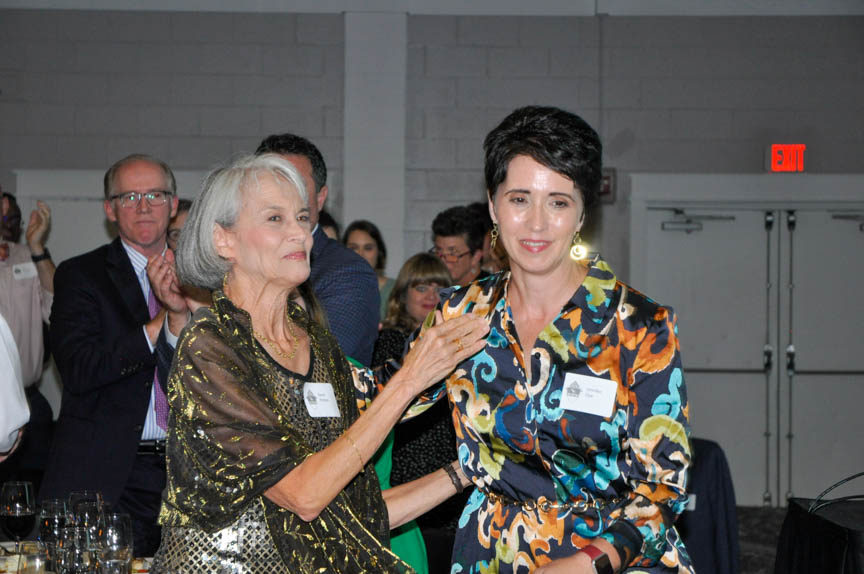 Haiti 180 "began as an orphanage but now also includes an elderly home, a school and a medical clinic. In the summer of 2017, my daughter, who was a freshman at Pope Prep, asked why we didn't have an international mission partnership. She met with the priest and our head of school, and we began praying for an opportunity to help others," Dye explained. "That same summer, Sean and his family moved to Tennessee and joined the Pope Prep community. He shared what he did and asked if the school would be interested in taking a trip to his mission. It was truly divine timing.
"After the first trip (in the spring of 2018), I returned feeling like we needed to do more than just a yearly trip, so I started our Social Entrepreneurship (Haiti Love) class where we work to design solutions to challenges the people face in Haiti. The beauty is that we are using the design thinking cycle and doing academically challenging work all while supporting our friends in Haiti," she continued.
"Students have designed stoves that prevent burns and lower wood consumption and pollution; shoes made from plastic waste that is abundant in Haiti; developed sustainable agriculture practices; and provided training and supplies for preventing simple medical problems such as infections from cuts and burns," Dye said. "When we are able to travel, we take the projects down and implement them in rural villages."
Dye set yet another example for students when the COVID-19 pandemic hit, sewing masks for healthcare and frontline workers. Together, she and her family made close to 300 masks, and it eventually grew to nearly 600 masks once the community joined in the effort.
"The challenge for many during the pandemic was the feeling of not being able to serve and help. For me and my family, it was important to find ways to continue to serve and support, so making masks seemed like a great solution," Dye said. "After talking with a friend in healthcare, we found a way to use the drapes used in surgery to make masks that were close to the same level of the N95 masks that were in such demand. We retrieved the material from a local hospital and then provided the masks for their use.
"We also made other masks out of cloth that were given to first responders, healthcare workers in assisted living communities and others at risk," she added.
But through all her good work and the example she's shown her students, she said, she hopes more than anything that "my students have left knowing that God is love."
"I hope they have experienced it while studying biology and seeing the beauty, while serving the people in Haiti and using their limitless skills in innovation and creation of products for others," Dye said. "My hope is they take not only their intellect with them into their community, but also their faith. It is so powerful for others to see that both intellect and faith may exist together."