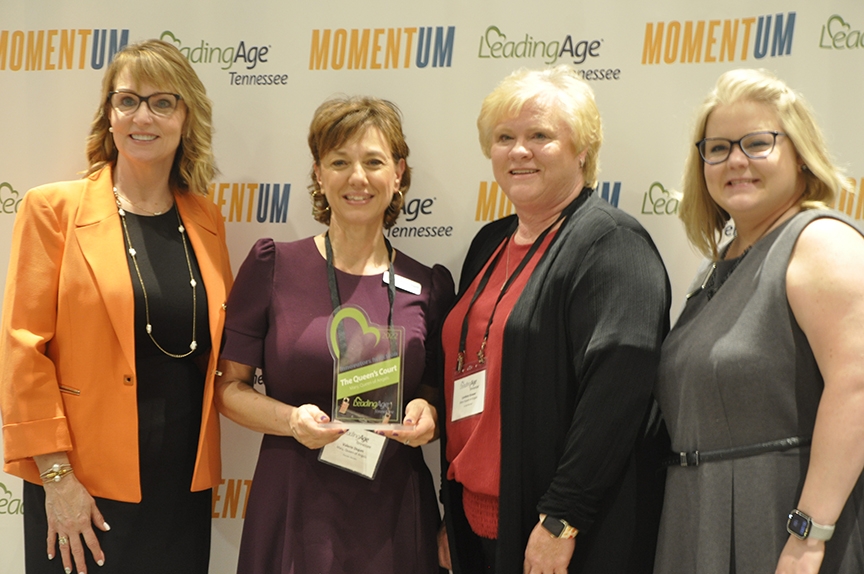 For the last two years, Mary, Queen of Angels Assisted Living has been celebrating those residents who have been living at the facility for five years or more by inducting them into the Queen's Court, and pampering them with a five-course meal, a certificate of appreciation, name badge and a toast.
At the most recent celebration, which recognized 15 residents ranging from five years at the facility to 11, first-time participant Joan Hoffsomer, said, "I'm sure glad I didn't kick the bucket before this party. It is one to remember."
Hoffsomer's words and the sentiment behind the program is what led to Queen's Court being recognized by LeadingAge Tennessee as one of three recipients of the 2022 Innovators in Action Award during the 2022 LeadingAge Tennessee Annual Conference and Trade Show Sept. 13-14 at Franklin Marriott Cool Springs in Franklin.
"LeadingAge Tennessee is a statewide membership organization of mission-driven providers of housing, health care and supportive services for older adults in Tennessee and the champion for advancement and innovation in aging services," according to the official website. "Our drive is to expand the world of possibilities for aging."
The Innovators in Action Award recognizes individuals working in these facilities who have found innovative solutions to ensure quality care to its residents.
According to the nomination write-up for Queen's Court, "Our residents are more than a census number. They truly are our family, and family celebrates milestones. Queen's Court is a coveted milestone. … We celebrate their longevity, successful quality of care and share experiences from over the years. … Queen's Court is an innovative approach to provide a positive influence on the community culture, recognize our residents and encourage those that know our community to be ambassadors for new residents."
Lyndsey Gower, Mary, Queen of Angels executive director, and Valerie Degati, Mary, Queen of Angels customer relations director, accepted the award on behalf of the facility.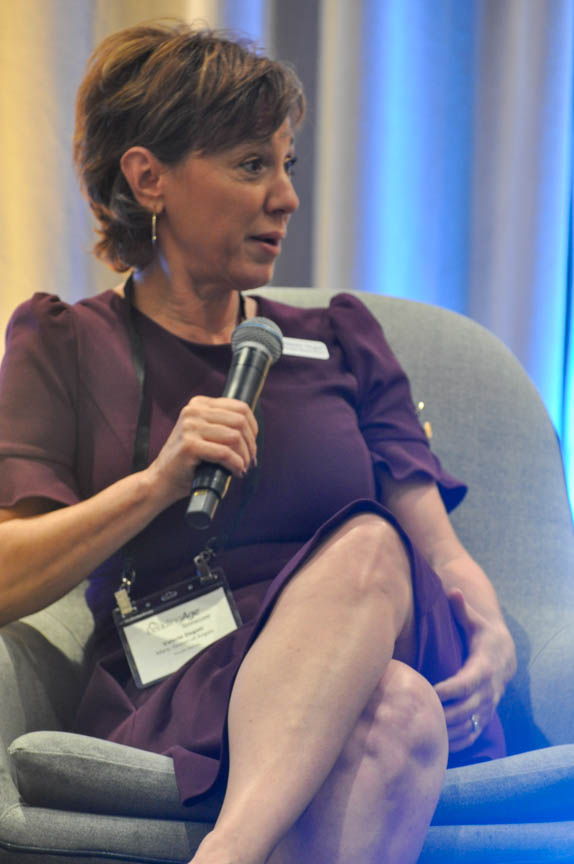 "It's an honor to be recognized by LeadingAge Tennessee for a program that focuses on resident quality of care," Gower said. "Residents living within a community for five plus years shows a commitment from the organization for quality care and service. Our mission to provide quality care has made this program successful. Residents look forward to reaching this milestone and having the opportunity to celebrate success with our Mary, Queen of Angels family."
Part of what makes the celebration so special is the number of years residents have lived at the facility, added Degati.
"On a national average, the average length of stay at an assisted living facility is about two years. It is amazing that we have residents exceeding that average," Degati said. "I like to think we have something to do with improving this average and extending their stay by providing quality care, and showering our residents with love, respect and hope everyday .
"Seniors have many choices when it comes to choosing an assisted living facility, so it's worth asking, 'what are we going to do every day to make it better for them?' It is about looking within ourselves to figure out how they should be treated … and what are we going to do to spark their interests?" she continued. "It is their home. We're guests in their home, so if we lead that way, the outcomes are positive. I really feel like the residents are the innovators. They still have a lot to offer and it's our job to help them do that."
Richard Borofski, chief executive officer of Villa Maria Manor and Mary, Queen of Angels, said he was proud of Gower and Degati.
"I'm very proud of what they have developed in fulfilling the mission of Mary, Queen of Angels," he said. "It's an honor to have them as part of the team."