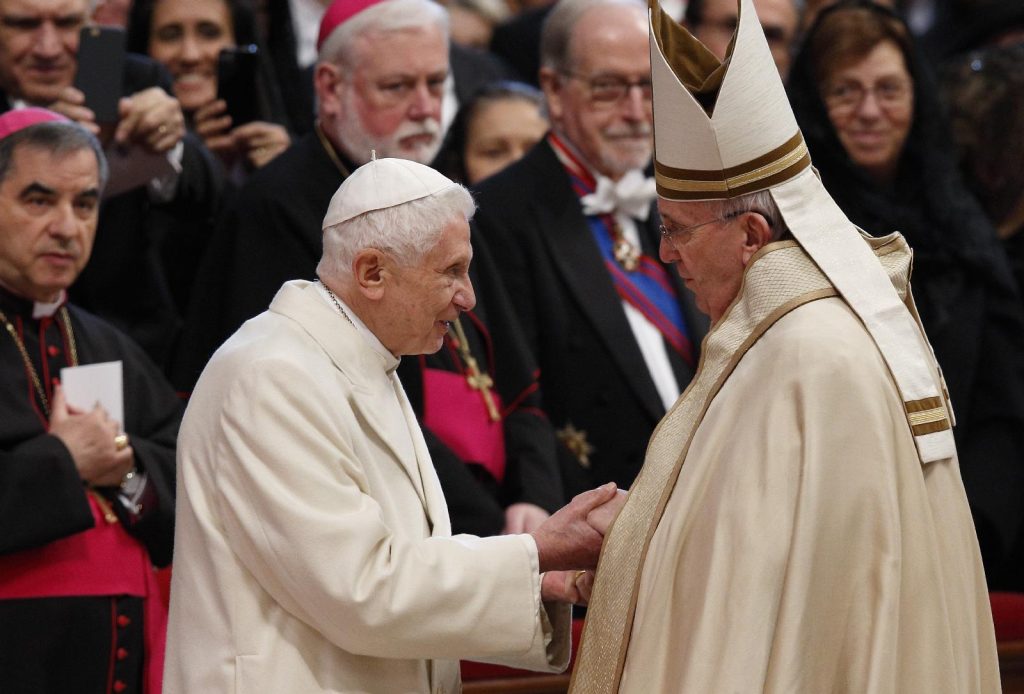 VATICAN CITY. Pope Benedict XVI was a "great teacher of catechesis" whose "sharp and gentle thinking" led others to encounter Jesus, Pope Francis said.
To begin his Jan. 4 general audience, the pope asked pilgrims to join the tens of thousands of people gathered in Rome to pay their respects to Pope Benedict, who died Dec. 31 at the age of 95.
As of midday Jan. 4, the Vatican said, some 160,000 people had visited St. Peter's Basilica where the late pope's body had been lying in repose since the morning of Jan. 2.
At the audience, Pope Francis noted that his predecessor's teachings were not "self-referential, but ecclesial, because he always wanted to accompany us to an encounter with Jesus."
The living and resurrected Christ "was the goal to which Pope Benedict led us, taking us by the hand," the pope said. "May he help us to rediscover in Christ the joy of believing and the hope of living."
Pope Benedict had held 347 weekly general audiences during his nearly eight-year pontificate. In his first talks he had continued a weekly catechesis series on the Psalms begun by his predecessor, St. John Paul II.
The first theme he chose to focus on was the role of the apostles in establishing the Church. Then, each week from 2007 to 2011, Pope Benedict discussed the lives of various saints moving from the early Church fathers and theologians of the Middle Ages to great women in the life of the Church.
In 2011, he turned his attention to different ways of engaging with Christian prayer, before beginning his final catechesis series on faith, which coincided with the Year of Faith in 2012-2013 to mark the 50th anniversary of the opening of the Second Vatican Council.
Pope Francis praised the teaching legacy of his predecessor as he finished his own catechesis series on discernment, which he began in August.
As the pope concluded the audience, a man shouted, "Benedetto, santo subito!" ("Benedict, sainthood now!").
Pope Francis was scheduled to preside over his predecessor's funeral Mass Jan. 5 in St. Peter's Square.