Mary McWilliams
Ongoing prayer and fasting has led a Pope John Paul II High School alumna to a career as an entrepreneur, starting and building a business with the socially conscious component that gives Nashville's homeless women a foundation for self-sustaining, independent lives. 
"I'm not naïve about receiving something I'm unqualified to do," said Alexis Cook, formerly of Gallatin and a 2013 graduate of JPII. "I've had the privilege of looking back over times when I've gotten answers and I know God is near."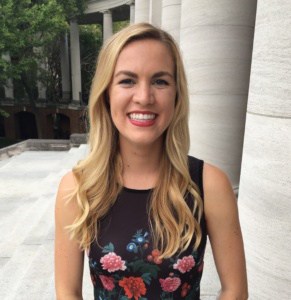 Cook is co-founder, with Corbin Hooker, of Unlocked, an East Nashville jewelry manufacturing company that utilizes recycled silver and hires homeless women that they train to make the jewelry.
They started the business in 2017 while still students at Vanderbilt University where Cook earned her bachelor's degree in human organizational development with a minor in economics. Their goal was not only to make money, but to work with the homeless to get them into a long-term lifestyle of having their own home and skilled, permanent work.
Prayer had always been an important part of Cook's life, but not until she was faced with a major crossroad about her future did she know how much she would begin to rely on prayer to gain clarity.
When Cook was in her junior year at JPII, she was certain that she'd become a military pilot like her Navy father. She'd already been accepted into Air Force ROTC, which would pay for college and she had her father's full backing for the career path.
Her mother, one day, heard a radio commercial about the Kivu Gap Year, a non-profit, non-denominational program in which young adults spend a year between high school and college taking on five internships in five different countries. Alexis was intrigued and researched the program, which now is defunct.
The new option proved to bring a difficult struggle into her life. The ROTC was a sure thing and her father was opposed to the gap year, concerned that she would lose out on the military opportunity. "You can't defer ROTC," Alexis explained.
Upset that she would be disappointing her father, missing out her previously chosen military career, and also a chance to learn in exciting new ways, she took the problem to the Lord, praying regularly about it. She calls this the "hardest time of my childhood years" possibly going against her father's wishes.
"The more I prayed, the more convinced I was to go into the gap year program," she said.
Together, at one point, she and her mother, who Cook said just wanted her to make the right decision, spent a day praying in her room.
"After that," Cook recalled, "I was convinced God was directing me to the gap year program."
Her father was still not convinced, however, and told her that since ROTC was out, she'd have to find another way to pay for college. By that time, he was working with a private equity firm and traveling frequently for business. A business trip was canceled at the last minute, stranding him in Denver until he could land another flight. Coincidentally, the founders of the program were based in Denver and Cook decided to pay a visit to them on behalf of his daughter.
"He had every intention of going there to tell them to stop calling me," Alex Cook said. Instead, he learned about the program, she said, "and fell in love with it." He said he called her in tears and gave her his blessing.
Cook was always interested in theology and recalls staying after school while at JPII to talk with teachers about the Eucharist, Transubstantiation, and other Catholic doctrine and dogma. It wasn't until that year between high school and college, while in Denver during the first of five internships, that she began a regular life of prayer and fasting, to gain clarity.
"I think fasting is something that isn't done enough in Western Christianity," Cook said. "The Bible spends a lot of time talking about fasting; they were just expected to do it."
Being an active person, Cook explained that fasting for her in the beginning made her lethargic and forced her to rest and concentrate more on prayer, and during that year, she once again prayed for clarity about her future.
Cook still had to apply to colleges and figure out a way to pay for it. She expected to just reapply for ROTC, but the more she prayed she began to realize that the Air Force wasn't for her.
Instead, the education she received that year, serving as a Spanish speaking interpreter for domestically abused women, working at an orphanage in Haiti, interviewing coffee farmers in Rwanda, meeting with Philippine village leaders on efforts to improve the lives of the locals, and modeling fashions during an international conference in Jordan, featuring women chief executive officers, exposed her to effective and ineffective ways non-profits are managed, running a business both for profit and serving the community.
While in Rwanda, where she was inspired to study economics, she learned she was a finalist for the Ingram Scholarship at Vanderbilt. She conducted the Skype interview on a dirt road, wearing her "best" t-shirt. Shortly thereafter, she learned she'd been accepted.
She embarked on her college career back in Nashville and prior to beginning her junior year, was stricken with Lyme disease, forcing her to take a leave from school to undergo treatment.
As she explains on the company website, becomeunlocked.com, she began walking around Nashville, getting to know the homeless. Before the diagnosis, however, she said she felt the Lord telling her to become "more intentional" regarding her work with the group.
There was also the time that she was locked out of her car, and while waiting for her mother to arrive with a spare key, she was reunited with her friend, Corbin Hooker, who she hadn't seen since freshmen year. They started catching up and began their partnership.
"We basically wrote the business plan that night," Cook recalled. With a business concept in place, she once again began praying for clarity for a business name when she received a call from her friend Ray, a Cuban immigrant who previously had been homeless and wanted to see her.
During their visit, Ray told her he was dying and that he had a duffel bag containing money in a storage unit. He wanted her to have it. Finding the duffle bag was the inspiration for the company name.
"We unlocked Ray's storage unit," Cook said. The duffle bag was filled with money, about $2,000 for seed money to begin the business. But she said that they only took half. The other half she gave to Ray's best friend, Chuck. Chuck, who also had been homeless, used the money to further his education and is now working as a medical assistant.
With Hooker as her business partner, they balance each other out. He designs the rings and focuses on the technical part of the business, while she concentrates on personnel and partnerships.
The partnership that they began with Community Care Fellowship at the start of their business has helped them form Unlocked Pathways, which helps women move into housing after being hired but before they start work, creating stability to help contribute to employment success. It also allows the women to tap into career counseling, other job opportunities and training so that their employment with Unlocked is temporary and a professional stepping stone in their lives.
Cook is working on adding partnerships to their plan and said that Catholic Charities of Tennessee is beginning to send applications for prospective employees their way.
The success of Unlocked landed Cook and Hooker on a list of "37 Social Entrepreneurs to Watch For in 2020," sponsored by Causeartist, which promotes social entrepreneurs.
Cook continues to pray and fast.
"I try to spend a lot of time asking God what to do," she said.
To learn more about Unlocked, go to Becomeunclocked.com or follow them on Facebook and Instagram.