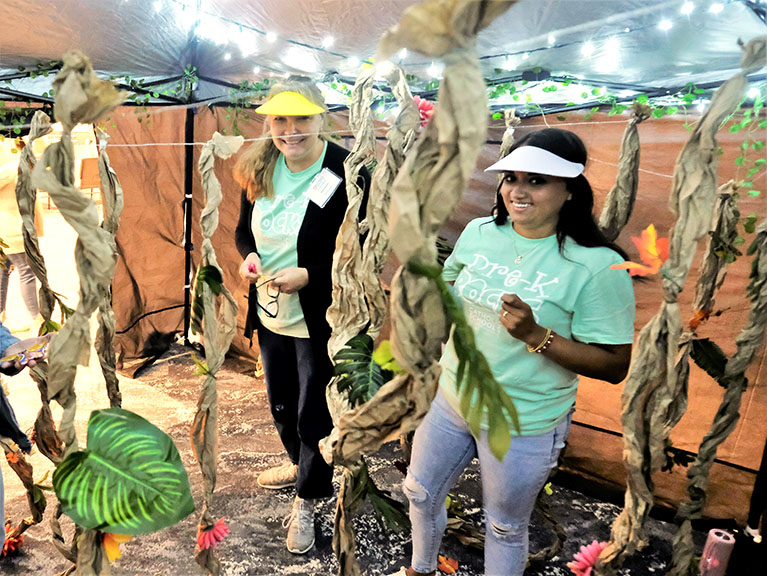 Dozens of pre-kindergarten teachers from throughout the Diocese of Nashville Catholic schools gathered at the Catholic Pastoral Center for three days of professional development and unity July 19-21 during the fourth annual Pre-K Rocks Symposium.
"The pre-kindergarten program has grown unbelievably over the last 15 to 20 years in the diocese, and the teachers have not been able to get together as much as we would like to collaborate and to build community," explained Ginger DuBose, who has taught pre-kindergarten at St. Joseph School in Madison for the last 20 years. "Everybody has been starting their pre-kindergarten programs with different ideas and different visions, but once we started Pre-K Rocks, we were able to unify that vision more."
The Pre-K Rocks program began four years ago, and every year is a collaboration of the diocesan Catholic Schools Office employees and a few representatives from the schools.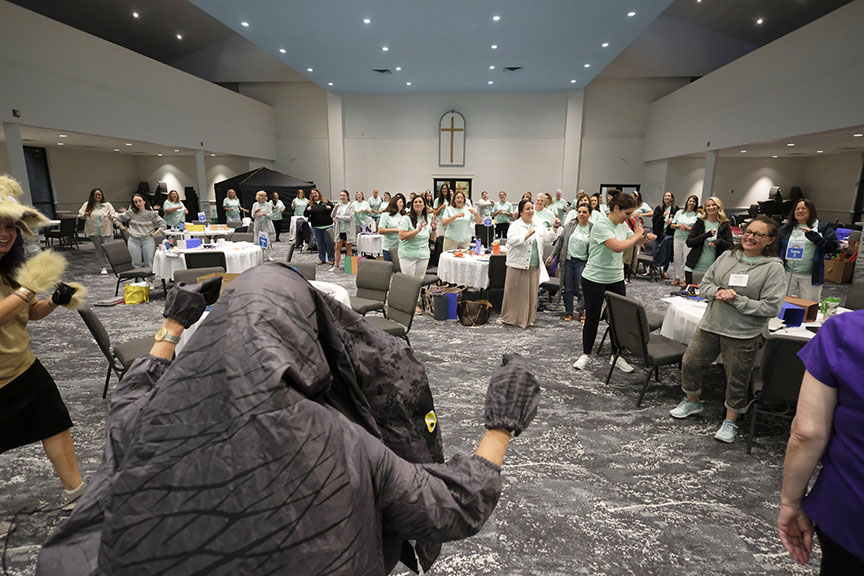 DuBose was one of the representing pre-kindergarten teachers for this year's symposium along with Kelly Wolfe, director of admissions, enrollment, and grant management at St. Edward School; Jamie Grigsby, pre-kindergarten 4 teacher and pre-kindergarten director at St. Ann School; and Janice Czernoczky, pre-kindergarten teacher at St. Rose of Lima School in Murfreesboro.
The three-day symposium gave the teachers the chance to fulfill 18 of their annual 30 professional development hours required by the Department of Education by bringing in various speakers, but also allowed them to talk and bounce ideas off each other and build a community of support.
"Pre-K Rocks has morphed into so much more than just professional development," DuBose said. "It's the value of being with the other teachers and discussing how you do things and sharing ideas.
"We're unifying, so we're not schools in isolation operating," she said. "It carries on throughout the year. We help each other, and that has made the program grow as a whole throughout the diocese."
Pre-K Rocks has proved to be an opportunity beneficial for veteran teachers, and first-year teachers alike.
"The speakers are always very engaging, and they give us lots of good ideas to take back to the classroom," said Staci Barnett, who has taught pre-kindergarten at Sacred Heart School in Loretto for the last 19 years and attended Pre-K Rocks for the fourth year. "Having all the teachers together is a great thing, because we can ask each other questions, make plans for the upcoming school year, and discuss classroom ideas with each other.
"I love my pre-k students. Every day is different, they're cute, and they love you," she added, as she reflected on why she wanted to teach pre-kindergarten. "With this age and for many of them, it's the first time they've ever been to a school. I want pre-k to be a wonderful and exciting experience for them."
Emma Terry, who will begin her first year as a pre-kindergarten 4 teacher at St. Edward this year after two years as an instructional aide, said the benefits of the symposium were great.
"I had heard such great things from (Wolfe) about Pre-K Rocks, and, for me, I think had I attended as an aide I would've certainly benefited from it, but waiting until now puts me in a different mindset for that new specific leadership role," Terry said. "There have been topics that we've discussed over the course of this symposium that I've witnessed in the classroom before, but I haven't had much professional development to back that up, so to be able to see that and know these things going into my first year as a lead teacher will be super helpful."
Through the symposium, "I have seen that the pre-kindergarten teachers in the diocese really are a family," she added. "They check in with each other, they want to support each other, and it's just such a warm and nurturing environment, and it's certainly putting my mind at ease going into this school year."
Featured sessions throughout the symposium included the "A-Z of Reading," "Educational Adventure Time," the "Impact of Sensory Processing Disorder on Early Childhood Development," "Teaching Self-Regulation in an Early Childhood Classroom," and more. It all ended with Mass, celebrated by Father John Hammond, vicar general and judicial vicar for the diocese and pastor of St. Patrick Church in South Nashville.
Noting that Friday, July 21, was the feast of St. Lawrence of Brindisi, a doctor of the Church, he said, "Our faith takes so seriously how important it is to think clearly, to know the world, to know the things of the world, to be able to express ourselves well," Father Hammond said. "These are the things you inculcate in the young people that you teach, and you know even better than I do that it is never too early to start teaching young people how to think, how to think clearly, how to think in specifics, how to understand the world.
"So, I want to thank you on my own behalf, on behalf of our bishop, on behalf of all of us who work in the Church," he said. "Your work could not be more important. … We pray that God will give you the grace to do your work well with joy and with a loving heart."