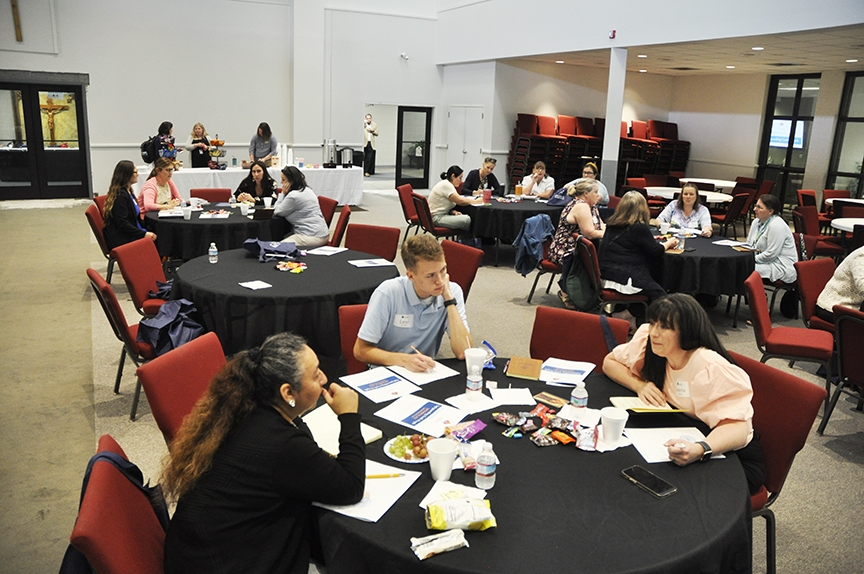 Dozens of priests, directors of religious education and youth leaders from around the diocese gathered for the Diocese of Nashville's Safe Environment Conference: Safeguarding God's People on Tuesday, Sept. 20, at the Catholic Pastoral Center.
"We have used our written policies and a variety of training programs to share information about our safe environment programs for many years, but with the support of Bishop (J. Mark) Spalding, the Diocesan Review Board, and the Diocesan Safe Environment Committee, we organized the conference to bring even more resources to enhance safe environments in our parishes," said Julie Perrey, vice chancellor and chief mission integration officer for the diocese. "It was our goal that our attendees left with a better understanding and awareness of how to provide a safe environment for our youth, not only at church or school, but through technology."
All periodic audits mandated by the Charter for the Protection of Children and Young People have found the Diocese of Nashville to be in full compliance with the terms of the charter since it was adopted by the U.S. Conference of Catholic Bishops in 2002. The diocese instituted steps similar to many of those established by the charter to create safe environments many years before it was adopted.
Phillip Baker, youth ministry coordinator at Our Lady of the Lake Church in Hendersonville, said his pastor, Father Austin Gilstrap, encouraged him to attend the conference, noting it as an important topic to discuss in his ministry.
"Having a robust safe environment policy enables us to minister well to God's people by knowing where the boundaries are and setting those, which, when comfortable in those boundaries, allows us more freedom in ministry," Baker said.
The day began with Mass celebrated by Bishop Spalding in the Sagrado Corazon Chapel.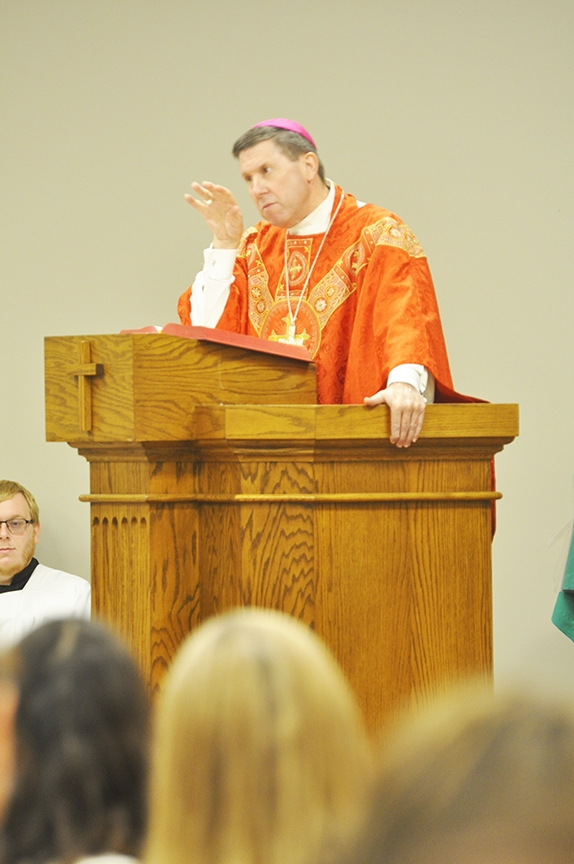 "It was beautiful to start my day with you," Bishop Spalding said in his welcoming remarks at the start of the conference. "Your presence there in Mass was a gift to me. The gift of your time and effort and all that you do throughout this day, I appreciate as well. The gift of time is a precious gift because once given, it can't be taken back.
"It's important throughout the diocese that we have occasions like this and that others know about them," he continued. "Once you understand this information, you're going to become missionaries for our safe environment mentality. As you learn, you help others learn about what we want in our diocese, especially for the protection of the children and young people."
Bishop Spalding said he wants to flip the mentality of safe environment training from a topic of fear and anxiousness to an act of love.
"Let's see it in a whole different light, a whole different motivation," he said. "Then, all the other things will fall into place."
The agenda of the day included three keynote speakers and options for a morning and afternoon breakout session, with everything focusing on a different topic.
The first keynote address, presented by Molly Fara, Associate Director for the Secretariat of Child and Youth Protection for the U.S. Conference of Catholic Bishops, focused on what safe environment means and the impact of the bishops' 2002 document "Charter for the Protection of Children and Young People" on the U.S. Church.
Fara said the document cites five key principles to follow when a case of abuse is reported. They include responding promptly to all allegations, removing those credibly accused from ministry, complying with civil law and cooperating with civil authorities, victim outreach, and dealing openly with members of the community.
The mission of the Church is a "Promise to Protect, Pledge to Heal," Fara said. "Programs like this today are going to help us get there."
And a key initiative is to make sure an environment is created where victims feel safe to come forward without fear of retribution.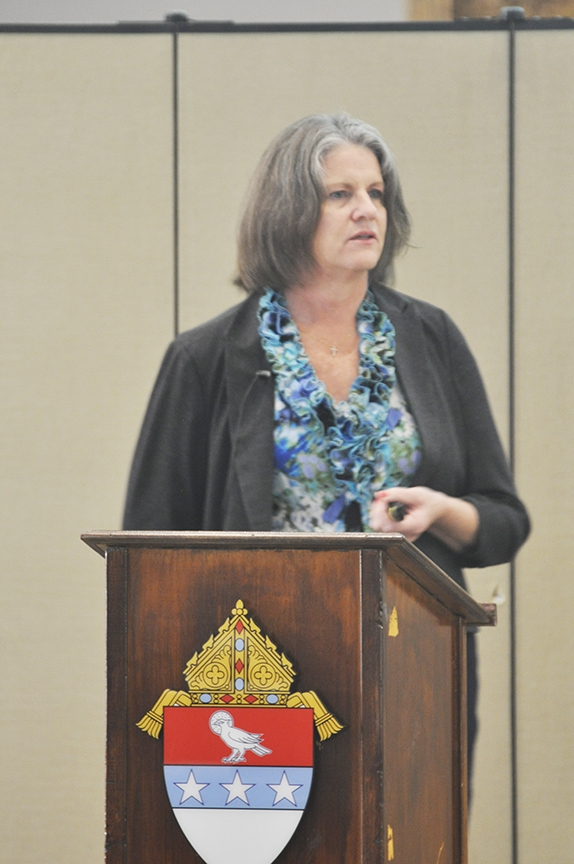 "Do what you can to take care of the victims," Fara said. "We need to stay vigilant."
The second keynote address of the day was given by Rob Burghardt, Assistant Special Agent in Charge of Internet Crimes Against Children with the Tennessee Bureau of Investigation. During his presentation, Burghardt, who is a parishioner of Our Lady of the Lake, spoke with attendees about how to protect children from virtual predators.
After walking attendees through what his unit does on a day-to-day basis and how they respond to various cases, Burghardt explained how online predators will use various tricks to lure their victims. One such tactic is enticement and grooming where they'll figure out what the child likes, start having conversations about that topic to earn their trust. They'll also use those interests as leverage by saying, if you do "x," I'll give you "y," he explained.
Then, upon providing a few more examples and sharing two case studies that involved the apprehension of some of these very predators, Burghardt offered tips on how to avoid these situations in children's lives.
This includes setting ground rules for internet use in the home, using safe searches on the internet and, most importantly, "talk with your children about internet safety," he said. "Have an open conversation. Let them feel comfortable to come to you."
Michael Smith, director of Faith Formation at Our Lady of the Lake, said Burghardt's presentation was "eye opening".
"It was a look into what our youth is dealing with," he said.
Baker said it stood out to him, too.
"The breadth of criminal ability on the internet is not surprising, but always arresting. I grew up in the nascence of the digital era, so although I don't engage with technology as much as others in my generation, I'm still aware of the frankly alarming capabilities of people who can bend digital tools to do what they want – in this case, sexually abuse children," Baker said. "I think a fair question in this regard is, 'What can we, as ministers, do to help families protect their children from digital predators?'"
The third and final keynote address was given by Jeremy Lofquest, Assistant Special Agent in Charge of the Human Trafficking Unit with TBI. During his talk, he noted the various patterns often seen in human trafficking whether its sex trafficking or labor trafficking, and signs to look for in either case, because education on the topic is the first step in stopping it.
"Trafficking is not pretty, it's not easy. It's a horrible thing to deal with, a horrible thing to see," Lofquest said. "But we all need to be in this fight."
Along with the keynote addresses, attendees also participated in smaller breakout sessions led by various facilitators. They included:
Learning best practices and strategies for maintaining a safe environment for teens in youth ministry settings, led by Kathy Goller, a coach, facilitator and presenter.
Hearing about the recent developments in Canon Law and the impact the new Book VI of the Code of Canon Law will have on safe environment policies and the enforcement of canonical penalties related to abuse, led by Father John Hammond, Vicar General and Judicial Vicar for the diocese, and pastor of St. Patrick Church in South Nashville.
Learning about grooming and red flags to watch out for, led by Fara.
The opportunity to discuss successes and concerns with the implementation of the Circle of Grace curriculum over the past year, led by Dr. Brad Peper, diocesan director of the Office of Faith Formation.
Upon reflection of the day, Baker said the idea of "boundaries" is the first thing he'll take back to his team.
"I want to get really concrete about what the boundaries are. A lot of them are, I think, assumed, but it is more helpful to have spelled out guidelines and boundaries, even if all you're doing is articulating what everyone already knows," Baker said. "I would (recommend the conference to other youth leaders) if only so we have more chances to sit down together as those who minister to youth and discuss this topic.
"A lot of our best work occurs when we work together, and I've found conversations with my compatriots in the trenches both rejuvenating and helpful for ministry," he said. "More opportunities for that is good, especially on critical topics like safe environment."