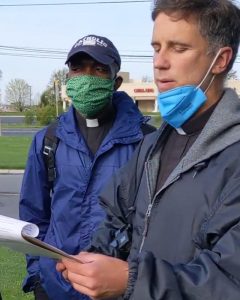 WASHINGTON (CNS) — As four priests of the Archdiocese of Washington started out on a three-day, 54-mile "Walk for the Poor," they wanted those suffering from the impact of the coronavirus to know they are not alone, that Jesus is with them.
They set out early April 29 from the parking lot of St. Andrew Apostle Church in suburban Silver Spring, Maryland, on a pilgrimage to the National Shrine Grotto of Our Lady of Lourdes in Emmitsburg, Maryland.
The theme for their walk was "Hearts That Are Burning," inspired by that previous Sunday's reading from the Gospel of Luke, where the disciples came to recognize that Jesus had been walking with them on the road to Emmaus.
Father Dan Leary, St. Andrew's pastor, had brainstormed on Easter with Father Mario Majano, parochial vicar there, and with Father Shaun Foggo, administrator of Our Lady of Sorrows Parish in Takoma Park, Maryland, about what they could do as priests to raise funds for the poor impacted by the economic downturn resulting from the pandemic.
They also wanted to unite in prayer with those who had experienced sickness, death or anxiety from COVID-19.
"We wanted to lift up their spirits by bringing their trials and worries to Our Lady, and helping them realize Christ is walking with them in this time," Father Leary told the Catholic Standard, newspaper of the Archdiocese of Washington.
By their journey's end, they were joined by Father Ebuka Mbanude, a parochial vicar at Holy Redeemer Parish in Kensington, Maryland.
The four priests had the support of over 400 people across the country, who walked, ran, rode bikes and even did horseback riding for more than 4,000 pledged miles in their neighborhoods and communities in the District of Columbia and 12 states, teaming with family members and friends.
The walk raised more than $153,000 in pledges from more than 1,000 donors for local and international charitable programs.
"It was a huge boost. We weren't alone. Other people were doing this, and that helped us push through the pain," said Father Foggo.
Their adventure was chronicled in daily YouTube videos posted by Holy Ruckus Productions and was promoted in the parishes' social media.
Parishioners had specially designed T-shirts labeled with the words Los Tres Padres, Spanish for "The Three Fathers," for the three priests who planned the walk.
Meanwhile, Father Mbanude had come to St. Andrew's to have Father Leary hear his confession, and when he heard about the walk, he wanted to join them. "That's how I was reeled in. He didn't give it to me as a penance," Father Mbanude explained.
On their first day, the priests left St. Andrew Church praying the rosary and Divine Mercy chaplet as they walked along, and carrying more than 1,200 prayer petitions from people that they would bring to Our Lady at the grotto, including from a man praying for healing for a friend's mother, who was suffering from COVID-19 and was hooked up to a breathing tube.
They prayed for those suffering from the virus and for their families, for those who had died of COVID-19, for those alone or frightened, for medical workers serving the sick and for researchers seeking a cure, for first responders, for government and church leaders, for families quarantined together, for teachers and students, for priests, for those suffering financial hardships, and for those helping people in need.
They stopped at the archdiocesan Gate of Heaven Cemetery in Silver Spring and prayed for parishioners buried there. Father Foggo had presided at a burial there for a father who had died of COVID-19, and he prayed for that man and his family.
Later that day, they celebrated Mass together at St. Patrick Church in Rockville, Maryland.
The priests said that for them, just like the disciples, the walk was an Emmaus journey.
"For me, from the beginning, I was praying for us to encounter Jesus," said Father Mbanude, who added, "That first day set the table for that, for us to walk and pray and encounter the Lord."
Late that afternoon after they completed walking 22 miles on the road to Damascus, Maryland, the priests drove home to get a good night's sleep.
The next morning, they caught a ride back to their stopping point, to begin their walk on the second day. The weather forecast for rain throughout that day proved accurate, as the priests were pelted with rain all day as they trudged along for another 20 miles.
The priests, wearing rain ponchos, reflected on people exposed to the elements every day, like the homeless on city streets, and like refugees and immigrants around the world fleeing for their lives.
Father Mbanude, who grew up in Nigeria, noted: "We have internally displaced people (there) fleeing violence. These people walk for days and weeks, walking in rain and sun." He reflected on mothers and children making that journey, without food. He said the priests' suffering that day "was a way to unite with them and pray for them."
On the third day, May 1, the four priests had another 12 miles to walk, and for all of them, the most moving moment came when they came to a bend in the road, and suddenly in the distance a few miles away, they could see the grotto's gleaming gold-leaf plated bronze statue of Our Lady of Lourdes atop a 95-foot tower on the mountainside.
Fathers Leary, Foggo and Mbanude had all attended Mount St. Mary's Seminary adjoining the grotto, so arriving there marked a special homecoming.
"There she is! She's watching over us," Father Foggo remembered thinking, adding that for him, her statue offered physical and spiritual proof of "the reality that Mary is there for us."
The priests said knowing that so many others were united with them in prayer, and that so many others were walking or running or riding bikes to raise money for the poor and those impacted by the COVID-19 crisis, inspired them as they completed their journey.
"The last day we all felt this was not about us," Father Majano noted. "It was about the grace that God was pouring out united to this cause. What started out as a crazy idea, the Holy Spirit was moving in the hearts of people to do something."
The money raised through the walk will go toward several programs, including those that help provide food assistance and rent and utility assistance for those now jobless because of the pandemic.
Father Leary hopes the priests' effort inspires people to do what they can to pray for and help others during the COVID-19 crisis. "Everybody can do something to help people at this time, to help the poor and those who are suffering," he said.