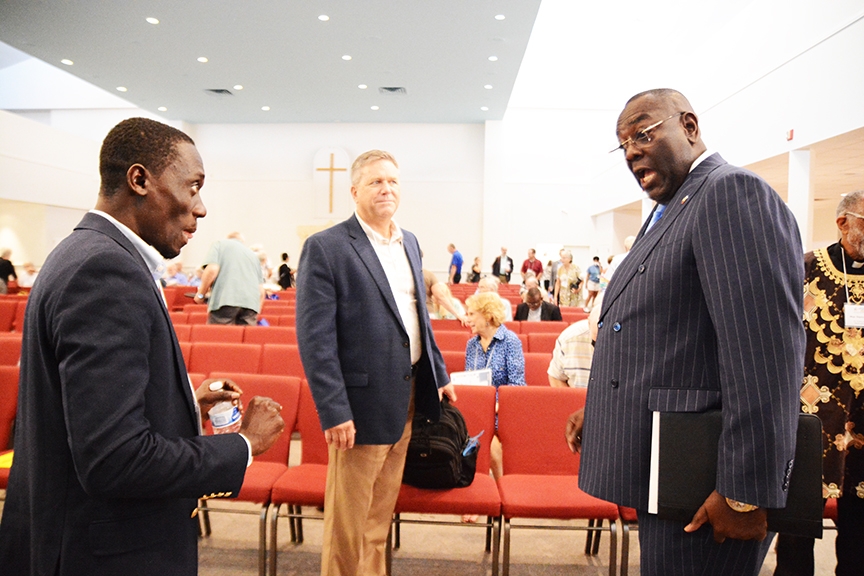 Nashville Bishop J. Mark Spalding told more than 200 people who work with the Parish Twinning Program of the Americas helping the impoverished people of Haiti and Latin America to keep spreading the good news.
"Our moment here is to remind us once again good news is what we are about, the good news of Jesus Christ," Bishop Spalding said in an address during the Parish Twinning Program's national conference held Aug. 26-28 in Nashville.
"The good news of Jesus Christ always keeps our eyes open and our hearts as well," Bishop Spalding said. "When you go back home, I challenge you to tell the good news of the Parish Twinning process, of our work with others, of how good we can make things in the world."
The Parish Twinning Program was established 44 years ago to partner parishes in North America with parishes in Haiti to provide support to people living in one of the poorest countries in the Western Hemisphere. In 1998, the program was expanded to serve impoverished parishes in Latin America.
Over the years, volunteers have helped build schools, pay teachers, participated in medical missions, and provided other types of support.
"I'm so honored and truly humbled by the good work you do," Bishop Spalding said.
In his talk, Bishop Spalding referred to the movie "Schindler's List," which tells the story of German industrialist and Nazi Party member Oskar Schindler who is credited with saving the lives of 1,200 Jews during the Holocaust by employing them in his factories.
Although Schindler was a flawed man, Bishop Spalding said, "he did wonderful work in making sure Jews were saved one life at a time, one family at a time."
Included in the movie is a scene that depicts Schindler and one of his Jewish employees compiling of list of Jewish prisoners to work in his factory, which would save them. His employee holds up the list and says, "This list is the list of life."
"The Parish Twinning process creates a list of parishes that connect to other parishes. That list is a list of life," Bishop Spalding said. "With each parish that we've twinned with, we save one more, one more, one more."
"We're given a moment, a precious moment. It's called our lifetimes," Bishop Spalding said. When we face God, "He's going to say what did you do with my precious gift, our lives? If we can just say I helped in my parish, helped another place in Haiti and Latin America, I'm sure God will smile from ear to ear. Because on that list of life … you opened your eyes and opened your hearts to others. That's what's on the list of life."
After two years of separation and division, people are starting to gather again, Bishop Spalding noted.
"Come together around your family's table, come together around this table, and make sure you're around the table in your parishes," he said. "We've got good news to tell. And above all it's the good news we do right here with the parish twinning process."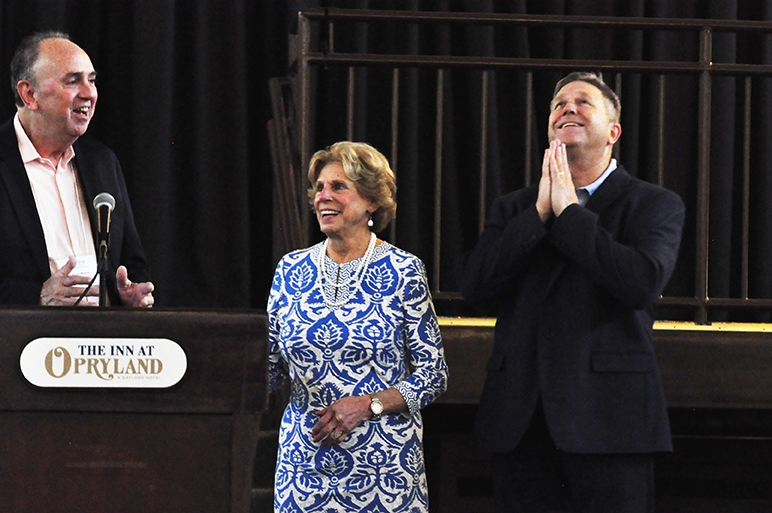 During the conference, Theresa Patterson, the founder of the Parish Twinning Program, was honored as she retires from her position as executive director. Also honored were her son Jeff Patterson, the organization's associate director who is also leaving, and Frances Sosadeeter, who retired last year after 23 years as the coordinator for Latin America.
"Theresa's story is an amazing inspiration to all of us," said PTPA Board President Diane Huggins, a parishioner at Our Lady of the Lake Church in Hendersonville. "It is a story of love and commitment. It is a story about a mighty plan that has come to fruition, proving that all things are possible when we answer God's call."
Patterson traveled to Haiti for the first time in 1978 with Nashville businessman Harry Hosey. During the trip, they discussed how to get Catholic parishes in the United States involved with helping parishes in Haiti.
"This conversation was the mustard seed that led to the formation of PTPA more than 44 years ago," Huggins said. "Since that time, Theresa has cultivated and grown the organization beyond everyone's wildest dreams."
The Parish Twinning Program has helped keep the Catholic Church alive in Haiti and has transformed lives in the poor communities it serves, Huggins said.
On her first trip to Haiti, Patterson said, "I came away with tremendous love and admiration for the faith and inspiration of the Haitian people. That feeling still stands true today.
"It has been a remarkable journey for 44 years, one that I will always be grateful to God and to you for making it so special and loving," she added. "I have said so many times that I am only God's instrument, but it is you and your parishes and your deep commitment to helping Haiti and Latin America that have made the Parish Twinning Program flourish and prosper."
As associate director, Jeff Patterson "has played a significant role behind the scenes," said Mike Hogrefe, the PTPA board treasurer.
"I've always said I felt like we were a real team," Theresa Patterson said of her son. "His role was so unheralded. I depended on him for so much, and most of that was not seen by anybody."
In her role, Sosadeeter developed twinnings in Mexico, Jamaica, Puerto Rico, Colombia, Ecuador, El Salvador, Guatemala, Honduras, Nicaragua, Bolivia, Uruguay, Peru and Cuba, said PTPA Board Member Father Chis Wadelton, pastor of St. Bartholomew Church in Columbus, Indiana.
"PTPA could not ask for a more zealous and dedicated person to do this work," Father Wadelton said. "She has always been a passionate advocate for families, for women and children, and for justice. … The legacy of Frances lives on as the impact of her work continues to enable positive change in impoverished countries and communities in Latin America."
Parishes interested in learning more about twinning can contact Executive Director David Siler at 371-431-3635.