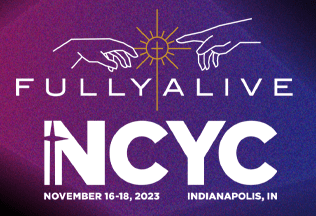 The Diocese of Nashville's Office of Faith Formation is offering high school teens throughout Middle Tennessee the chance to understand what it means to be "Fully Alive" in Christ as they organize a trip to Indianapolis for the National Catholic Youth Conference (NCYC) Nov. 16-19, at the Indiana Convention Center.
"It's important for the diocese to offer this opportunity for the teens to attend NCYC because we all come together as one to experience this vibrant conference," said Jordan Montenegro, assistant director of youth and young adult ministry for the Office of Faith Formation. "It's something that a lot of our teens haven't gotten the chance to experience yet."
The largest Catholic youth ministry event in the nation, "NCYC is a powerfully unique three-day experience of prayer, community, evangelization, catechesis, service, and empowerment for Catholic teenagers (of high school age) and their adult chaperones," according to the official NCYC website, ncyc.us. "NCYC is the premiere Catholic youth event on a national scale that gathers people from all across America for a life-changing encounter with Christ."
During the conference, of which this year's theme is "Fully Alive," teens will have the opportunity to attend Mass, adoration, and the sacrament of reconciliation, hear from various speakers, including actor and singer ValLimar Jansen, Echo Community Executive Director Brian Butler, and Sister Jude Andrew, OP, and enjoy live music from Grammy-award winning artist For King and Country.
The event is hosted by Sister Josephine Garrett, CSFN, a national speaker and licensed mental health counselor, and Mari Pablo, a youth minister, theology teacher, and presenter for Ascension Press.
The Office of Faith Formation has a little more than 80 tickets available for high school teens and adults to purchase to experience the event.
The cost of the trip is $710 per person and includes transportation on the charter bus, an admission ticket to the conference, a hotel for three nights, daily breakfast, dinner on Thursday, Nov. 18, and Diocese of Nashville swag. Payments can be made in full or separated into a three-payment plan.
Registration is currently open and available until Monday, Oct. 23. All payments are refundable up until that date.
To register, visit soundscatholic.com/ncyc.
"My hope for those who attend is that they are immersed in their Catholic faith while being alongside thousands of other teens throughout the country," said Montenegro, "and that they walk away fully alive in their relationship with Christ."