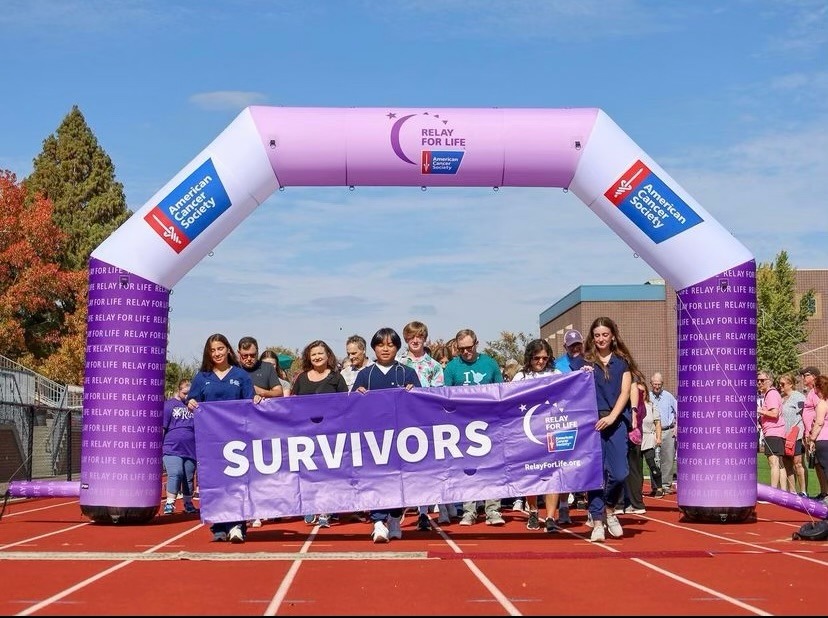 By Claire Puryear and Claire Schumann
Since Father Ryan High School opened its doors in 1925, it has set out to be a school that led by example, living up to the ideals enshrined in its motto: Faith, Knowledge, Service.  
On Saturday, Oct. 29, those ideals were on display again as Father Ryan students conducted its 14th annual Relay For Life on the campus, raising more than $150,000 for cancer research and connecting more than 800 people in the community for a day of support for cancer fighters and cancer survivors.
Relay For Life began at Father Ryan in 2009, with 400 students and 10 teachers participating. Together, participants raised about $20,000. Since that time, it has become a pillar of Father Ryan community service, with participation numbers twice where they started, and money raised now exceeding $1.85 million in total. It has been the largest student-led Relay in the entire country for 10 years and was selected as the winner of the first-ever Pat Flynn Spirit of Relay Award from the national office of the American Cancer Society, the only one of 2,200 schools from across the nation. Most importantly, it brings together the entire Father Ryan—and Catholic—community for a purpose: to support the people whose lives have been affected by cancer.
Since 2009, there have been, and continue to be, numerous students, staff, and faculty members who have been diagnosed with cancer. June Diaz, a Father Ryan parent and diocesan staff member, was one of them. Her story is like many others.
One day, she went for a regular checkup, and the doctor told her everything was clear. She, however, felt that something was off. After six months of persistently voicing her concern to her doctor, the doctors finally did a diagnostic mammogram and ultrasound. She was diagnosed with breast cancer.
Right away, the Father Ryan community showed its heart by providing meals, support, and prayers to her and her family. The Father Ryan Relay For Life also showed its real purpose. Community members created a "Team June" to help raise money in her honor. After years of treatment, including a lumpectomy, six chemo treatments, 30 rounds of radiation, and five years of oral therapy, Diaz is now cancer-free, and she credits Father Ryan's Relay For Life for providing her with a sense of comfort and a renewed sense of determination.
"Father Ryan's Relay For Life has a special place in my heart because there are so many people who, after I was diagnosed, were also diagnosed, and I think God chose me so that I can advocate for others and tell people that you're going to be OK," Diaz said. "This event helps you realize how precious life is."
Each year's Relay For Life starts with the same process: the moderators and Father Ryan faculty members, Jonathan McGee and Michelle Mast, look through the many applicants to select the Co-Chairs and Relay for Life Committee for the year. This year, they chose seniors Caroline Meyer and Joseph Hanrahan. They and the committee planned, set up, and ran Relay For Life. They chose team captains, assigned positions, and helped develop this year's theme, "Occupations," with students dressing up as employees in different professions, including doctors, firefighters, yoga instructors, golf caddies, and even LEGO Master builders. The participants were all "Working for a Cure."
Casey Hanrahan, Joseph Hanrahan's sister, marked the official start of the day with a speech about how having cancer affected her health, her family, and her life. Then survivors gathered on the track while for the "Survivor Lap," before other runners filled in behind them to show their support.
After this, the fun—and real sense of purpose—began. For the next eight hours, people played games, talked, laughed, bought food, walked the track, and listened to music over the loudspeakers. People were put in jail (one of the most popular fundraisers where a person can pay to put another person in jail, and that person has to stay there until others bail the person out with a financial donation), several coaches were put in the "dunk tank," and survivors participated in a "Survivor's Brunch." The day also included the tradition of a community-wide Mass, said by the school chaplain, Fr. Anh Tuan Phan.
One of Diaz's other pillars of support was another Father Ryan community member, Nancy Langdon. Langdon and her husband, Jim, dedicated almost 100 years combined to Father Ryan as faculty and staff members. In 1998, Langdon was diagnosed with breast cancer. After a long and grueling treatment, she was eventually declared cancer-free. Today, she has been in remission for 26 years, and she said she feels so blessed that Father Ryan's Relay for Life, and other ones like it around the world, have provided so many opportunities for her, and others, to be survivors.
"I think Relay is a wonderful opportunity for the students at Father Ryan to get involved in a cause that has touched so many families," Langdon said. "The efforts that the students have made to raise this much money is just heartwarming. That is exactly why I come back every year after I retired to see what all the students do and have done for Relay For Life."
To conclude the day and highlight its main purpose, closing ceremonies were held, and participants were given time to reflect on their day as they listened to guest speakers whose lives have been impacted by cancer. Erin Riggs, Father Ryan's director of enrollment, gave a moving speech about her dad, who recently passed from cancer. That was followed by Father Ryan parent (and graduate), John Francescon, who also talked about his own battle. Finally, Father Ryan choral director, Julie Cox, led the choir in an inspiring rendition of "Only Hope," a song that fits in with the theme of Relay For Life: HOPE.
Editor's Note: Puryear and Schumann are seniors at Father Ryan and editors of the Moina, the school paper.