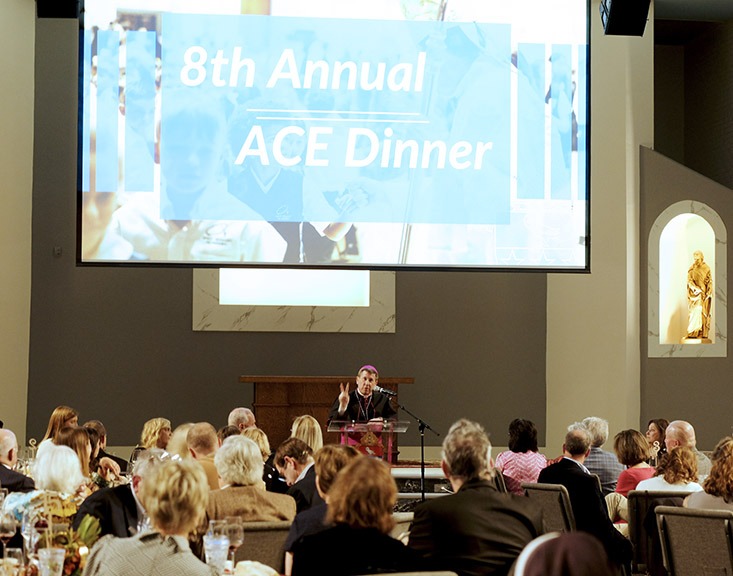 It was all about celebrating the ability to allow every child to benefit from a Catholic education during the eighth annual Advancement of Catholic Education (ACE) Dinner on Thursday, Nov. 9, in the Catholic Pastoral Center's Ascension Auditorium.
More than $275,000, was raised and added to the ACE endowment fund, which provides tuition assistance to families who would otherwise be unable to afford a Catholic education for their children.
"I am deeply grateful to all who made a sacrificial gift that will impact generations in our diocese," wrote Most Reverend J. Mark Spalding, Bishop of Nashville, in the letter for the ACE Dinner program. "The need is still great. Tonight, you will have an opportunity to help this endowment continue to grow, allowing more children to experience a Catholic education.
"Thank you for being here tonight. As we break bread together, we celebrate and renew our profound commitment to the mission of making Catholic education accessible through tuition assistance," he concluded. "Diocese of Nashville Catholic schools are dedicated to teaching the timeless truths of our Catholic faith to all, regardless of financial status."
While enjoying dinner and the company of more than 250 guests, including priests, religious, and laity, attendees were able to hear from current students and alumni who were able to receive a Catholic education because of the generosity of someone else, much like ACE sponsors and donors can do for other students.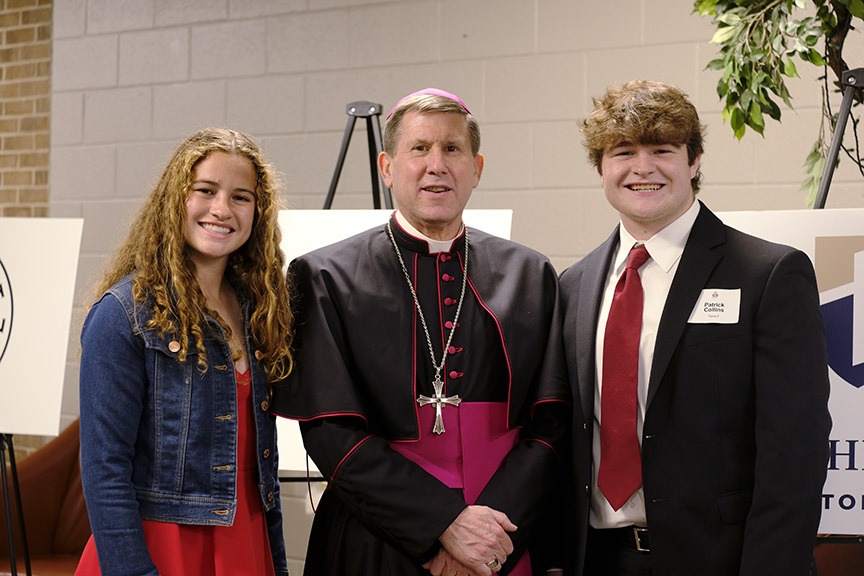 Katie and Patrick Collins, twins and seniors at Pope John Paul II Preparatory School in Hendersonville, have attended Catholic school since pre-kindergarten, attending St. John Vianney School in Gallatin and then St. Joseph School in Madison before coming to Pope Prep; all of which were thanks to financial aid opportunities like the ACE endowment.
Patrick Collins called their experience "foundational."
"The focus on the Catholic values and teachings of fortitude from an early age are what have allowed us to be as accomplished as we are, whether that's bringing home an Olympic bronze medal by the age of 18 or by achieving high marks and awards for academic successes," he said. In particular, while at St. Joseph, "we learned what it truly meant to model our lives in the footsteps of Christ."
"I'm forever grateful for my parents putting us in the Catholic system of education because it not only prepares us in so many ways for the academic ardors of college, but most importantly, in my opinion, sets us up to be Christian leaders throughout our lives," Katie Collins added, as she said her faith journey really didn't flourish until they came to Pope Prep, as opposed to her brother who was already deep into his faith in middle school.
"Pope is an open-armed community that pushes students to our limits to prove to us how the sky's the limit as long as we keep on working hard and believing in God," Katie Collins explained. "But, most importantly, at Pope, we have an almost always open chapel that has become my home these past couple months.
"Throughout all my years of Catholic education, every single religion teacher has in their own ways, whether they meant to or not, taught me that our relationship with God is a two-way road, and He's always there for us no matter where we are or what time it is," she continued. "Our chapel has now become my favorite spot on campus because I get to talk with God every single day before lunch, and just tell Him how thankful I am to have a Catholic education where I have met some of my best friends and made some of the best memories of my life."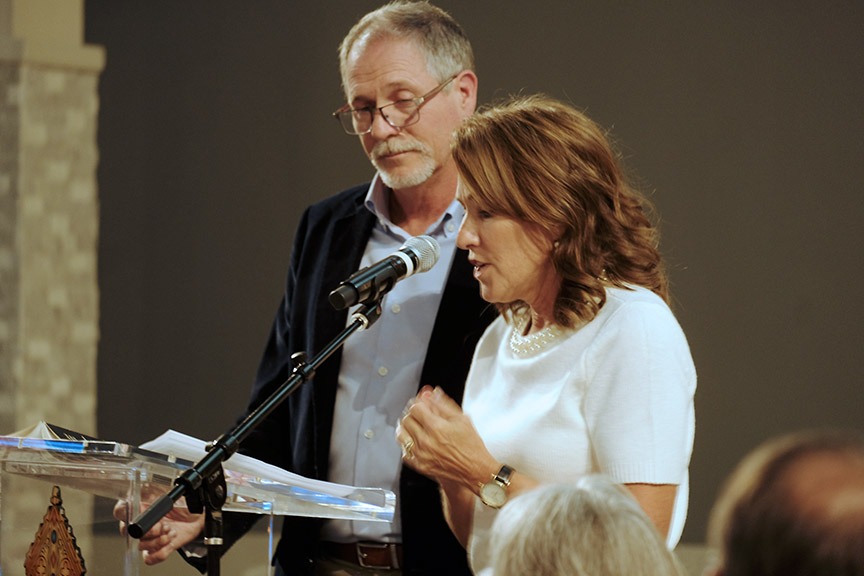 Eddie and Melissa Vaughn, 1974 graduates of St. Joseph School and 1978 graduates of Father Ryan High School, also shared their journey of Catholic education, noting how it was the determination of people in their lives that allowed them to attend Catholic school.
For Melissa Vaughn, she grew up the ninth of 10 kids "from a gloriously wonderful, faith-filled mother and, in equal measure, a deeply flawed, alcoholic father. From first grade through high school, my days were filled with mostly fear of what the evenings would bring. You see, his brokenness created ours," she explained.
Despite the struggles, she said, her mother, and at times, her father, knew a Catholic education was the best path for their children. "I don't know how she made it happen because on paper the money wasn't there, but she did," Melissa Vaughn said. "She would tell you today that it was through faithful tithing and the workings of the Holy Spirit, and looking back it's the only explanation."
Following his wife, Eddie Vaughn emotionally revealed that it was the generosity of a family member that ensured his Catholic education continued.
"My dad died when I was in sixth grade at St. Joseph. It was clear that without his income, my Catholic school days would end soon. In eighth grade, I began to settle into the inevitable move to public school," he explained. "Now, not to disparage public high schools, but my neighborhood friends who I loved were more worldly maybe than my St. Joseph School friends. I was a follower, not a leader then, and I knew that my high school years with my neighbor buddies would start me in the wrong direction. Those friends were already headed down a different life path than I wanted to take.
"I was resigned to my future but dreading it. During the summer before ninth grade, my mother got an unexpected call from my great aunt Helen, my father's aunt," he continued through tears. "She loved my dad, and by extension me. She asked us if we would consider a Father Ryan education if she paid for it, for both me and my younger brother. And here I am! Grateful and forever blessed by her generosity and the education and life choices that she made available to me; when she saved me."For more information about ACE or to donate, visit dioceseofnashville.com/ace/.