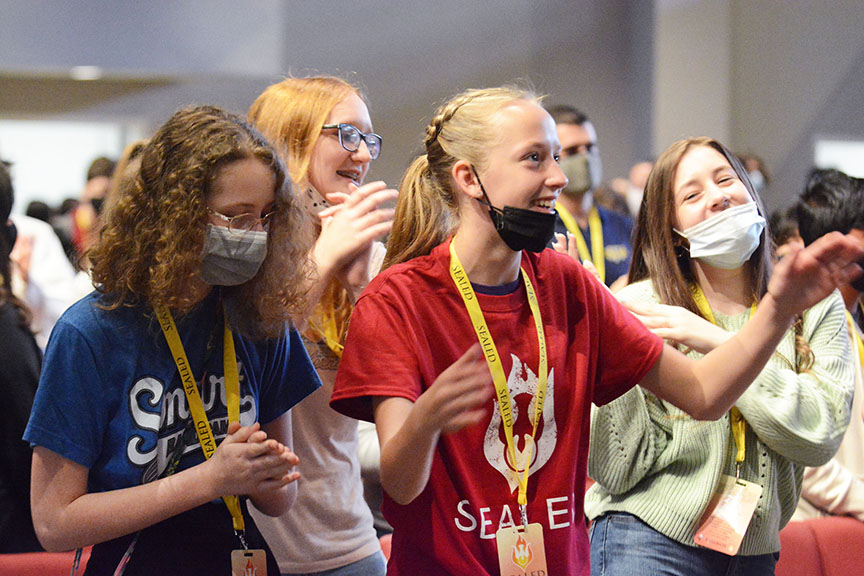 "Being SEALED in the Holy Spirit" is the theme for the SEALED Confirmation Retreat Saturday, Feb. 26, at the Catholic Pastoral Center.
"We're really going to talk about what that means and how we are all called to be saints not just because of our Confirmation but from the moment we're baptized," said Jenny Haug, assistant director of Catechesis for the Diocese of Nashville's Office of Faith Formation.
From 8:30 a.m. to 5:30 p.m., more than 100 youth from 12 churches across the diocese will gather for music, adoration, Reconciliation, games and more, as they make those final steps in preparing for their upcoming Confirmation.
"The SEALED Confirmation Retreat is a chance for those preparing for Confirmation to be renewed in their faith and to fully mean what they're going to say in Confirmation, to fully own their faith, and to allow these teenagers to feel like they can become saints today," Haug said. "It's about showing them that they can take ownership of their faith today and that their gifts and talents are needed in the Church."
The highlight of the retreat will be two keynote addresses from Jonathan Blevins, an entrepreneur and Chief Executive Officer of Little Flower Media. Blevins' morning address, "Why Am I Here," will discuss Christian living and Baptism, and his afternoon address, "Being Sent Out," will discuss Confirmation, the Holy Spirit and Pentecost.
"I'm super excited about (Blevins) coming to speak because he's very relatable to the kids and what he does in ministry," Haug said.
The retreat will end with a Mass celebrated by Bishop J. Mark Spalding.
"We hope as a formation office for the teens … to fall in love with their faith again," Haug said. "Maybe they were forced to come, maybe they chose to come, but we want them to figure out what God is calling them to be and to set the world on fire."
To register, visit soundscatholic.com/sealedregistration and choose "SEALED Participant Registration." If your parish is not listed, e-mail Haug at jennifer.haug@dioceseofnashville.com.