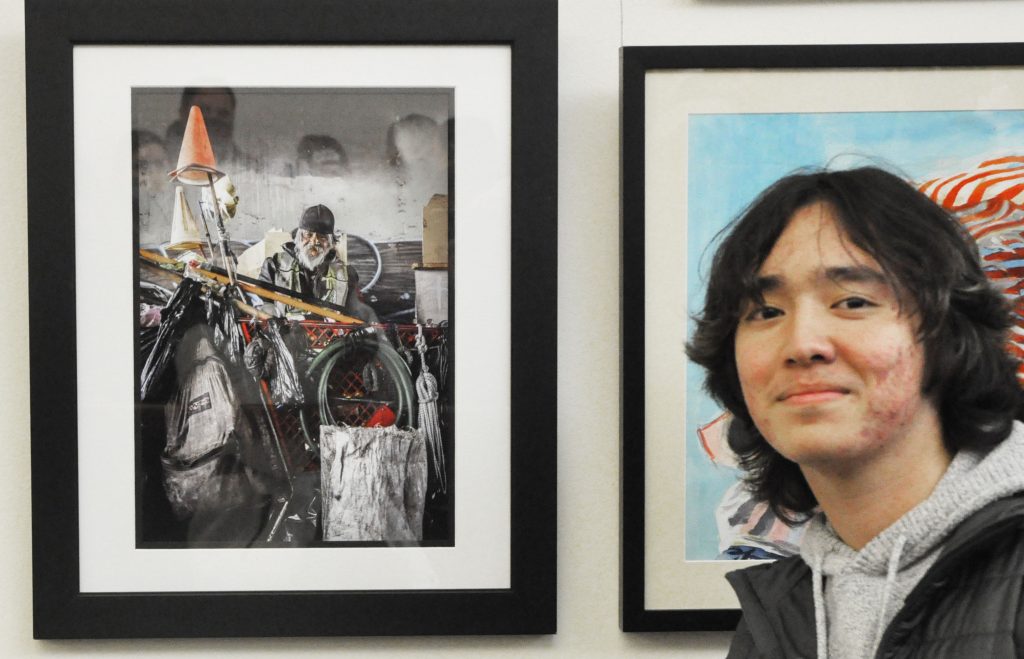 What started as an opportunity to help the less fortunate has turned into Congressional recognition for Ian Hooper, a senior at Pope John Paul II Preparatory School, who was named the Sixth District of Tennessee's 2021 Congressional Art Competition winner.
Hooper's artwork will be on display for the next year in the exclusive House of Representatives Hallway leading to the U.S. Capitol in Washington, D.C.
The Congressional Art Contest, sponsored by the Congressional Institute, is "a nationwide high school visual art competition to recognize and encourage artistic talent in the nation and in each congressional district. Since the Artistic Discovery competition began in 1982, more than 650,000 high school students have participated," according to the official contest website.
Hooper said he has been taking photos for several years and is currently in an honors photography class at Pope Prep.
"I enjoy the storytelling ability of (photography)," Hooper said. "It's how much a photograph can affect people's lives."
When his teacher suggested he submit a photo for the contest, he didn't hesitate. In looking over his portfolio, he settled on a photo he'd taken over summer break in 2020.
It was that summer when Hooper said his best friend encouraged him to help with a local nonprofit called Urban Bicycle Food Ministry.
"Basically, we go out there and we get on bikes and go down the north and east side of downtown Nashville," Hooper explained. "We gather burritos, water, sweets and clothing, especially in the winter, and deliver them to the homeless."
During one of his trips, he met a man named John, who allowed Hooper to take his photograph.
And that was the photograph that he submitted. Then, it was time to wait.
When Hooper received the congratulatory email, "I was very excited," he said.
A trip to Washington for an awards ceremony was canceled due to COVID-19 concerns. But Hooper got another chance to see his artwork on display when he traveled to the nation's capital as part of the Pro-Life and Human Dignity Pilgrimage organized by the Diocese of Nashville's Office of Faith Formation. Hooper, his fellow pilgrims, and several classmates saw his art on display when the group took an evening tour outside the U.S. Capitol on Jan. 20.
"I'm not one for the attention," Hooper said. "It was awesome though."
"When Ian had plans to be in Washington for the pilgrimage, we asked if there was any way he could see the photo but didn't know if it would be possible. We were ecstatic when we received a text showing us pictures of Ian and the group viewing his artwork," said Hooper's mom Laura Hooper. "It made an amazing trip even more special and one that Ian will always remember.
"We were so excited and proud of and for Ian when we heard he won the art competition," she added. "It was a true honor to not only have a piece of artwork and his creativity be recognized, but for it to also showcase something important to him in serving others and the story behind the photo."
Ian Hooper said he hopes his win and the nonprofit work that led to taking the winning photograph inspires his fellow youth.
"It's possible to go out there and make a difference," Hooper said. "I think a lot of our youth that are on social media, we see that we can go out there and do that stuff, but it's the fact of actually getting out there and doing it.
"I hope this shows that doing this does make a difference, and it does come with rewards."
For more about the Congressional Art Competition and to view all the 2021 winning entries, visit https://www.house.gov/educators-and-students/congressional-art-competition.