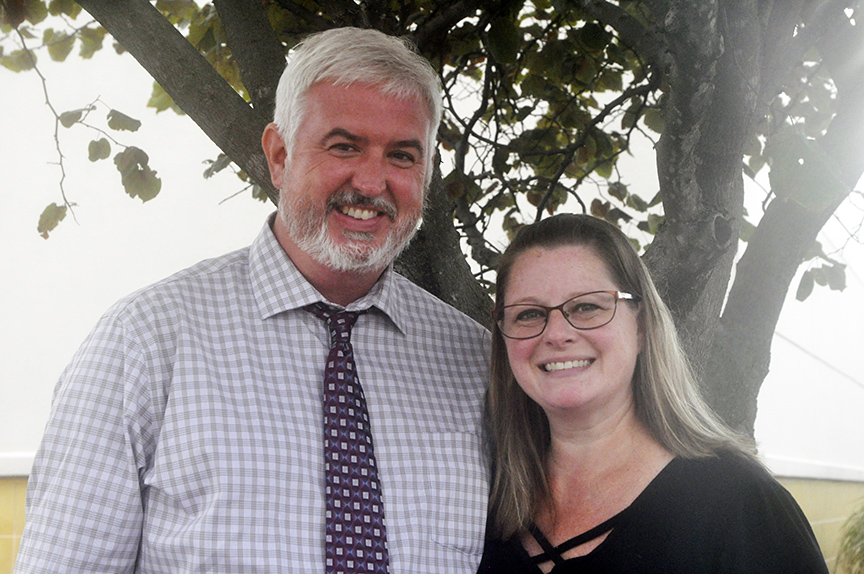 By attending a Retrouvaille retreat weekend four years ago, David and Jaclyn Kollar said their marriage was saved. Now, they are hoping to help other struggling couples as they serve as part of the Outreach Committee for the upcoming Retrouvaille retreat Sept. 2-4 at a retreat center in Middle Tennessee.
"It is a good program," David Kollar said. "I wish more people knew about it."
Retrouvaille, a French word for "rediscovery," began in the Province of Quebec, Canada, in 1977, and has since grown, reaching couples in the United States, many provinces in Canada, Central and South America, Africa, Europe, the Caribbean, and the Western Pacific.
"The Retrouvaille Program helps couples put the pieces of their marriage back together and rebuild loving relationships," according to official program materials. "It is primarily a practical program about improving communication, building a stronger marriage, and helping couples rediscover the love they had for each other."
Retrouvaille "was developed by a group of Marriage Encounter couples and priests that judged there to be the need for a program specifically for hurting couples," the materials continue. "Thousands of marriages have been restored with the simple concept of couples helping couples with the spiritual guidance from caring priests."
The Kollars, who are currently parishioners of St. Rose of Lima Church in Murfreesboro, first learned about the program in 2018, while they were parishioners at St. Luke Church in Smyrna.
Heading into their 11th year of marriage, things were on the rocks as they faced several difficulties.
"This was each of our second marriage, so we had read the statistics about how a second marriage is even harder to keep together than a first one, and a first marriage is looking at a 50/50 shot anyway," David Kollar said. "We knew it was hard."
But the statistics were not the only things putting stress on the marriage. Additionally, they experienced fertility issues and several job changes among other things, and through it all, their communication as a couple had all but ceased.
"The marriage was falling apart," David Kollar said.
But then, Jaclyn Kollar saw the ad for Retrouvaille in St. Luke's bulletin.
"I probably saw it for a couple months and would read it and think about it," she said. "There wasn't a lot of communication going on between the two of us at that point … but I think I finally said, 'We either go to counseling or we go to this weekend.'"
After trying a counseling session and realizing it "wasn't a good fit," the Kollars decided to give Retrouvaille a try.
During the weekend, "couples are helped to re-establish communication and to gain new insights into themselves as individuals and as a couple. … This part of the program is presented by three couples and a priest," according to program materials. "The presenting team has experienced disillusionment, pain and conflict in their own lives and offer hope as they share their personal struggles of reconciliation and healing."
"I was nervous. It's not something you really want to go to," Jaclyn Kollar said. "I remember being hopeful that we were going but knowing that you're going to go and have to get into the nitty gritty is a little intimidating."
"I didn't want to go and air our dirty laundry in front of a bunch of people," David Kollar added.
But, to his relief, they didn't.
"They didn't put us on the spot," he said. "A lot of it was just listening to other couples who have been through hell and come back now and found respect for each other and are communicating on a daily basis."
Then, following the listening sessions, all the "dirty laundry" was able to be addressed privately as a couple as they practiced "dialoguing" with each other, Jaclyn Kollar explained, using different tools and exercises to guide them.
By the time the weekend was over, although they knew there was more work to be done, they were "a lot more hopeful," Jaclyn Kollar said. "We got to talk about things and get them out in the open in a safe spot and it gave us hope that we still did love each other, and we did want to work on our marriage, and we wanted it to be successful."
To help couples continue their progress after they complete the initial weekend, Retrouvaille offers post sessions for six to 12 weeks to gain more knowledge and tools to use in their relationship.
Upon completing the post sessions, couples can then join CORE (Continuing Our Retrouvaille Experience) where they meet monthly with other Retrouvaille couples for support.
"It's nice to have the ongoing community and support," Jaclyn Kollar said of the CORE meetings.
Now, as their marriage has continued to grow stronger since their Retrouvaille experience, they said they're ready to start giving back to the program that gave to them.
"We do feel like we're ready to give more. It's been four years from our weekend," David Kollar explained. "You're not going to want to, the year after your weekend, jump in and help out. You're going to want to focus more on yourselves. But somewhere down the line you know when it's time to reach out and start helping other people."
And they have words of advice for any couple who might be hesitating to give Retrouvaille a try.
"It is a lifeline," Jaclyn Kollar said. "We're there, we want to help. Every couple there, it's all voluntary, but we all do it because we want to help other couples. We don't want to see other people's marriages fail. Just hearing other people's stories helps you not feel so alone."
"If you're not ready to give up on her, but you're so frustrated you don't know what else to do, I guarantee you, this will open both of your eyes to each other again," David Kollar added. "It really will if you want it. That's how I felt.
"I think that we had been praying separately for some kind of solution or maybe a light," he said, "but the weekend and all the open communication helped us to pray together for the salvation of our marriage. … And we're still together."
For more information about Retrouvaille, visit helpourmarriage.org or call 1-800-470-2230. Prices vary depending on accommodations, but scholarships are available. All meals are provided.