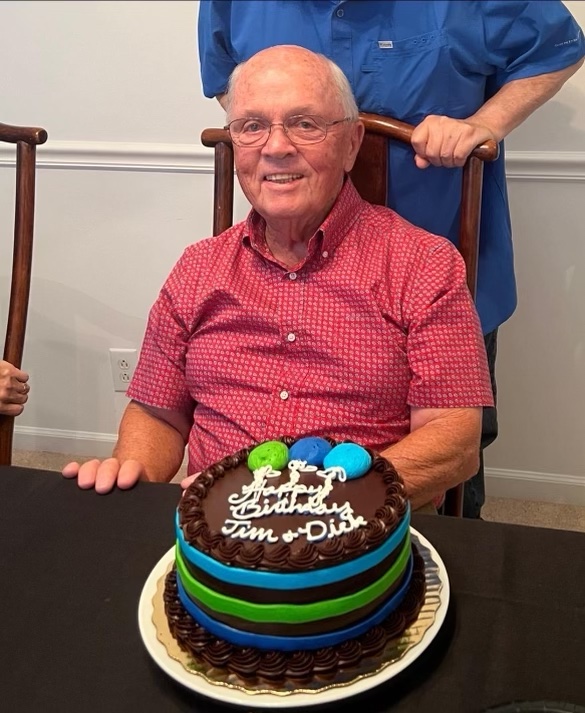 Richard "Dick" William Sappenfield, father of Father Mark Sappenfield, associate pastor of Christ the King Church in Nashville, passed away on Tuesday, Feb. 7, at his home, surrounded by his children. He was 84.
A public visitation will be held from 5-7 p.m. Friday, Feb. 10, at St. Matthew Church in Franklin.
A Mass of Christian Burial will be celebrated at 10 a.m. Saturday, Feb. 11, at St. Matthew Church. Father Sappenfield and Father David Dodd, TOR, grandson of Mr. Sappenfield, will concelebrate the Mass. Priests and Deacons are welcome to vest for the funeral liturgy, but are asked to bring their own stoles.
Burial will follow at Calvary Cemetery in Nashville.
Mr. Sappenfield was born to George and Rosa Jean Sappenfield on July 18, 1938, in San Diego, California.
At the age of 17, he entered the U.S. Navy and served four years.
On Jan. 26, 1963, he married Ann Louise Perry in California. Together, they had six children.
The family came to Tennessee in 1981, when he was made general manager of Avco AeroStructures.
Throughout his life, Mr. Sappenfield held many notable titles from department manager to chief executive officer. He also was part of several executive and charitable boards including the board of trustees for Aquinas College.
"Dad was a wonderful devoted father to his six children and a wonderful grandfather to his 14 grandchildren and one great-grandchild," his daughter Kay Dodd and son Father Mark Sappenfield said in a joint statement. "He always taught us first and foremost to love the Lord, to work hard, to never give up, and to always reach out to others to be of service."
Mr. Sappenfield is preceded in death by his wife of 58 years, Ann, his parents, his brother Ron, and his grandson David Golczynski.
He is survived by his six children, John (Bethany) Sappenfield, Kay (John) Dodd, Father Mark Sappenfield, Paul Sappenfield, Jill (Jon) Golczynski, and Joanie (Steve) Shaffer; 14 grandchildren; one great-grandchild, and numerous extended family members.
Memorial contributions can be made to Catholic Charities, Diocese of Nashville's Loaves and Fishes Program or Room In the Inn.
Funeral arrangements are under the direction of Harpeth Hills Memory Gardens Funeral Home and Cremation Center in Nashville.