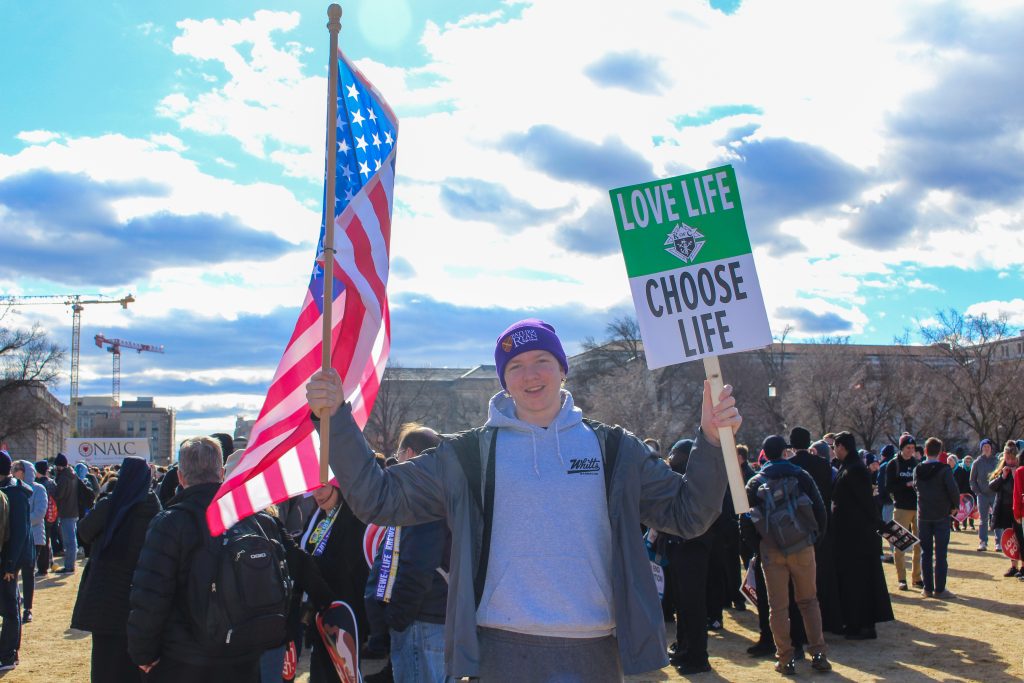 Throughout the month of January, students across the Diocese of Nashville have been standing up for the right to life, participating in various activities across the country.
Some groups stayed within the state. The Diocese of Nashville's Office of Faith Formation put together a Rosary Walk for Life on Saturday, Jan. 28, in downtown Nashville, attracting more than two dozen teens and adults.
St. Cecilia Academy traveled with 18 of its students to the second annual Chattanooga March for Life on Saturday, Jan. 28, at the Walker Pavilion in Coolidge Park.
"Abortion has always been something I've always wanted to fight against," said Emma Weisel, a freshman at St. Cecilia. "It's been a cause that I really want to fight for because the right to life is important.
"As a Catholic, it's always been really important for me to protect life at any stage, especially for the voiceless," she said. "It's really important for us to speak up for them, and do whatever we can, and fight for their rights. With the unborn especially, they can't speak for themselves, so it's even more important to stand up for them."
Grace Bauer, also a freshman, said she wanted to attend the march in honor of her godmother who recently suffered a miscarriage.
"I'm really close with her, so I felt it was important for me to go in support of her and to fight for life, because she lost her baby unwillingly and yet people take their babies' lives, and that's just really wrong in my mind," Bauer said. "Life is a gift that God gives us, so to choose to give that up really feels wrong for me.
"It was really cool to see all those people together fighting for the same things I am, and it makes me feel happy that there are people who do agree with me," she added.
Rita Elmasry, a sophomore at St. Cecilia, said she went to better understand her own belief.
"I wanted to stabilize why I believed in what I believe, and I wanted to see more people who thought what I thought because I find that really hard to talk about in my daily life," she said. "It was very empowering. It gave me the confidence to talk about it more, and it made me want to just do more."
These unborn babies "don't have a voice for themselves," Elmasry added. "It's our duty to protect those who can't protect themselves."
After the march, the group visited and prayed at the National Memorial for the Unborn.
"Visiting the memorial was really cool because we got to just see all the babies who have died and who are honored," Weisel said. "It makes me really happy that there is a place for them to be honored."
Bauer said visiting the memorial was a powerful moment, particularly because of her late godsister.
"It was all just so beautiful and at the same time heartbreaking because all these children and babies lost their lives, and their parents didn't get to know them," Bauer said. "Inside the building, there was a journal that had a bunch of entries from parents and relatives, and I got to write in that for my godsister, so that was really special."
It's important to stand up for the right to life, Bauer added, because "I think some people still think abortion in itself is OK if you are assaulted or raped, and that you should be able to have the choice to not have those consequences.
"But it shouldn't be a punishment to have a child and bring life into the world, because that's the best thing that could ever happen," she continued. "It's important that we change people's minds … and that those people see what we see, and understand where we're coming from, and maybe start believing those things, too."
Father Ryan High School took 79 students to Washington, D.C., Jan. 19-22, for the 50th annual March for Life. During the trip, they also collected wreaths at Arlington National Cemetery, visited the Holocaust Museum, the Basilica of the National Shrine of the Immaculate Conception, and attended Mass celebrated by Cardinal Donald Wuerl, the uncle of Father Ryan senior Arianna Thacker.
It was a first-time experience for Macy Haws, a senior at Father Ryan. Her brother, Legan Haws, a 2020 graduate of Father Ryan, who also attended the March as a senior, recommended it to her.
"I thought it would be a good experience to go and be in that type of environment," Haws said. "It was definitely not what I expected. It was a lot bigger crowd than I thought it was going to be, but it was very inspiring to see so many kids our age fighting for something that they believe in.
"I had a lot of different thoughts towards it in the first place because you see all over the news that it's always a constant battle and that there are protestors on both sides going at each other. But it wasn't like that at all," she said. "It was very peaceful, and it wasn't violent in any way. It was just spreading the message that the fight is not over."
Mason Wolfe, also a senior, attended the march for the second time with Father Ryan, having first gone as a junior in 2022. He said his favorite part was picking up the wreaths at Arlington.
"It was eye-opening because you see all the gravestones and the gravesite, and you don't realize how many people are there, and then you start picking up the wreaths," Wolfe said. "We only did a small section and got so many. It's overwhelming to see just how many soldiers have lost their lives and the families that are buried there."
Wolfe said even though the precedent set in Roe v. Wade was overturned this past summer, participating in the March still reminded them that the fight is not over.
"It's now up to the states, and that's what we were marching for this year, to try and make it a federal law, and make it illegal all over," Wolfe said. "It's really implementing the womb to tomb theory of all life matters.
"Those people can't make their own decisions and don't have a say in how their lives are altered, so it's important for us to stand up for them and give them a voice of reason in the world."
Thirty-one University Catholic students also traveled to Washington, D.C., for the March for Life, Jan. 19-21. During the trip, the Catholic social teaching of the right to life from conception to natural death was kept at the forefront, as students also visited Arlington and the Holocaust Museum.
It was a first-time experience for many of the college students.
"I have always supported the pro-life movement and have wanted to go since I was in high school. I remember seeing news footage and photos after the marches and being amazed by the thousands of people that stopped their lives for a day to march for such an important cause," said Brielle Treml, president of University Catholic at Vanderbilt University. "This has always inspired my desire to attend the march and show support for the pro-life movement.
"It was truly inspiring seeing so many people my own age, especially many young Catholics. Living on a college campus that predominantly rejects pro-life values can be extremely disheartening, but the march was such a breath of fresh air as I saw so many college students and young adults fighting to protect the most vulnerable," Treml said. "It was reassuring to witness students, just like me and my friends, from all across the nation care so deeply about the pro-life movement."
Brennen O'Keefe, president of University Catholic at Belmont University, also attended for the first time, saying he felt it was his duty as a Catholic to attend.
"I feel convicted not only to fight for the unborn who have no voice but to extend Christ's love to those who are in support of abortion," O'Keefe said. "I was blown away by the number of young Catholics, priests, and religious present at the march. … It was beautiful to walk the march singing Catholic hymns or praying rosaries with those marching around us. The march was an overwhelmingly joyful experience.
"Our fight as pro-life people is not over. Yes, Roe v. Wade was overturned at the federal level, but abortion is still a reality in the United States today," O'Keefe continued. "We must continue to show up each year as witnesses of Christ and a voice for the unborn. Showing up, we must also show the love and compassion towards the mothers and fathers who have gone through with an abortion. Many of the parents regret their decision and are hurting. If the Church and the pro-life movement do not extend our hand to help, then who will."