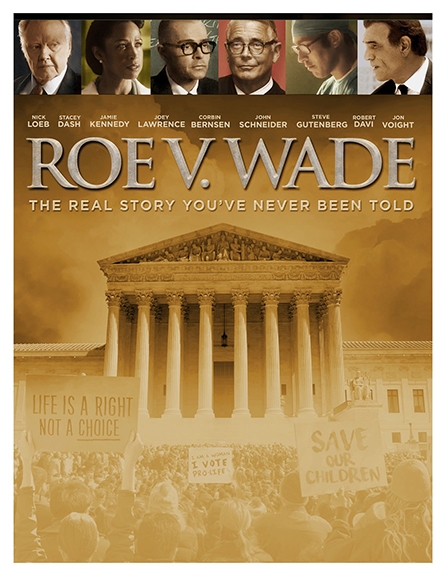 Knights of Columbus Council 544 at the Cathedral of the Incarnation is inviting the entire diocese for a dinner, film screening and panel discussion of the movie "Roe v. Wade" on Friday, March 4.
The evening will take place in the Cathedral's Fleming Center and begins with Mass in the church at 5:30 p.m.
Released in 2020, the film stars Jon Voight, Stacey Dash and Joey Lawrence and depicts the cultural and legal events leading up to the 1973 Supreme Court decision in Roe v. Wade that legalized abortion.
"The idea for this event came from Dave Johnson and Roy Silviera, who are a part of our Knights of Columbus Right to Life Committee," said Tom Frazier, another committee member. "In light of the upcoming Dobbs v. Jackson Supreme Court decision, we want to raise awareness about the evolution of the Roe V Wade decision."
Dobbs v. Jackson involves a Mississippi law concerning abortion. Some commentators have suggested a majority on the Supreme Court could use the case to overturn Roe v. Wade. The Supreme Court's decision is expected to be announced later this year.
The panel for the discussion includes Dave Johnson, 40 Days for Life Representative Courtney Hayden, attorney Gino Bulso, and Tennessee Right to Life Legal Counsel Will Brewer.
Frazier strongly encourages all who are interested to attend.
"We want everyone to be reminded of what Roe v. Wade is and what a bad decision it was," he said. "I would encourage people to talk about this with their friends and pray about it. Please revisit the Roe v. Wade topic and bring your family for our screening and discussion. We're going to look at what abortion has become. Come experience this film with us."
The Knights will provide cheese pizza with salad for dinner beginning at 6 p.m. The film screening begins at 6:30 and the panel discussion will follow immediately afterward. Per the film's PG-13 rating, viewer discretion is advised.