Room In The Inn's 35th winter shelter season "is going to be very different," according to Executive Director Rachel Hester. "We have to be really creative and not allow COVID to give us an excuse not to serve."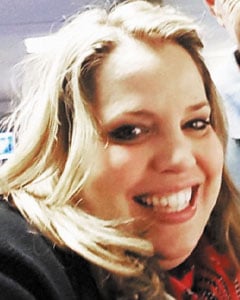 "We've always been on the front lines of service," Hester said, "and we feel very strongly that this is where we're supposed to be," continuing to minister to the homeless during the coldest winter months while also dealing with a pandemic.
Room In The Inn began in the winter of 1985, when the organization's Founding Director Father Charles Strobel opened the doors of Holy Name Church to individuals seeking sanctuary in the church parking lot.
By the end of the 1987 winter, more than 30 congregations had joined. For the 2019-2020 winter season, nearly 200 congregations from a wide variety of faith traditions were committed to serving the winter shelter program, which runs Nov. 1 through March 31 each season, offering the homeless of Nashville a hot meal, a warm bed, and an evening of hospitality.
Many of those volunteers have stepped back for this winter because of the COVID-19 pandemic. "When I say stepped back, I mean three-fourths of our congregations" have said they will be unable to host this year, said Hester. That means instead of serving 250-300 guests per night, they may only be able to serve 50.
This winter, her 31st year with Room In The Inn, is "probably my hardest, there's parts and pieces of this that I am holding together with Scotch tape and faith," said Hester, a parishioner at Christ the King Church in Nashville.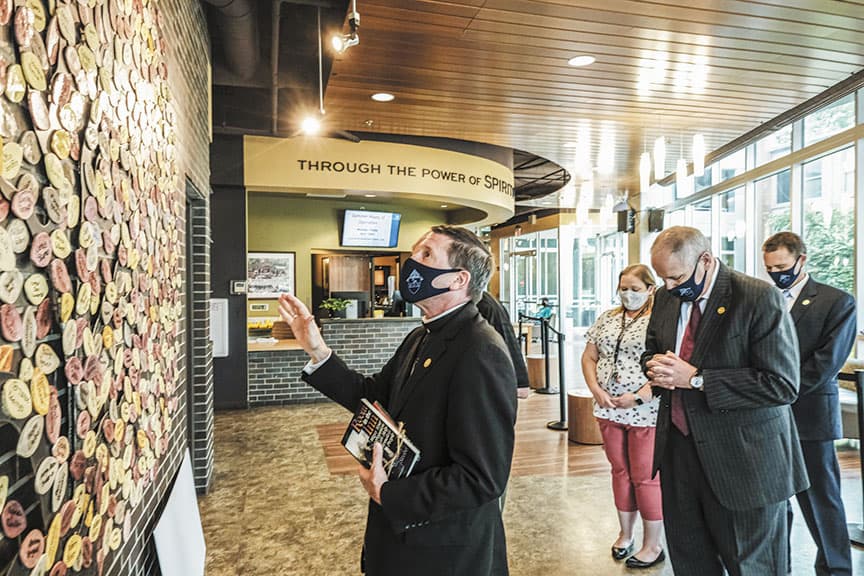 'What we should be doing'
Over the summer, Hester began hearing from more and more congregations who told her they would be unable to host homeless guests in their spaces as they had in the past.
Hester reached out to Brian Cooper, Chancellor and Chief Operations Officer of the Diocese of Nashville, for help.
Cooper reached out to St. Vincent de Paul Parish in North Nashville to see if they might be willing to serve as a central hub for Room In The Inn this winter, offering their under-utilized gym as winter shelter space where different congregations could volunteer during the week.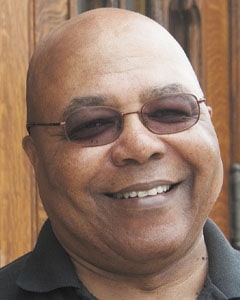 When St. Vincent pastor Father Francis Appreh presented the idea to the parish, "people reacted positively, we were on board right away," said Deacon Harry Guess of St. Vincent. Since the gym space that Room in the Inn would be using is currently leased to St. Mary Villa Child Development Center, "they had to be on board too," he said.
With the help of a $50,000 donation from the diocese to St. Vincent and St. Mary Villa, they will be able to make some needed upgrades to the space, including adding a small kitchen connected to the gym. "The key ingredient to make it work was to get the kitchen in place," Deacon Guess said. The kitchen is still a work in progress, but will be finished by the deadline, he said.
Catholic Charities of Tennessee is also exploring ways they can assist with transportation for the winter shelter program.
This project, bringing together "a collection of Catholic institutions to take on another mission," is "what we should be doing," Deacon Guess said.
Volunteers from St. Vincent de Paul Parish have served in Room In The Inn's winter shelter program for years, partnering with First Lutheran Church downtown. Previously, First Lutheran hosted, and St. Vincent volunteers served there every other week.
The Knights and Ladies of Peter Claver from St. Vincent have typically taken the lead on the Room In The Inn volunteer effort, but Deacon Guess is still not sure how things will look this year. Given the pandemic and the age of most of the Knights and the general St. Vincent congregation, "I won't be surprised if we come up short with people willing to do the work," this year Deacon Guess said. "We'll have the facilities. I'm not sure we'll have the manpower."
The Knights, who have stayed overnight with the guests in the past may not be able to fulfill that role this year, he said, but the Ladies, who prepared the evening meal for the guests, still plan to do that.
Diocese's support 'means a lot'
Bishop J. Mark Spalding visited St. Vincent and Room In The Inn campuses last month to show support for their homeless outreach ministry.
The diocese also made a $50,000 donation to Room In The Inn, which "is going to allow us to exhale a little bit," Hester said. "We were not expecting that."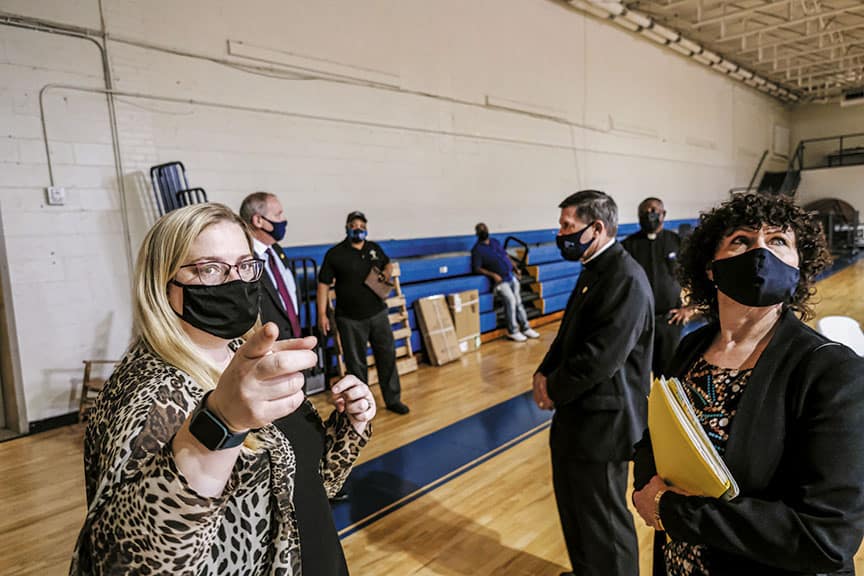 Bishop Spalding and Cooper personally visited the campuses to deliver the donation checks. "The bishop coming means a lot," Hester said. "Nobody's coming right now to visit," she said.
"As Catholics, we are always committed to service, and we put ourselves in places where it may not be convenient," Hester said.
The donation will help Room In The Inn respond to needs that have increased during COVID, Hester said. "We're thankful," she said. "Under his leadership we have felt more supported from the diocese than ever before," she said of Bishop Spalding.
'Not by accident'
With so few congregations able to host guests this year, there may be some nights when St. Vincent is one of the few spaces in the city open for the winter shelter program, Hester said.
Another new space that will be used for the program this year is the recently purchased "Drexel House," a property adjacent to Room In The Inn's campus, located at Seventh and Drexel Avenues downtown. The building is the former location of Immaculate Mother Academy, founded by St. Katharine Drexel to serve and educate Black children in Nashville.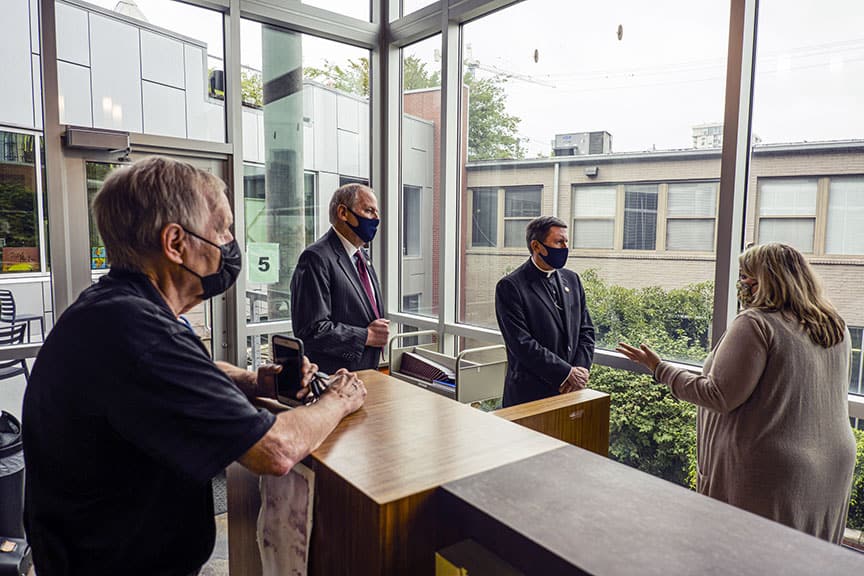 According to research she's done, Hester has confirmed that the building that Room In The Inn staff and volunteers are scrambling to prepare for the winter shelter program is the former rectory of the Josephite priests who served there.
"I don't think it's by accident that God has us sheltering people at both of those sites," Hester said of the Drexel House and St. Vincent.
St. Katharine Drexel also founded St. Vincent de Paul Parish and school.
Following in the spirit of their foundress, Mother Katharine, and their patron, St. Vincent de Paul, "it was natural for us to say yes" to host Room in the Inn guests this winter, said Deacon Guess.
Being able to host homeless guests at St. Vincent and the Drexel House this winter season is crucial to her organization's mission, Hester said. "If we did not have these central locations, Room In The Inn would not exist this year."
Moving the needle
Room In The Inn may also utilize some of their classroom space on their main campus for the winter shelter program this year, which they have done in the past, Hester said. "We're really trying to think outside the box," she said.
She encourages volunteers who still want to serve, but whose congregations are unable to host this year, to serve at one of the new locations for this winter. "We can welcome in volunteers who have no place to serve," Hester said.
"The ability to work together will make us stronger, and who knows on the other side of COVID what possibilities are going to be opened up," she said.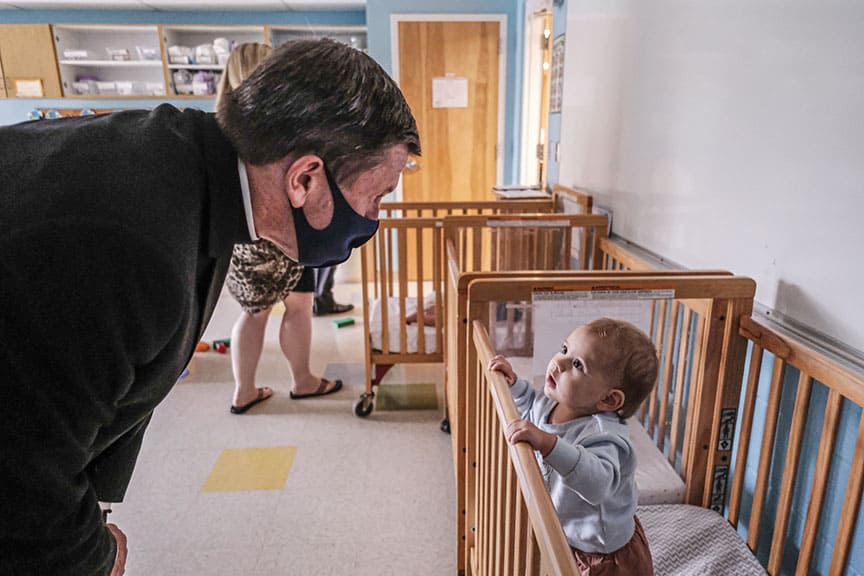 In addition to working "all hands on deck" to make sure the Drexel House and St. Vincent spaces are ready to host for the winter shelter program, Hester is also keeping in close contact with other partners who have developed Nashville's Cold Weather Community Response Plan. "It's ever-changing," Hester said.
Since the nightly capacity to shelter homeless guests this winter will be drastically lower than past years, "we have to look at the most vulnerable first," Hester said.
They will have to turn people away, but that's not the end of the story. "We still have to navigate them to a safe place," Hester said.
She remains hopeful that Room In The Inn's capacity will increase as the winter gets colder. "We hope to have more congregations on board by December. If we do it right in November, we'll be able to revisit with some of the congregations who have said no right now," Hester said. "I hope the no's won't stay no's."
Throughout the COVID-19 pandemic, Room In The Inn has followed CDC guidelines, embraced mask-wearing, and "we have not closed down one day during COVID," Hester said. "We've thought through some pretty complicated things, and we've been able to make it work."
"We're really trying to move the needle on volunteering," and encourage people to volunteer in a different location than in the past or serve in a different way, Hester said. "There's still a place for you to serve," whether that is preparing and dropping off food, setting up bedding, or donating warm winter items like hats, gloves and socks.
"Some of the ways we love our neighbors right now looks very different," said Hester. "There's still ways to make people feel very welcome."
For more information on Room In The Inn, visit www.roomintheinn.org. For information about volunteering this winter season, email shelter@roomintheinn.org.