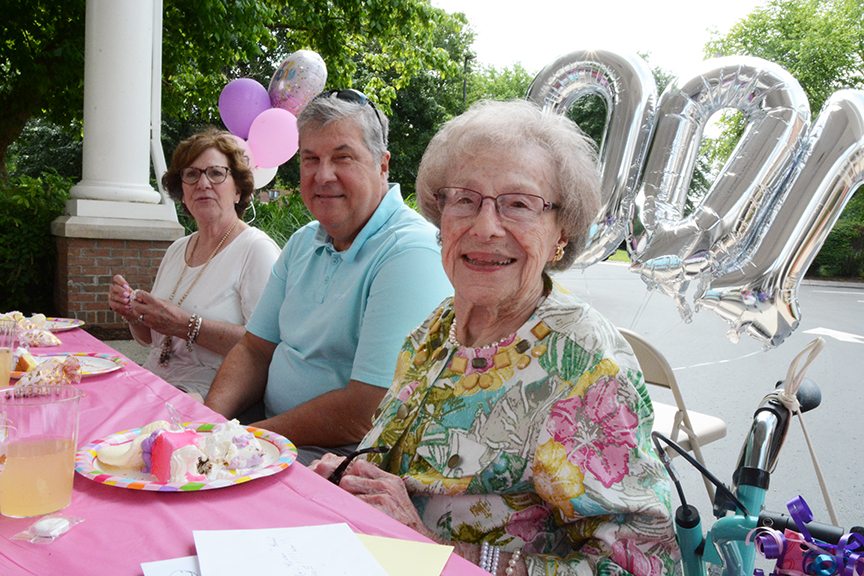 In her 100 years, Rosemary "Rosie" Petre Brunette has lived through the Great Depression and World War II. She's seen man land on the moon and massive advancements in medical technology.
She never thought about living to 100 and seeing all that change. "Never dreamed of it," she said at a 100th birthday party with some of her seven children and her fellow residents at Mary, Queen of Angels Assisted Living Facility on Friday, June 4.
She also had a party with all of her children and the rest of her family on her actual 100th birthday, Sunday, June 6.
Spending that day with her family was fitting for a woman whose greatest joy in life, she said, was being a mother, grandmother and great-grandmother.
"She made sure that everything was right for all of us," said her son Paul Brunette. "She was nurturing. She's always positive. She has an infectious smile … and is always smiling."
"She sees the bright side of everything," added her daughter Dea Taylor.
Her positive attitude is one she learned from her parents. "My parents were both positive," Mrs. Brunette said.
She was born on June 6, 1921, on her family's farm on Buena Vista Pike in the Germantown neighborhood of Nashville. She was the seventh of the eight children of James E. Petre, the treasurer of the meat packing company, Jacobs Packing Company, and Josephine Loeffler Petre. "They called them Josie and Jim," Mrs. Brunette said of her parents.
"All eight of us were home delivered by the family doctor, Dr. Harlan Tucker," Mrs. Brunette said of she and her siblings.
As a child growing up on the family farm, "I had to bring in the eggs and take the clothes off the line," she said.
Her home was about a mile from the Dominican Sisters of St. Cecilia Motherhouse, where she attended St. Cecilia Academy, which was both an elementary and high school at the time. Tuition then was $5 a month. "Can you believe that?" she asked.
From time to time, she was called on to serve as a flower girl when Dominican sisters would profess their final vows.
Growing up in Germantown "was nice," Mrs. Brunette said. Her family were parishioners at Assumption Church and she remembers attending dances and bingo games at the parish clubhouse across the street.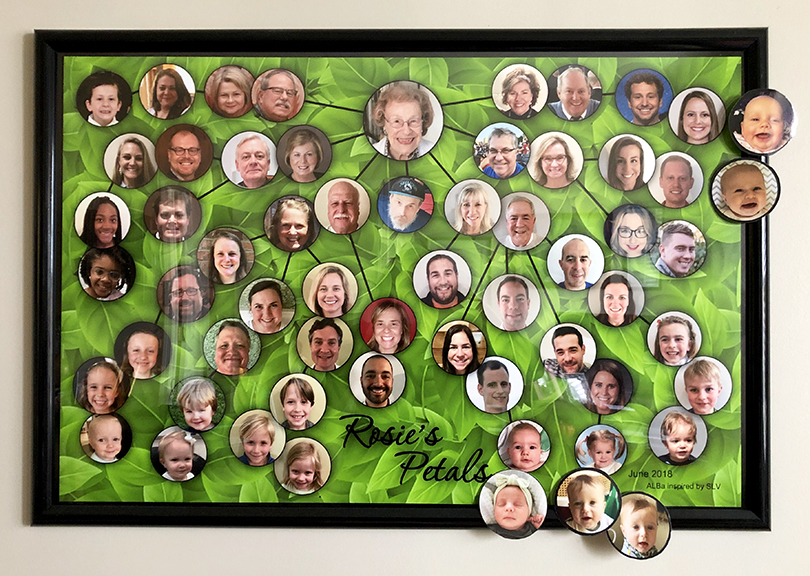 She graduated from St. Cecilia in 1940, one of 12 girls in the class, including Agnes Eckhardt Nixon, who created the soap operas "All My Children" and "One Life to Live" and was head writer for "Search for Tomorrow," "Guiding Light," and "Another World."
After graduating from St. Cecilia, Mrs. Brunette enrolled in the Saint Thomas Hospital Nursing School. "I always wanted to be a nurse," she said, in part inspired by her mother's best friend who was the nurse for Dr. Tucker.
World War II broke out while she was a nursing student, and when she graduated from nursing school, Mrs. Brunette entered the Navy as an ensign.
"There's not many World War II Naval officers left," noted her son, Scott Brunette.
She was one of 500 nurses at the Naval hospital in Portsmouth, Virginia, caring for wounded sailors and Marines and their dependents.
It was while serving in Virginia that she met her husband, Joseph Brunette, a fellow Naval officer – though she's quick to point out she outranked him.
One day, he asked her to let him walk her home. On the way, a wind whipped her nurse's hat off. She told him he needed to chase it down or she would have to send off to Nashville for another one.
As he handed the hat back to her, he stole a kiss. They were married two-and-a-half months later at St. Paul Church in Portsmouth.
"My mom and sister came and planned the whole wedding," Mrs. Brunette said.
After the war, her husband worked for Ralston Purina Company in Maryland and Delaware. They had seven children in 14 years: Mike, Barbara Trautman, Scott, Marie McKirnan, Jim, Paul and Dea Taylor.
In 1963, the family moved back to Nashville with Mr. Brunette's job transfer. "I was a tickled to be around my parents and my big sister," Mrs. Brunette said.
The family were parishioners at St. Henry Church and her children attended Catholic schools, including Father Ryan High School and St. Cecilia Academy. Later, she was a parishioner at St. Ann Church in Nashville.
Her beloved husband died in 1980, and Mrs. Brunette moved to Mary, Queen of Angels eight years ago. "The caregivers are very nice," Mrs. Brunette said of the Mary, Queen of Angels staff.
Mrs. Brunette remains active and is known at Mary, Queen of Angels for her love of playing Bingo and helping her fellow residents with the game, exercising, shopping and – before COVID – eating out. She serves as a Welcome Ambassador at the facility greeting prospective residents.
Her party hosted by Mary, Queen of Angels, which was held outside, was a welcome relief after the pandemic, she said.
During the pandemic, with safety protocols in place, Mrs. Brunette wasn't able to meet face-to-face with her seven children, their spouses, her 15 grandchildren, their spouses, and her 22 great-grandchildren.
When she turned 99 last year in the midst of the pandemic, "it was hard," said her daughter, Dea Taylor.
But for her 100th birthday, she was able to have her family around her for the celebration.
Mrs. Brunette attributes her longevity to her positive attitude, healthy habits, family involvement, and especially her strong faith. "She has a sense of humor," her daughter Dea said. "We can laugh at anything."