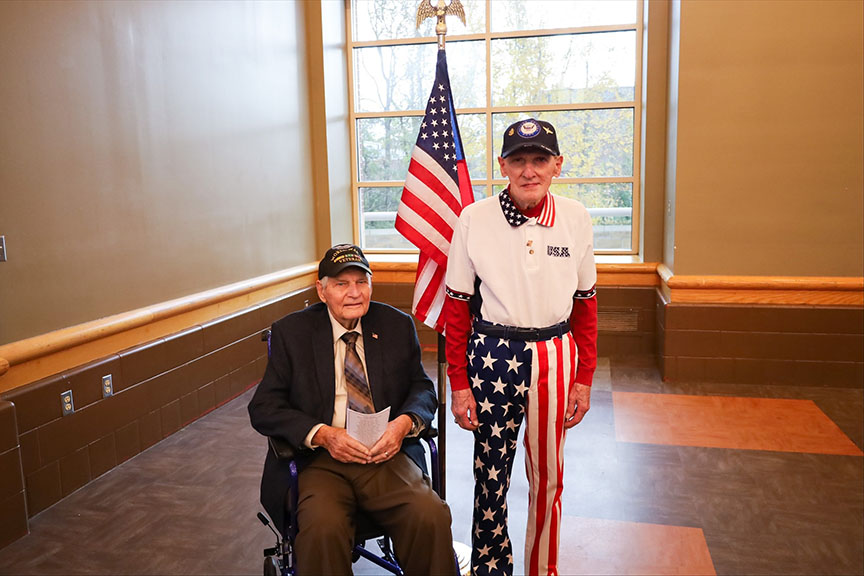 Father Ryan High School welcomed more than 100 alumni who served in the military for its 17th annual Veterans Breakfast on Veterans Day, Thursday, Nov. 11.
Vic Francescon, a 90-year-old Korean War veteran and member of the Class of 1949, was the featured speaker. He told of his family's role in the integration of sports at Father Ryan and in the State of Tennessee.
Francescon's father, Sam, operated Francescon Tile and Marble. One of his employees was World War II veteran Elton Brown, the father of Willie Brown who helped integrate sports at Father Ryan and was a member of the inaugural class of the school's Athletics Hall of Fame.
When Willie was old enough to start school, Sam Francescon encouraged Elton Brown to enroll his son in Catholic school and paid his tuition to attend St. Vincent de Paul School.
As a student at Father Ryan, Willie Brown and Jesse Porter integrated the basketball team in the 1963-64 season, making Father Ryan one of the first integrated teams in the state. The next year, Brown led Father Ryan to a victory over the powerhouse Pearl High School team in the first contest in the state's history between a predominantly white school and an all African-American school. The game, which drew a standing-room-only crowd to Municipal Auditorium, opened the door to the eventual integration of the state basketball tournament.
After graduating from Father Ryan, Vic Francescon served in the U.S. Navy as an aviation mechanic during the Korean War.
During the breakfast, Father Ryan student Sophia Cox read her essay "America: Where do we go from here?", which has been entered in the Veterans of Foreign Wars' Voice of Democracy essay contest.