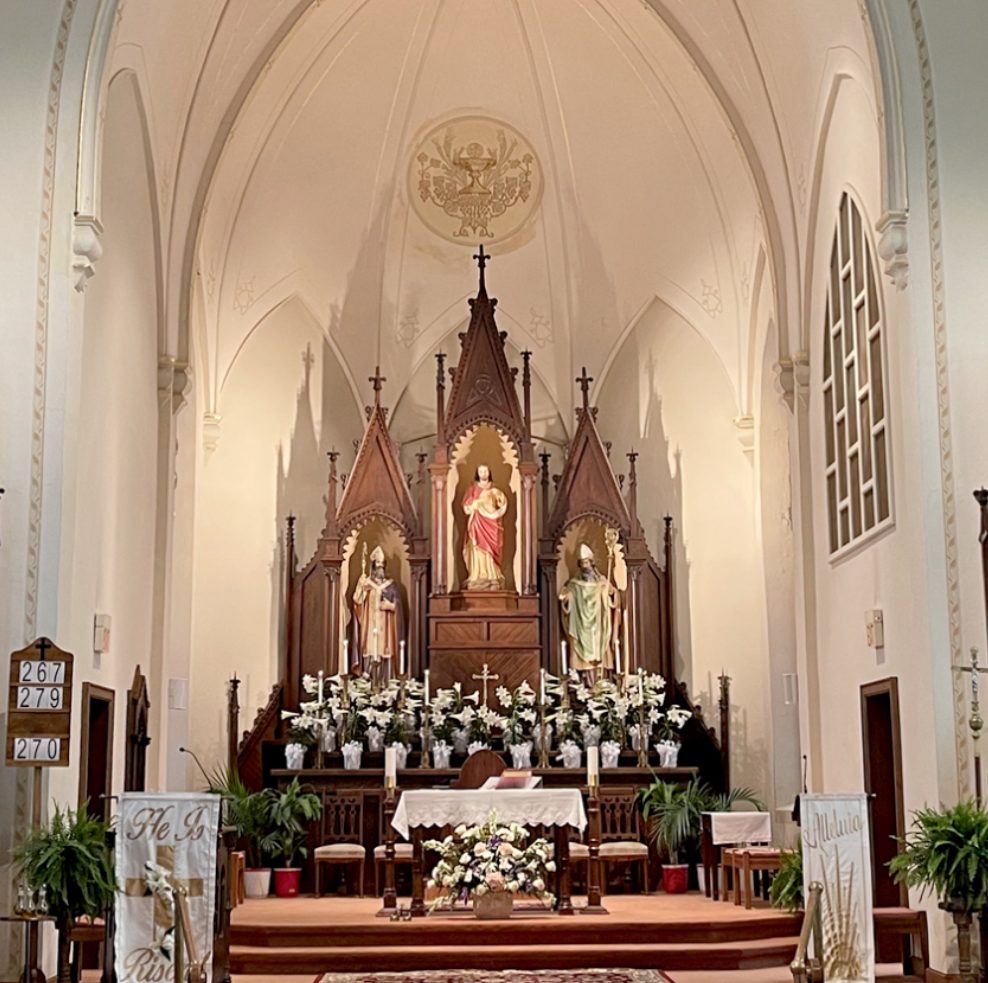 For the last 90 years, Labor Day in Lawrenceburg, Tennessee, has been all about good food, fun, and most importantly fellowship as Sacred Heart Church and School in Lawrenceburg hold their annual Labor Day Festival to benefit the school.
This year's festival is slated for 8 a.m. to 8 p.m. on Monday, Sept. 4, and will feature games, vendors, food trucks, live music, auctions, and more. The Knights of Columbus Council 2246 will host a beer tent, Bouncing Betsy, and a corn hole tournament. Forms to enter the cornhole tournament, for $50 per team, are available on the Sacred Heart Lawrenceburg Facebook and Instagram pages. The winning team takes home half the entry fees.
Each year, proceeds from the festival go toward Sacred Heart School to help keep tuition costs low, supplement teacher salaries, purchase supplies, and more. This year's goal is to raise $70,000.
"The most important thing is the ability to educate as many children as we can, regardless of the price," said Samantha Benefield, who is coordinating the event for the fourth consecutive year, and the sixth year overall. "We really rely on this fundraiser to help us be able to do that."
Benefield, who has had three children graduate from Sacred Heart School and has four more who are currently attending, said she has been involved in some way with the festival since 1999.
"The biggest thing that keeps me involved is that it's like a homecoming," Benefield said. "It has a distinct purpose to raise money, but it's all these parishioners that come together to enjoy the day.
"Even those who don't have children at the school, they know the school is the main apostolate of our church, so it still pulls everybody together for this huge common goal in love that we all have," she continued. "The day is just filled with camaraderie that even brings a lot of people back to town who have since moved away, so it's a really beautiful time to get together."
Along with food for purchase, games and vendors, there will be three auctions leading up to and the day of the event.
An online auction is currently underway and will officially close at 11 p.m. on Sunday, Sept. 3. To place a bid, visit new.biddingowl.com/items?QueryAuctionId=72497fc2-885a-4292-ac4b-adccbfb6f201&QueryCategory=%20All.
The day of the festival, the silent auction will be set up in the school gymnasium beginning at 8 a.m., with a live auction starting at 1 p.m. Featured items include trips, sporting event tickets, and more.
"We have had a wonderful auction team this year, and they're doing a fabulous job," Benefield said. "They have combed the state of Tennessee, and even neighboring states in Alabama and Kentucky, and gone door-to-door and gotten donations.
"We have wonderful parishioners who have donated items, too," she said. "We're very blessed."
As the day approaches, Benefield said all involved have high hopes for the event.
"My hope is that our parish, past, present, and future, just come together and bask in the love of Jesus and getting together," Benefield said. "Over and above the money, my prayer is that everybody comes together in unity and enjoys the beautiful day we are blessed with in spending time together.
"Those times that a parish can get together with the current community and past members are becoming rare, so anytime you can get everybody together is an absolute blessing."
For more information about the event, call 931-762-6125.
Sponsorship opportunities are also available through the end of the month. For more information, call Benefield at 931-629-3554.
Current sponsors, as of Wednesday, Aug. 23, include Crockett Kids Pediatrics, PCTrace Realty Group; Parkes Lumber Company; Rohling Builders, LLC; Story and Lee Furniture; Richard and Ruth Stewart Family; AllSource Logistics; Beasley Wealth Management; Cortez Drywall; Beckman Lumber Company; Larry and Roberta Niedergeses; The Reserve; AMS Health Network; Evers Construction Company; Christie Hagan Coldwell Banker Southern Realty; James Patt Family; El Azteca Mexican Restaurant and Grill; Julie O'Rourke Worlds Finest Chocolate; Cocina Real Mexican Restaurant; Puente Grande Mexican Restaurant; Edward D. Jones; and Mark V. Perry.
Donations can also be sent to: Sacred Heart Church, Attn: Samantha Benefield, 221 Berger Street, Lawrenceburg, Tennessee, 38464.