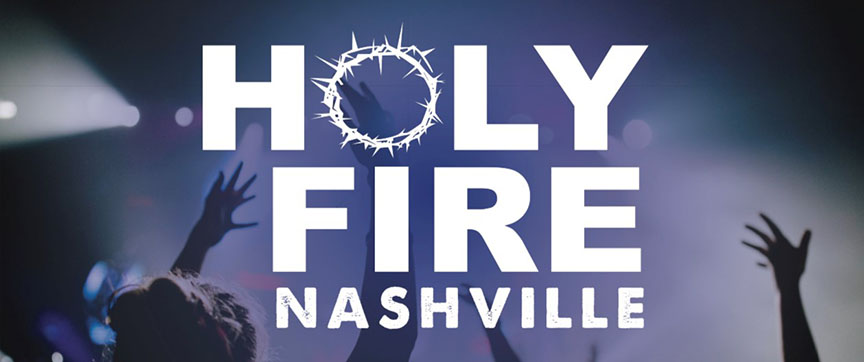 Middle school students across the Diocese of Nashville and beyond are being invited once again to embrace their baptismal call as Holy Fire Nashville returns from 9:30 a.m. to 5:30 p.m. on Saturday, Oct. 21, at the Catholic Pastoral Center in Nashville.
"At Holy Fire, middle school Catholics are invited and challenged to embrace their baptismal call and the powerful, relevant gospel of Jesus," according to event materials. "Through talks by dynamic speakers, witness by peers, inspirational praise and worship, and rich experiences of the sacraments, Holy Fire helps young people feel seen, welcomed, and invited into a life-changing commitment to Christ."
The event, which is being put on by EQ Saints and Declan Weir Production, Inc., in partnership with the National Federation for Catholic Youth Ministry, will be MC'd by Angele Baczmaga, the middle school youth minister at Holy Family Church in Brentwood, and include: performances by Catholic musicians DJ Staël and PJ Anderson; keynote addresses by Noelle Garcia, a Catholic recording artist and speaker' opportunities to receive the sacrament of reconciliation and attend adoration; and Mass celebrated by Bishop J. Mark Spalding at the end of the day.
Along with inviting middle school youth from churches and Catholic schools throughout the diocese, personal invitations are also being extended to area dioceses and archdioceses, including Memphis and Knoxville in Tennessee; Owensboro, Lexington, Covington, and Louisville in Kentucky; Birmingham and Mobile in Alabama; Biloxi and Jackson in Mississippi; Evansville and Indianapolis in Indiana; Little Rock, Arkansas; Alexandria, Baton Rouge, Houma-Thibodaux, Lafayette, New Orleans, and Shreveport in Louisiana; and Jefferson City, Kansas City-St. Joseph, Springfield-Cape Girardeau, and St. Louis in Missouri.
"Holy Fire is an important event because all of the middle school students will come together from our own diocese and surrounding dioceses, and they will have the opportunity to see a glimpse of the universality of the Church," said Jordan Montenegro, assistant director of youth and young adult ministry for the diocesan Office of Faith Formation. "My hope is for the middle schoolers to recognize that they are surrounded by a community that also genuinely practices the faith and that that will encourage them to dive deeper into their own faith as well."
"At Holy Fire, there is a huge opportunity for middle schoolers and their Catholic peers to come together to worship Jesus and experience Him in the Eucharist as a community," added Melissa Doyle, assistant director of catechesis.
The cost of the event is $45 per person. Participants are welcome to bring their own lunch or pre-purchase a Chick-Fil-A sandwich during registration. T-shirts are also available for pre-purchase during registration for $10 through Oct. 1, and can be picked up at the event.
Hotel accommodations are also available. For more information, email Shelby Conner, associate director of faith formation, at shelby.conner@dioceseofnashville.com.
For more information or to register, visit eqsaints.com/holyfire-nashville. Registration is available either as an individual or a group. Reach out to your parish faith formation leader for more information.