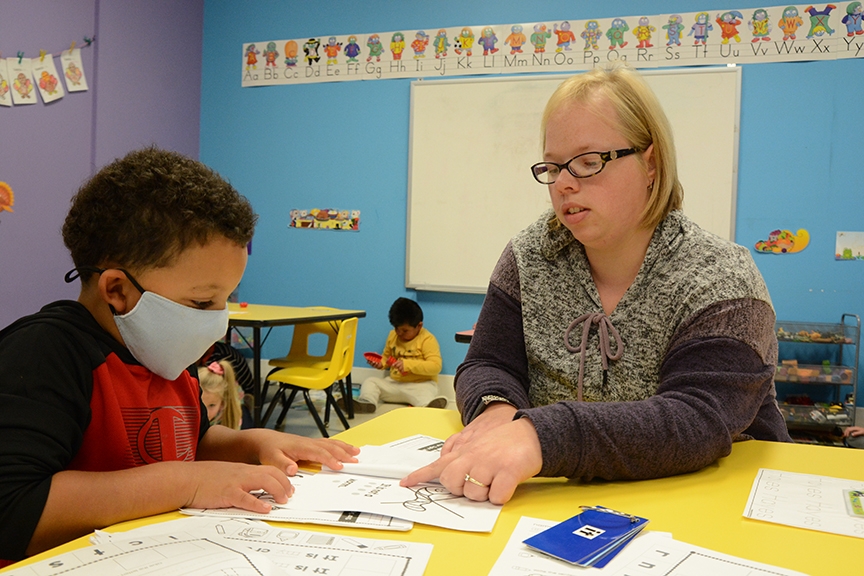 Colleen Vess sits beside a pre-kindergarten student and gently helps him learn to read. It's part of what she does as a volunteer teacher's assistant at Sacred Heart School in Loretto.
Jeffrey Littrell is quick to scan the books in the school library and return them to their proper place on the shelves. He knows exactly where every book belongs.
Colleen and Jeffrey have routine jobs at Sacred Heart School, but their presence there is anything but. Now adults, both were special education students when they were in school.
Their involvement at Sacred Heart teaches the students a valuable lesson, said Principal Teresa Leon.
"It's important for the kids," whose interactions with Colleen and Jeffrey teach them "everyone is God's child," Leon said. "To be different is not a mistake or wrong."
It can also help the students cope when they feel they are different, Leon said.
"It's important for kids to see through God's eyes and (working with Colleen and Jeffrey is) an opportunity for them to do that," Leon added. "It makes the kids warm and open and compassionate towards people. They take it outside the school walls."
'A blessing to me'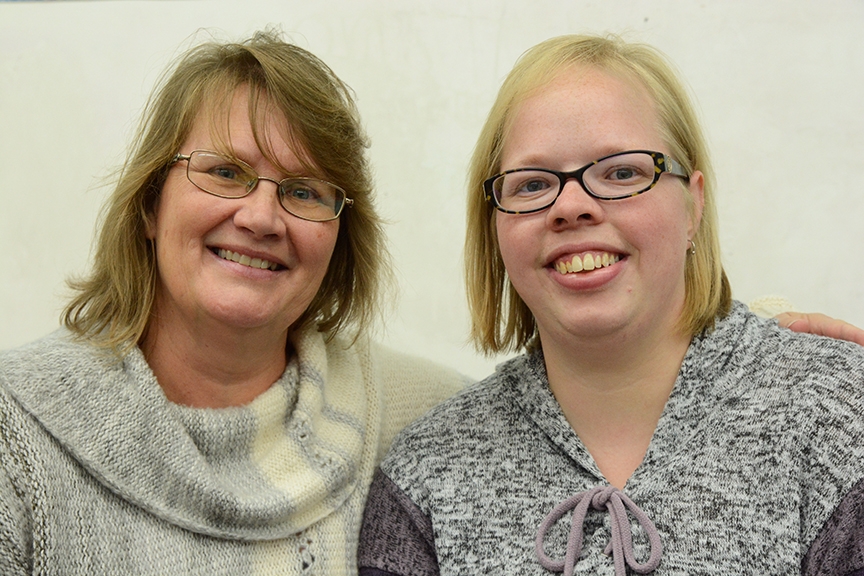 Colleen attended Sacred Heart School, where her mother Sue Vess is also a teacher, from fourth through eighth grade. In high school, she was enrolled in special education classes.
While still in high school, she would help her mother in the pre-kindergarten class after her own school day was finished.
One day, Colleen showed a pre-kindergarten student how to use scissors so they wouldn't hurt themselves. "I snagged her after that," Sue Vess said. "It was a blessing to me."
After Colleen graduated from Loretto High School in 2011, she started volunteering full-time with the pre-kindergarten class at Sacred Heart and also helping the school office manager, Coral Potts, in the afternoons.
Catherine Bradley was the principal when Colleen started. "She actually jumped on it," Sue Vess said of Bradley's decision to let Colleen volunteer at the school. "She didn't hesitate. I was very grateful."
Not only does Colleen's volunteering keep her involved in the school, "it lets children know we're all different," but we all have gifts we can share, said Sue Vess, who is now the school's kindergarten teacher. "Even if people have disabilities … there are things they can do."
'It was amazing'
Carol Yarbro is the volunteer librarian at Sacred Heart. She and her husband Alvin became foster parents in 2002.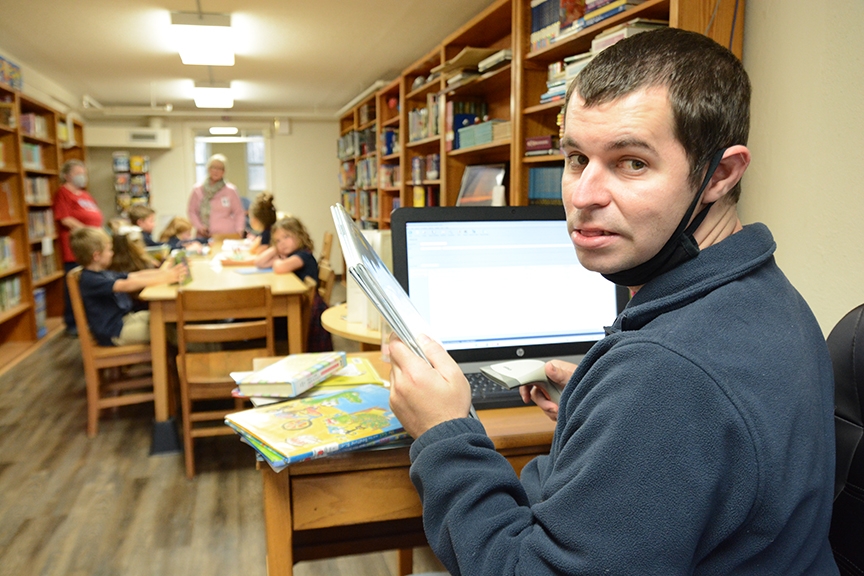 "We got Jeffrey when we got a call" from state officials, Mrs. Yarbro said. "They had a boy with autism who needed a home. … I said, 'Autism. What is that?'"
Originally, the Yarbros were asked to keep Jeffrey, who was 14 at the time, and his half-brother for the weekend, but then they were asked to keep him for another week. "We knew they were going to move him from home to home to home," Mr. Yarbro said. They feared Jeffrey was going to get lost in the system, so Mrs. Yarbro started asking what she needed to know to take care of Jeffrey for the long term. The Yarbros were Jeffrey's foster parents when he was younger and still take care of him now that he is an adult.
Jeffrey has been diagnosed with severe autism, intellectual disability, and Attention Deficit Hyperactivity Disorder. Despite his disabilities, Jeffrey has a capacity to work with numbers and can quickly alphabetize things to keep them in order, Mrs. Yarbro said.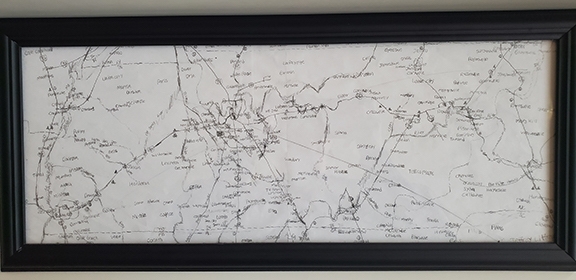 He also can draw detailed maps from memory after only one visit to a location. One of his maps of the State of Tennessee, showing all the major highways, cities and towns, that he draws from memory, is hanging in the school cafeteria.
Jeffrey loves music, plays the piano and is a huge fan of the Country Music band Alabama. He's been to several of their concerts and lead singer Randy Owen has invited him onstage to sing with the band.
After Jeffrey graduated from Lawrence County High School in 2011, the Yarbros wanted him to have a job. Mrs. Yarbro asked the principal, Mrs. Bradley, and Father Tomy Joseph, M.S.F.S., who was pastor of Sacred Heart Church at the time, if there was something Jeffrey could do at the school.
They said they would find something for Jeffrey and started by having him help shred papers that were no longer needed.
When he was in the school library with Mrs. Yarbro, Jeffrey started putting books back on the shelf in just the right order. "He just did it. I don't know how he did it," Mrs. Yarbro said. "It was amazing."
Jeffrey's behavioral therapist has come to the school to talk to the students and explain what autism is, Mrs. Yarbro said. "They were able to ask a lot of questions about why Jeffrey behaves like he does."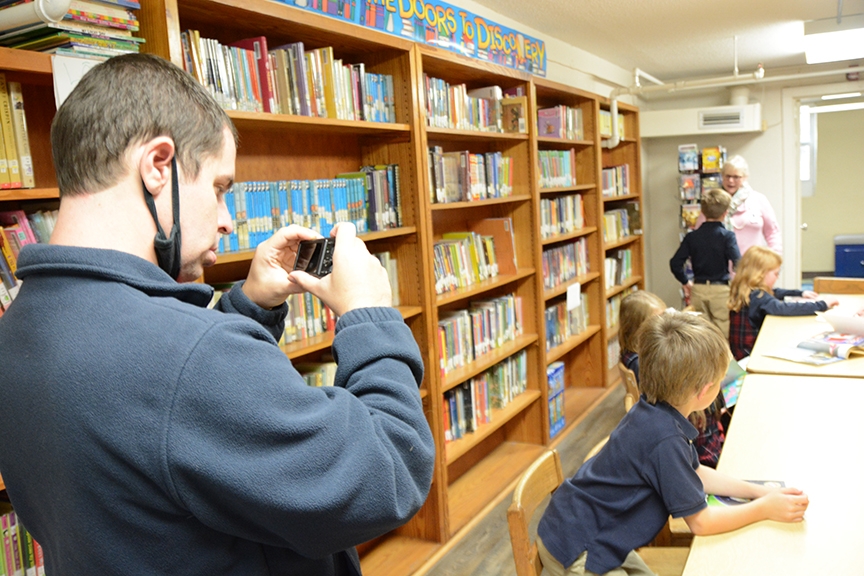 His involvement at the school, like Colleen's, has benefited not only him but those around him.
"I think it's tremendous," Mrs. Yarbro said. "Kids here probably didn't have exposure to people with disabilities. They can see the value they have."
'Here for a reason'
Colleen likes to help the children in the pre-kindergarten class with their craft projects and learning their sight words, she said. To the students, she's a teacher, just like her mother. "That's what they call me," Colleen said.
Having Colleen in the classroom, benefits not only the teacher but the students as well, Sue Vess said. "Having an extra person to talk to and to read to them, it helps them academically."
"The kids seem to love her," Sue Vess said. When Colleen was out for a week earlier this school year, "they missed Miss Colleen and wanted to video chat with her."
Leon was one of Colleen's teachers when she was a student there. After teaching for several years at Overbrook School in Nashville, Leon came back to Sacred Heart this school year as principal. "It was a pleasant surprise to see Colleen here and working and seeing her accomplish so many of her goals as a young woman," Leon said.
Colleen and Jeffrey share a birthday on March 15, and they celebrated together with a party at the school in the past. 
Like Colleen, Jeffrey enjoys spending time with the students, Mrs. Yarbro said. "He likes to make them happy."
Mrs. Yarbro is not sure why God put Jeffrey in her life and at Sacred Heart, but she is sure "he's here for a reason," she said. "I think he's making a positive impact."