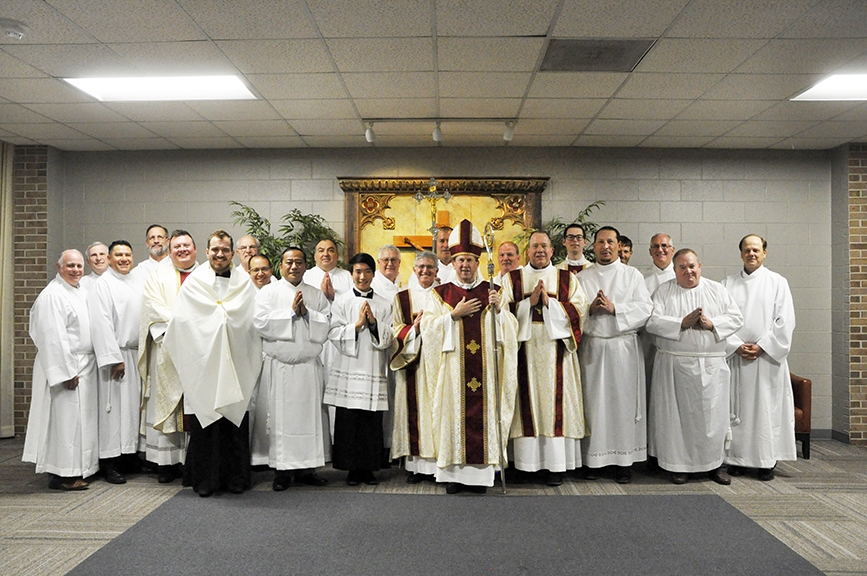 Salvador Soto, a parishioner of Our Lady of Lourdes Church in Springfield, credits God and his wife, Maria Soto, for bringing him back to the Church 10 years ago.
"It was God's grace through her prayers," Soto said of his wife.
It started him on a journey that eventually led him to enter the Diocese of Nashville's deacon formation program. He and 12 other men reached an important milestone in their discernment; they were admitted to candidacy for Holy Orders during the Deacon Candidacy Mass on Saturday, Jan. 15, at the Catholic Pastoral Center.
"This step means that their discernment has reached a place of maturity and certainty" said Father Luke Wilgenbusch, associate director of the diocesan Office of Vocations.
"It is still normal for a man to be asking the question about whether he is truly called to the diaconate at the beginning of his time in formation," Father Wilgenbusch said. "However, when he advances to the stage of candidacy, he is saying that he has reached a place of certainty in his vocation and is now beginning more proximate preparation for ordination."
Soto's call to the diaconate began with a response to suffering.
"I was able to hear God's voice through a sickness and healing that God did for my wife at Vanderbilt (University Medical Center) when a lot of doctors didn't have a cure for it; didn't know what to do.
"From that time at Vanderbilt, I just had an experience with an unknown God, and I just turned my life over to him," he said. "I went back to church, and then started learning like a child again, learning the faith and started growing in formation."
After a few years back into Church life, "I just felt a call to serve in a different way than the laity are able to serve for the parish, and I felt the indwelling of the Holy Spirit," he said, as his discernment period began.
Now, with three years of formation under his belt, as an official candidate for the permanent diaconate, he and the 12 other men are approaching their final months of formation before they are scheduled to be ordained in spring 2023.
Bishop J. Mark Spalding celebrated the Candidacy Mass.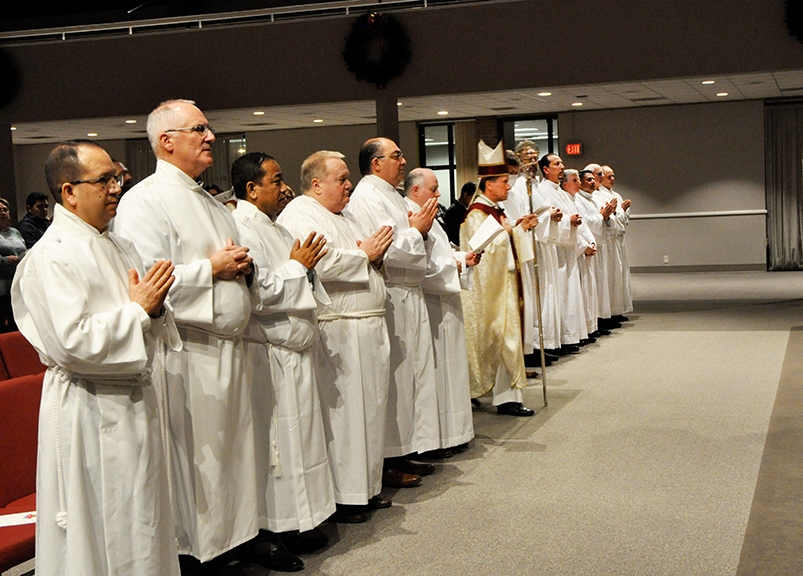 "Thank you for hearing the call and responding so well," Bishop Spalding said during his homily. "The world needs men like you, needs your example, faith, hope and love.
"In that service that you will render in the Church here in Middle Tennessee and the Diocese of Nashville, in that good work, Christ is brought into the world," Bishop Spalding said. "And the people who are lost or wounded or frustrated, whatever their situation in life, they're going to come to you, and you're going to bring them Christ."
When we serve, "we become the instrument," he said. "We keep asking the Holy Spirit 'to transform me so my own personal agendas, my own personal issues are pushed aside so God's will and the Word is made present through me,' and that's powerful."
Deacons are one of the three orders of ordained ministry in the Catholic Church, along with bishops and priests. They have the authority to proclaim the Gospel, preach and teach in the name of the Church, assist the priest at Mass, baptize, lead the faithful in prayer, witness marriages, and conduct wake and funeral services.
The permanent deacon is also called to serve in a wide variety of ministries.
They can be married or single, and many have a full-time job outside the Church.
'Getting stronger and stronger'
Soto said, though the process was difficult, he never questioned that this is what God was calling him to do.
"The biggest challenge for me has been trying to balance everything with work, family, service and visits," Soto said. "I'm not a big academic guy. … That was a challenge.
"But then after a year, I started seeing the results that needed to be there," he said. "That's a big relief and that's just assurance that you can do it. Just believe in yourself. God has given you the necessary wisdom to do this."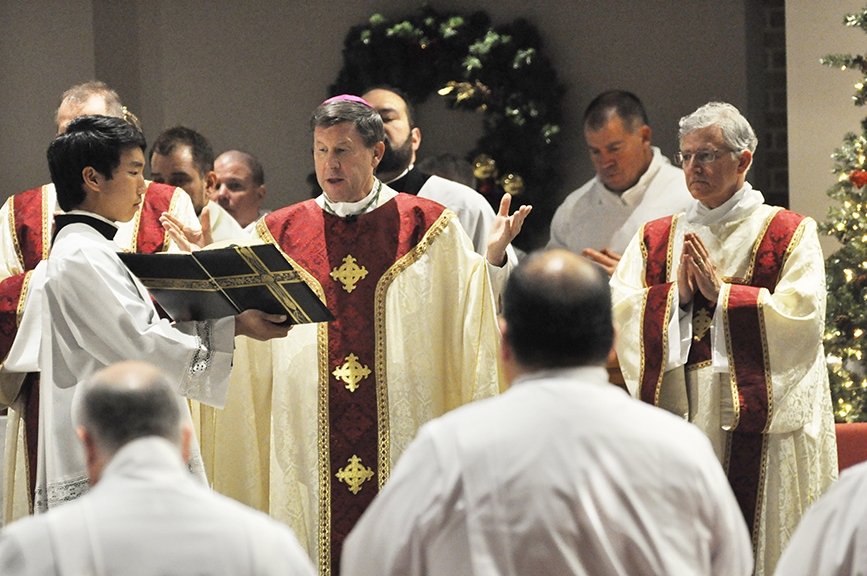 Diaconate Candidate Mike Wiedemer, a parishioner of Good Shepherd Church in Decherd, said he didn't know how the other men in the program like Soto handled it.
"It's a tremendous academic workload. I'm completely retired, so I don't have another job other than serving at my parish, so I think I have more time available than anybody else in the class … and sometimes I wonder how the guys who have full-time jobs, are raising families, and have other things to do can get it all done.
"But I want to thank the Diocesan Office of Vocations for the excellent diaconate formation program," he said. "Because of their efforts, our diaconate class has received an outstanding education and formation, which has enhanced our intellectual, emotional, spiritual and pastoral growth. The growth has solidified our discernment, built a foundation for effective empathy and communication in our parishes, and most of all opened our hearts and minds to the gifts of the Holy Spirit. I am forever grateful."
Wiedemer felt the call to the diaconate for many years, having already been dedicated to a life of service, which includes 32 years in the U.S. Air Force and 40 years as a Knight of Columbus.
"It's always been in the back of my mind that God's love was there, and he became increasingly more important in my life from an intellectual perspective, from an emotional perspective, from a spiritual perspective," Wiedemer said. "I know that throughout my life, I was always interested in reading the Bible, studying the Bible.
"When I started trying to discern whether I should attempt to be a deacon, whenever I was reading the Gospel, it was like I was getting hit in the head with a two-by-four," he said. "Over and over and over again it was saying, 'You should be going to become a deacon.'
"I've never changed my mind, and it just keeps getting stronger and stronger," he added.
Now, both Soto and Wiedemer said they have high hopes not just for this final year of formation, but post-ordination.
"I hope to seek more of God's grace and just continue to prepare my soul, my heart, my mind, just my entire self for that moment of ordination because you want to be filled more with the Holy Spirit," Soto said. "You want to allow the spirit to come to you in a deeper way. Just having that openness to the spirit and God and let him keep transforming my life."
After ordination, "I just want to bring hope to the people that are broken and hope to the people that maybe, in some way or another, the Church has neglected. I know what it feels like to be broken. I know what it feels like to struggle in your family," he added. "The people are hungry, hungry to be around Christ, and we (as deacons) can bring Christ to them in more specific way."
Wiedemer is looking forward to bringing more to those he visits in the hospital or those who are homebound.
"When I go out now and deliver Communion to the homebound and the people who are in hospitals, I can only give a personal blessing," Wiedemer said. "I would really like to be able to give a Sacramental Blessing to those people who need more grace not from me but through me through the Holy Spirit.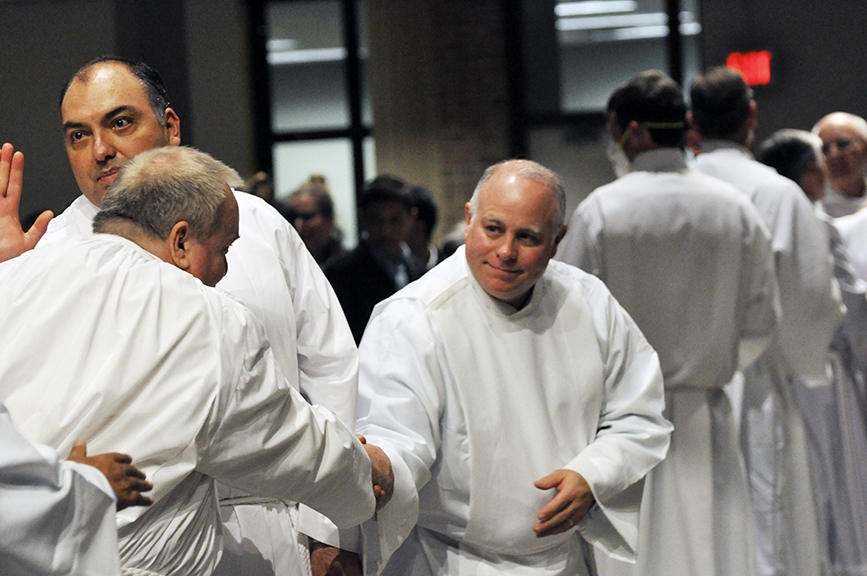 "I've been in a lot of hospital situations and homebound situations with a priest or with a deacon and there is just an extra presence, holiness, sacramentality that the priest and the deacon have in that situation that benefit those people … and bring even more comfort," he added. "Being able to bring that kind of comfort and be a conduit of the Lord to bring his sacramental grace is extremely important to me."
Although this Mass is one of the last steps in their formation before ordination, Bishop Spalding said their formation doesn't stop with ordination.
"Your formation stops just like your growing up stops. When the Lord himself says, 'Come home,' that's when the formation stops," he said. "From now and until then, you're still working, still learning the lessons of life, still being formed more and more into Christ himself."
Along with Soto and Wiedemer, the following men were admitted to Candidacy for Holy Orders: Joseph Augustine of St. Mary of the Seven Sorrows Church; Christopher Hoover of St. Stephen Catholic Community in Old Hickory; David Giles and Collen Mayer of St. Henry Church; Shawn Phillips and Francis Kham of St. Edward Church; Craig Thomas of Our Lady of the Lake Church in Hendersonville; Christopher Simpson, Mario Guzman-Cornejo and Martin Torres of St. Luke Church in Smyrna; and Carlos Salvatierra of Immaculate Conception in Clarksville.