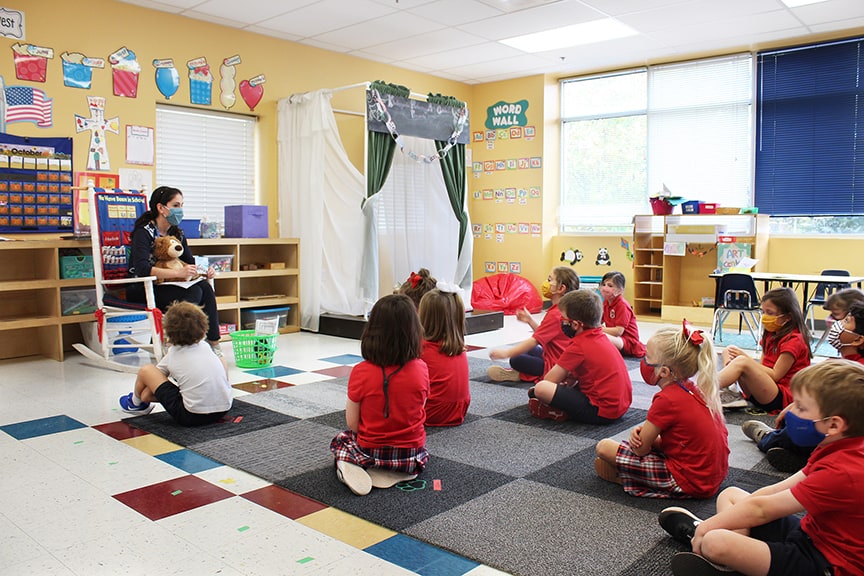 St. Bernard Academy, the oldest Catholic elementary school in Nashville, founded by the Sisters of Mercy in 1866, recently completed the process to join the international Mercy Education System of the Americas.
As an independent Catholic school not affiliated with a parish or overseen by a religious order, "we're a unique school in Nashville," said Margaret Thornton, lower school head at St. Bernard and chair of the school's MESA committee.
"It's important to us that we keep the Catholic faith strong and lead the school with the Sisters of Mercy in mind," Thornton said. Joining the MESA network of schools "is a way to ensure that happens for years to come," she added.
Mercy Education System of the Americas was formally established in 2017 "to ensure Mercy sponsored, cosponsored, and affiliated education ministries are identified within the mission of the Catholic Church and are faithful to the charism, mission and core values of the Sisters of Mercy."
MESA offers a variety of programs and resources for students, educators and leaders, including conferences and online courses.
St. Bernard was one of three schools that MESA recently welcomed to join as affiliated members. The others are Bishop Feehan High School in Attleboro, Massachusetts, and The Campus Laboratory School of Carlow University in Pittsburgh.
The detailed process for St. Bernard to join MESA, which started in 2019, "helped us identify things we're doing really well in regards to the Mercy identification and charism, and it helped us identify areas of growth," said Thornton.
The school assembled a "Heart of Mercy Committee," comprised of teachers, administrators, board members, alumni and current students, which met numerous times to discuss and respond to a series of detailed questions from MESA, explained Thornton.
They dug into specifics of how the school expresses and continues its Mercy tradition, how it incorporates the Works of Mercy into the curriculum, how it educates students in the Catholic faith, what formation opportunities are available for faculty and families, and much more.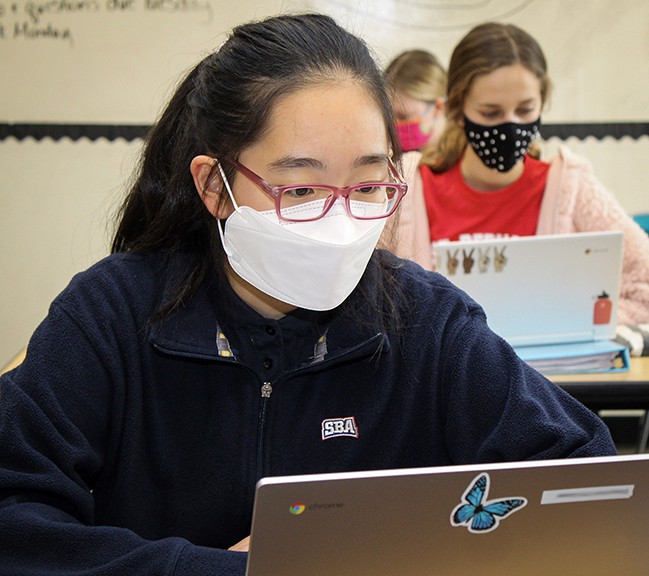 After the Heart of Mercy Committee met together, they had interviews with a team from MESA that reviewed St. Bernard's application and concluded that there is "no doubt that Mercy is alive within your school," Thornton said.
In January, MESA Board Chair Terry Quinn and Executive Director Sister Lisa Griffith, RSM, wrote to St. Bernard Head of School Chuck Sabo confirming the board's unanimous decision to welcome St. Bernard to join MESA.
"We are so appreciative of St. Bernard's commitment to the Mercy charism as you continue to support and grow the mission in your Mercy Catholic School," they wrote. "We recognize your desire to embody the Mercy Catholic tradition as outlined in your goals and objectives. We affirm your plans and look forward to the results of this important work in the service of your mission."
St. Bernard Academy was founded and run by the Sisters of Mercy from 1866 until 1988 when parents of the school formed a not-for-profit foundation and purchased the school building from the Sisters, ushering in a new era for St. Bernard as an independent, co-educational elementary school.
The Sisters of Mercy had a presence in the school until the last Mercy teacher, Sister Mary Ann Smith, ended her tenure in May 2016.
Today, the Pre-K through eighth grade school is administered and governed by a board of laypeople committed to the mission of the Sisters of Mercy.
"We definitely keep our connection with the local Sisters of Mercy," said Thornton. Before COVID, St. Bernard students and faculty would visit the Sisters at their Pennington Bend convent. And some Sisters always return to campus for St. Bernard's annual "Mercy Day" celebration, Thornton said, which honors the Sisters of Mercy and their foundress Catherine McAuley.
Going forward, St. Bernard wants to make a more intentional effort to fully educate faculty about the Mercy tradition, and more explicitly connect school service projects to the Works of Mercy and the critical concerns of the Sisters of Mercy.
St. Bernard's mission is "to provide an excellent Catholic academic education built on a foundation of self-discipline, compassion, and a sense of responsibility for social justice in the tradition of the Sisters of Mercy."
Being part of the Mercy Education System of the Americas will help ensure St. Bernard continues to live out that mission. "It's a way to hold us accountable," said Thornton.
More information is available at: https://mercyedu.org/ and https://www.stbernardacademy.org/.