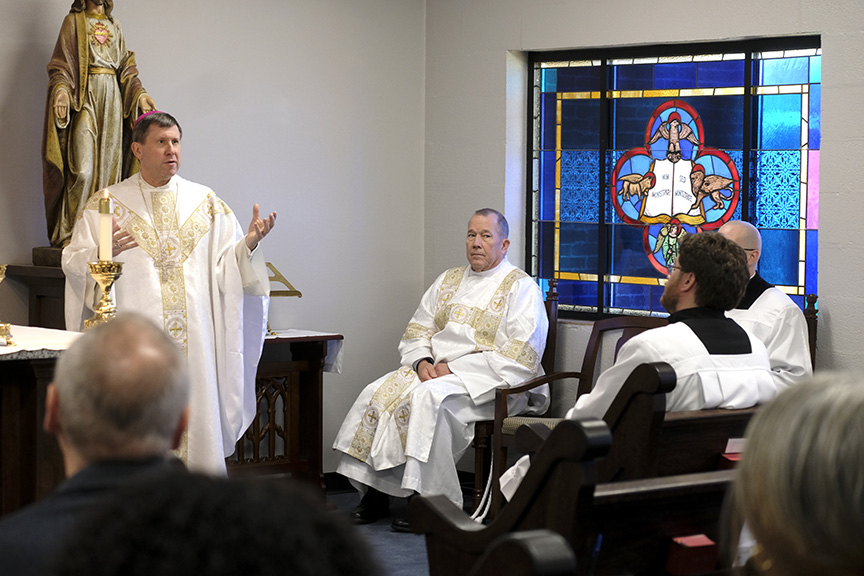 Diocese of Nashville seminarian Tylor Starkey has entered the newest stage of his journey to the priesthood. He was installed to the ministry of the acolyte by Bishop J. Mark Spalding during a Mass Wednesday, Jan. 5, in Deacon's Chapel at the Catholic Pastoral Center.
"It feels really good," Starkey said after the Mass. "I was delayed getting this. It usually happens in October, but my mother was sick, so I was out of seminary at the time.
"But it's actually really nice" doing it this way, said Starkey, who is scheduled to be ordained to the priesthood in 2025. "Usually everyone gets it done at the same time at the seminary by a visiting bishop. It might be yours, it might be someone else's. So to be able to be back home in the diocese, to be able to have it with my bishop, with my brothers here, it's a great blessing. I wouldn't have it any other way."
By receiving the ministry of the acolyte, "this is the last official ceremony he'll go through before diaconate ordination," explained Father Luke Wilgenbusch, director of vocations. "This is the last stage of his preparation."
During the homily, Bishop Spalding explained that the role of the acolyte is to "make sure things go well around the altar."
"They make sure the gifts are brought as they should be, and once we celebrate Mass, they help take care of the vessels and make sure everything is put away," Bishop Spalding said. "As we gather here day in and day out, opening ourselves up for the presence of Christ, we are thankful for so many who make sure this happens.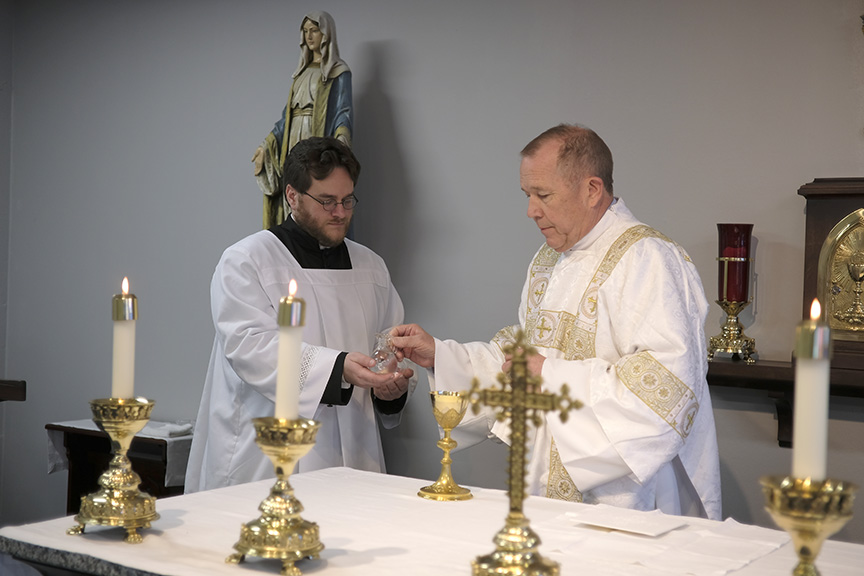 "I remind you of that, Tylor, and I remind all of us that so many are around us right here in this moment. The communion of saints, all those who have gone before us, that have sacrificed, that have loved the faith and passed it on to us. They're right here where we gather," he continued. "Those who want to make sure we have enough seminarians and priests and all those in our whole diocese, they're right here with us.
"All those people in your life that have brought you to this moment, they're right here with us, and I'm happy for you, and we're happy for us as a diocese," Bishop Spalding concluded. "Let us now pray for Tylor. Let us ask God to make him a good servant around the altar of the Lord."
Following the homily, Bishop Spalding invited all to stand and pray before presenting Starkey with the sacred vessel of bread and wine.
"Take this vessel of bread and wine for the celebration of the Eucharist," he said. "Make your life worthy of your service at the table of the Lord and of his Church."