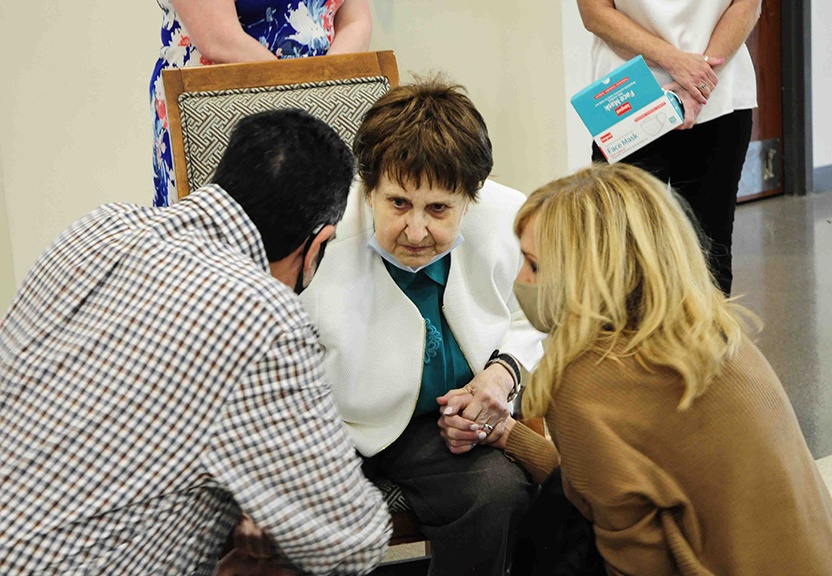 Mercy Sister Maria Edwards, who served at Our Lady of the Lake Church in Hendersonville for more than 40 years as a counselor, spiritual director and director of the Rite of Christian Initiation for Adults program, died peacefully at Centennial Hospital in Nashville on Saturday, Feb. 19, 2022. She was 80 years old.
"She was incredibly loving, compassionate," Sister Mary Rose Bumpus, RSM, said of Sister Maria, her long-time friend. "She loved life. She had a great sense of humor. She was an incredible listener and assisted people in so many different ways. …
"She was incredibly interested in other people," Sister Mary Rose said. "She wanted to get to know people and hear their stories."
A funeral Mass was celebrated on Thursday, Feb. 24, at Our Lady of the Lake. People can view a video of the funeral Mass online at ololcconline.com. Burial was at Calvary Cemetery.
Sister Maria grew up in Memphis where she graduated from Immaculate Conception Elementary School and Immaculate Conception High School. It was there that she was introduced to the Sisters of Mercy. "I fell in love with the sisters," she told the Tennessee Register when she retired in 2021. She joined the Mercy Sisters in 1959 and took her final vows in 1967.
Sister Maria started her 62 years as a Mercy Sister as an elementary and high school teacher, including at St. Bernard Academy and Cathedral High School in Nashville.
She then went to work for the Diocese of Nashville, which then covered the entire state, in youth ministry and wrote one of the first books ever published on the topic of youth ministry from a Roman Catholic perspective, "Total Youth Ministry," which was published in 1976 by St. Mary's Press. In addition to that book, she published 50 articles on prayer, religion, spirituality and psychology.
After working with youth, Sister Maria decided she wanted to work with adults and be a counselor. She earned a master's degree in counseling and became a licensed professional counselor and psychological examiner.
She sent a letter to "every priest in the city," about offering parish-based counseling services, she told the Register, and in 1980 Father John Henrick, then the pastor of Our Lady of the Lake, hired her.
"She loved Our Lady of the Lake," Sister Mary Rose said. "She loved the people there, and they loved her."
"Sister Maria has loved the people of OLOL for over 40 years, and she has brought God's love and comfort to God's people through her ministry with adult education, counseling, and RCIA," said a post on the parish's website. "She never left you without telling you that she loved you, and she meant it! She will be greatly missed, but we know she is praying for us and still loving us from heaven."
Sister Maria stayed at Our Lady of the Lake until 2021 as a pastoral associate providing counseling and spiritual direction and working as the director of the RCIA program, accompanying about 700 adults as they entered the Catholic Church between 1985 and 2020.
"RCIA, it was like it was made for her," Sister Mary Rose said. "She really knew and understood scripture and the life of Jesus, and she could speak to people in the RCIA program in ways they could understand our Catholic faith tradition."
Sister Maria "loved working with adults. … She loved parish ministry," Sister Mary Rose said. "She just loved Jesus and she conveyed the love of Jesus for them. … One of her consistent messages was that God loves you."
At her retirement party at Our Lady of the Lake in May 2021, Sister Maria told attendees that in her counseling practice, she always tried to approach people through the eyes of Jesus. "How would Jesus react to this person? To this situation? He would always love them and never condemn them," she said.
"He would always give compassion and love," Sister Maria said. "I want to leave that legacy."
"Sister Maria dedicated her life to being a compassionate, loving presence for all," her friends recalled. "Her ring motto is 'Love as I Have Loved,' and she embodied in her person this commitment throughout her life. To meet her, was to encounter the Love of God."
She was preceded in death by her parents, Harold and Martha Edwards, and her cousin Bart Calame. She is survived by her cousins Charlotte Calame, Steve Hatch (Sylvia), Carol Ann Cahill (Bill), Randy Smith (Diehl) and numerous other cousins. She is also survived by her beloved Bumpus family and cherished community of Mercy.
Marshall Donnelly Combs Funeral Home is in charge of arrangements.