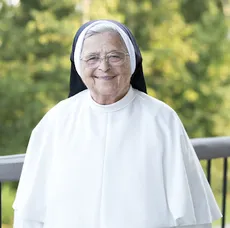 Sister Mary Evelyn Potts, OP, a member of the Dominican Sisters of St. Cecilia Congregation in Nashville for 63 years, died Thursday, Aug. 11, 2022. She was 81 years old.
The funeral Mass was celebrated on Saturday, Aug. 13,at St. Cecilia Motherhouse with burial in the Motherhouse cemetery.
Born in Chattanooga, Tennessee, Sister Mary Evelyn was the daughter of the late J.D. and Clara Stolz Potts. She attended Notre Dame High School in Chattanooga.
She entered the Dominican Sisters in 1959, making her profession of vows in 1961.
Sister Mary Evelyn served for 53 years as a teacher or principal in Catholic schools in Tennessee, Alabama, Ohio and Virginia. In Nashville, she was a beloved member of the faculty of St. Cecilia Academy from 1966 to 1977 and 1987 to 1989, principal of Overbrook School from 1983 to 1987, and president of Aquinas College from 1994 to 2002. For the last seven years she helped to run the congregation's retreat house in Dickson, Tennessee.
She is survived by two brothers-in-law, Daniel P. Merriman, of Ringgold, Georgia, and Bobby F. McKeel of Chattanooga; six nieces, Joan Kammer, Janet Jones, Kathy Rittgers, Ann Thomas, Mary Beth Adkins, Annette Palmer, and Margaret Merriman, and a nephew, John Fox.