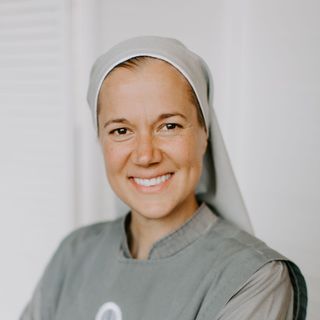 As a little girl, Sister Miriam James Heidland, SOLT, suffered a series of traumatic childhood events that had her turning to alcohol to numb the pain. That addiction followed her into young adulthood, along with promiscuous romantic relationships, and a love for playing volleyball.
She was continuing along that path as a student at the University of Nevada when the friendship of a Catholic priest saved her from total self-destruction, and led her to fall deeply in love with Jesus.
In 1998, she became a religious sister with the Society of Our Lady of the Most Holy Trinity. She now travels the world sharing her story of the healing power of God's love, and is bringing her testimony to Holy Family Church in Brentwood from Sunday, Feb. 19, to Tuesday, Feb. 21.
Holy Family and Mother Teresa Church in Nolensville are co-hosting the event as a Lenten mission. Mother Teresa pastor Father Anthony Stewart came up with the idea.
"Last year, Mother Teresa Church had its first ever Lenten Mission, and it was a great success," he said. "I invited my friend Father Tyler Tenbarge from the Diocese of Evansville, Indiana, to be the guest speaker, and everybody loved it. I wanted to do something even better the following year."
He thought Sister Miriam James would be a great choice for guest speaker, if he was able to get in touch with her.
"If you want to bring a well-known Catholic speaker to your church, you often have to reach out to them up to a year in advance," Father Stewart said. "I was pleasantly surprised that I got in touch with her as quickly as I did. We discussed potential dates and one was towards the end of Lent. She also had the last three days before Ash Wednesday open, and I thought that would be a better fit to help people get ready for the season."
He originally wanted to host the event in Nolensville, but those plans fell through. "I had a venue picked out and ready to go, and the people there contacted me to say they were double booked that week," Father Stewart said. "I reached out to my former parish, Holy Family, for help. I'm still friends with its pastor Father Joe McMahon and other people there. They've been helping get Mother Teresa Church off the ground. They agreed to provide the venue for this event.
"It actually worked out better than my original plan because Holy Family has more seating space," he said. "They have about 1,200 seats there, and I'm hoping it will be a full house."
Father Stewart is very excited to listen to Sr. Miriam James speak. "I've seen video footage of her speaking and am very impressed with her already," he said. "She's young. She's dynamic. She was a Division I college athlete, and you don't see too many people like that becoming priests and nuns. She's spoken at Steubenville Youth Conferences and FOCUS conferences. She's a co-host of the Abiding Together podcast, which many of the women in my parish listen to. I think it will be a great week for everyone."
He strongly encourages everyone in the diocese to go. "I hope everyone who goes to this event will fall in love more deeply with Jesus and get excited about their faith. Please come. You won't be disappointed."
The mission is free and open to the public but requires seat reservations. These can be found online at bit.ly/ParishMission23.
Each talk begins at 7 p.m. and will last roughly an hour and a half. Those wanting to hear more from Sister Miriam can follow her on Twitter at @onegroovynun, can listen to her Abiding Together podcast on Itunes and Spotify, and can see videos of her speaking on YouTube.