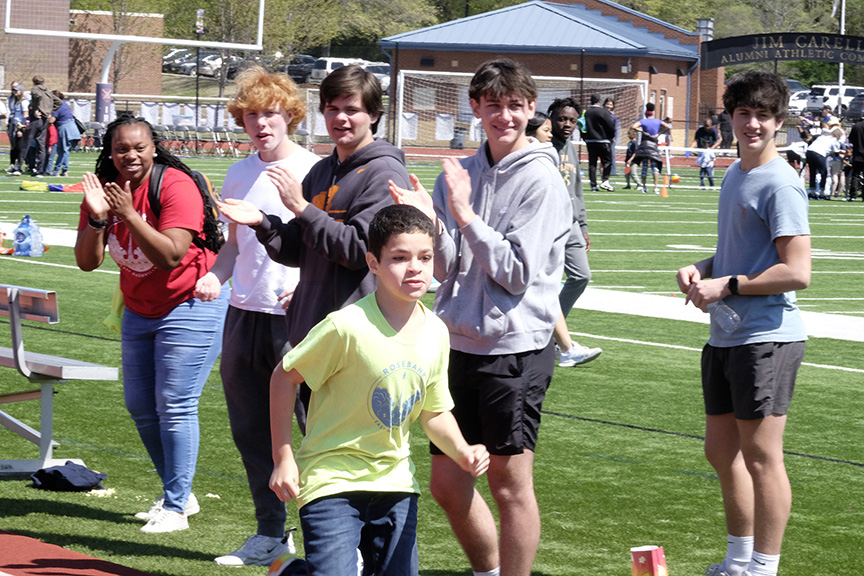 Under a bright sun, more than 220 athletes, cheered on by even more volunteers, competed in the Special Olympics Nashville Spring Games, held on Monday, April 10, at Father Ryan High School.
It was the first time in four years the games, which had been put on pause with the COVID pandemic, were held, returning to the Father Ryan campus.
"I think everybody is very excited," said Kassie King, Nashville area director for Special Olympics.
Among the volunteers were more than 150 Father Ryan students, including members of several of the school's athletic teams, including football, soccer, basketball, lacrosse, wrestling, and more.
"We're all athletes here," Sanjeeth George, a junior member of the football team and the chaplain for the school's Elliston House, said of the Special Olympians and the Father Ryan volunteers.
Because it was the first time in four years the Special Olympic games had been held, none of the students on campus have had a chance to participate before, said Katie Swinnerton, coordinator of campus ministry and service learning at Father Ryan.
When it was announced that students could volunteer to help put on the games, said George, a parishioner at Christ the King Church, students rushed to sign up. "In the first 10 minutes, it was full," he said. "The excitement was definitely there."
The games were held on Easter Monday, when the students, faculty, and staff from Father Ryan who were volunteering had the day off from school, Swinnerton noted. The games were, she said, "an awesome way to spend Easter Monday."
The athletes came from various schools in the Metro area, as well as the Metro Parks disABILITIES Program.
Besides Father Ryan, volunteers came from Hospital Corporation of America, Tennessee Valley Authority, the Nashville Sounds, The Young Men's Service League, Special Olympics Tennessee staff, and individual volunteers, King said.
The Special Olympics Tennessee State Summer Games will be held May 19-20 at Lipscomb University in Nashville.
Special Olympics provides year-round sports training and athletic competition in a variety of Olympic-type sports for children and adults with intellectual disabilities, giving them continuing opportunities to develop physical fitness, demonstrate courage, experience joy, and participate in a sharing of gifts, skills, and friendship with their families, other Special Olympics athletes, and the community, according to the Special Olympics Tennessee website.
For more information about Special Olympics Tennessee, visit specialolympicstn.org.