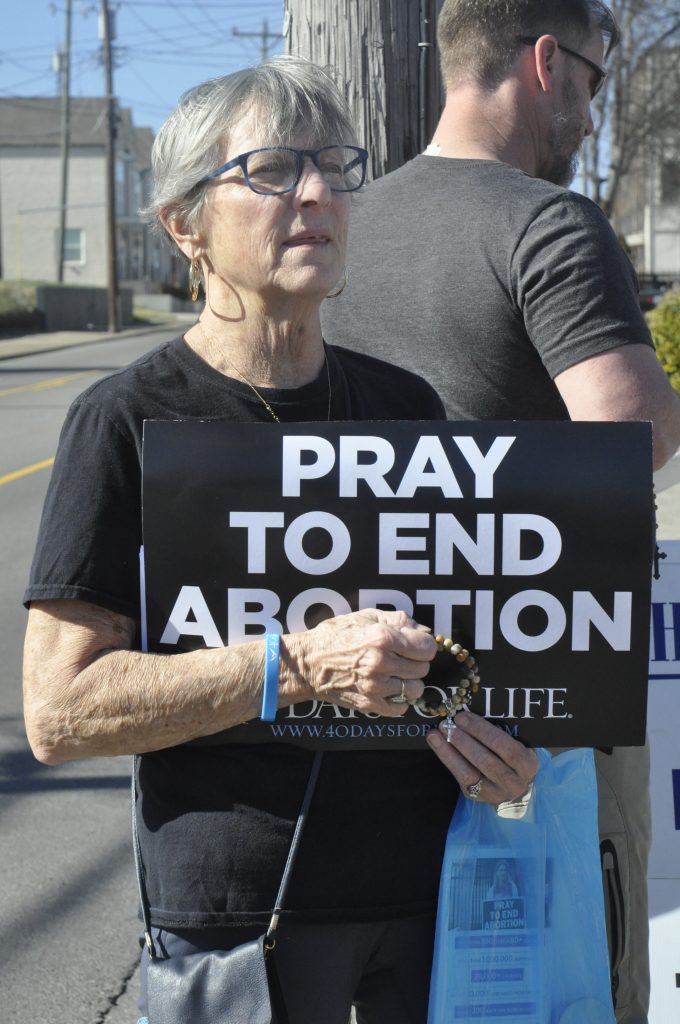 The spring campaign of the Nashville 40 Days for Life is set for Feb. 22 through April 2, outside Planned Parenthood in downtown Nashville.
Since 40 Days for Life was founded in 2007, more than 22,500 babies have been saved from abortion, more than 200 abortion workers have converted, and more than 100 abortion centers have closed.
The respect for life movement won yet another victory last summer when the court overturned the precedent set in Roe v. Wade, but the fight is still not over, said Deacon Ken Levinson, who is heading the Nashville campaign.
"We know that Roe v. Wade has been overturned, but all it has done is it has taken the federal government out of dictating what each state should do," Deacon Levinson said. "We have won a major battle, but we still have a war to fight.
"What it really boils down to is reaching individuals, reaching their hearts," he said.
Even though Tennessee is one of 13 states that enacted trigger laws banning abortion following the Supreme Court's ruling, there are still organizations finding loopholes, such as Planned Parenthood, 412 Dr. D.B. Todd Jr. Blvd. While the organization can no longer provide abortions in Tennessee, it is referring mothers for abortions at clinics out of state.
"We will hold 40 Days campaigns until they close for good in our city," according to the event website. "We will also continue to help Mulier Care mobile unit to serve women and children."
Along with the encouragement for parishes and individuals to sign up for an hour of prayer from 7 a.m. to 6 p.m. every Monday through Saturday, there will also be four key events throughout.
• A candlelight vigil will be held at 6 p.m. Tuesday, Feb. 21, outside Planned Parenthood.
• Mass will be celebrated at 12:10 p.m. Saturday, Feb. 25, at St. Mary of the Seven Sorrows Church in downtown Nashville.
• A Jericho March will be at noon Saturday, March 11, outside Planned Parenthood. Inspired by the Old Testament story of Jericho, participants will prayerfully walk around the block of Planned Parenthood while holding small white crosses and pro-life signs. At the end, participants will hear the blowing of a shofar horn and a Bible reading from the book of Joshua.
• A Lift High the Cross Procession will begin at 2 p.m. Sunday, April 2. The procession will begin at the Cathedral of the Incarnation and process the 0.7 miles to Planned Parenthood where the Stations of the Cross will be prayed.
Deacon Levinson encourages individuals to prayerfully consider participating in the campaign.
"Examine your own heart as to what is really happening here. If you take the word abortion, one thinks that's just one of those issues we hear about. But we have to focus on the baby, the innocent life that begins at conception," he said. "That is paramount.
"Then we need to focus on the mother," he added, noting how often mothers seeking abortions are confused or pressured into them by others. "I have yet to meet a woman that regretted keeping her baby, but many, many times, I've heard that those who have had abortions say they deeply regret it. A lot of times, even the fathers regret it, wondering just what that child would be like if they'd kept it.
"Once somebody has an abortion, it's over. It's irrevocable."
But the power of prayer, which has always been the focus of the 40 Days for Life campaign, is where God works, Deacon Levinson said.
As an example, he recalled a story of how a woman was outside an abortion clinic praying, an umbrella in one hand to protect herself from the rain, and a rosary in the other. Another woman was inside the clinic preparing to have an abortion, but upon seeing the first woman, she left. Two years later, the women met again outside the same clinic, the latter thanking the woman and introducing her to her son who was in the backseat of the car.
"A lot of people think, 'I'm just one person. How can I make a difference,'" Deacon Levinson said. "Well, that one person created a lifetime for a little boy. God worked through her presence.
"If we pray, God works through us," he said. "We never have to look for results. We just have to be there, and the results will take care of themselves."
For more information about 40 Days for Life or to sign up to pray, visit facebook.com/40daysforlifenashville or 40daysforlife.com/nashville.