Jeanie Guidara has an answer to what leads to a long, healthy, happy life.
"Have family, keep in touch, and go to church," Guidara said. "Just going to church doesn't mean you're going to be happy, but it gives you something.
"And keeping families together" creates happiness, she added. "It's been proven here."
Guidara turned 100 years old on Nov. 29, 2021. A parishioner at St. Andrew Church in Sparta, she traces her roots to the first Catholic family in White County. Today, she counts in her family seven children, 18 grandchildren, 16 great-grandchildren and three great-great-grandchildren.
"I couldn't ask to have been born into a better family. I tell her that all the time," said her grandson, Philip Guidara. "She was always about the family values of getting together."
And that emphasis on family togetherness is still apparent as several members of the Guidara family live across 77 acres, affectionately named "Guido Acres," in Sparta, Tennessee.
The beginning
The story of Guidara's family history in White County began in 1903 when her grandparents, Thomas and Jane Smith, immigrated from Glasgow, Scotland, to Mowberry, Tennessee.
There, Jeanie's father, Archibald Smith began working with the Bon Air Coal and Iron Company's mine on the Cumberland Plateau in Eastland, which was about 20 miles up the mountain from Sparta.
But while the work opportunities were established early, the opportunity to attend Mass was not because the nearest Catholic church, staffed by the Paulist priests, was more than 80 miles away at Hundred Oaks Mansion, now known as Hundred Oaks Castle, in Winchester, Tennessee.
That proved a problem when Archibald's younger sister fell ill and died in 1904.
"My grandmother wouldn't let them bury her until they found a priest," Jeanie Guidara explained. "They went all over White County" searching until they found a family who had a relative visiting that just happened to be a priest.
Other than that opportunity, travel to the church in Winchester was reserved for special occasions including Archibald Smith's marriage to Jeanie's mother Hettie Reeves in 1920 and Jeanie's baptism in January of 1922, following her birth on Nov. 29, 1921. A task that also happened for each of her seven siblings.
"My grandmother was the one that ruled the roost," Jeanie Guidara recalled. "We had to go to her house for Mass every holiday when a priest was available, and we knelt on the cold floor."
Standing up for the faith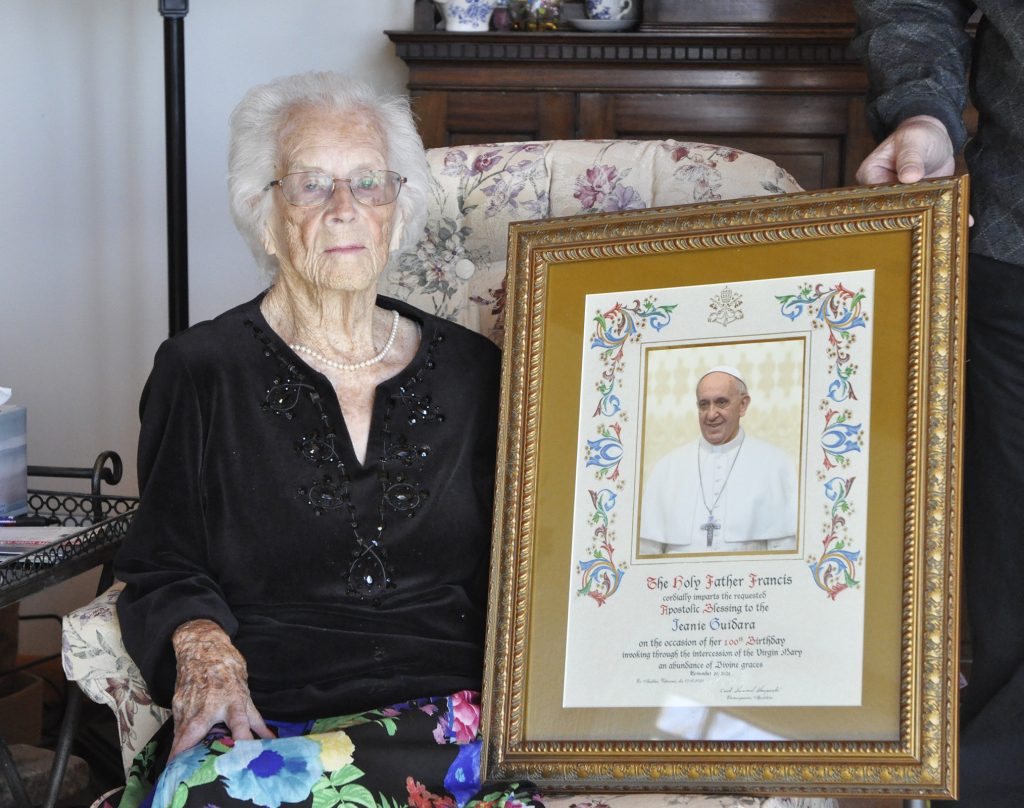 Lack of a nearby church wasn't the only obstacle Jeanie Guidara said her family encountered while growing up in White County.
In 1934, Jeanie and her brother Richard began attending Pleasant Hill Academy in Pleasant Hill, Tennessee, for high school, where it was discovered that there was a certain prejudice against Catholics. But their grandmother, Jane Smith, took a stand.
"When the principal came by to interview her … he said, 'Did you say you are Catholic?'" Jeanie Guidara explained. "She said, 'Yes, and I just want you to know that my grandchildren, if they go to your school, they can still be a Catholic.'"
Later Guidara eventually finished her high school education at Dobyns-Bennett High School in Kingsport, Tennessee, after the family temporarily moved to the area following the closure of the coal mine where Archibald Smith worked. He worked for a creamery for less than a year before they moved back to Sparta.
Leaving Tennessee
After high school, Jeanie Guidara lived for a year in Chattanooga, where she attended business school and eventually began working for an attorney for $10 a week. At the end of 1941, when World War II started, the Pentagon was preparing to open and would be offering $30 a week for the same work.
Once she applied and was hired, she and her classmate, who had also applied and got hired, left for Washington, D.C., in the summer of 1942.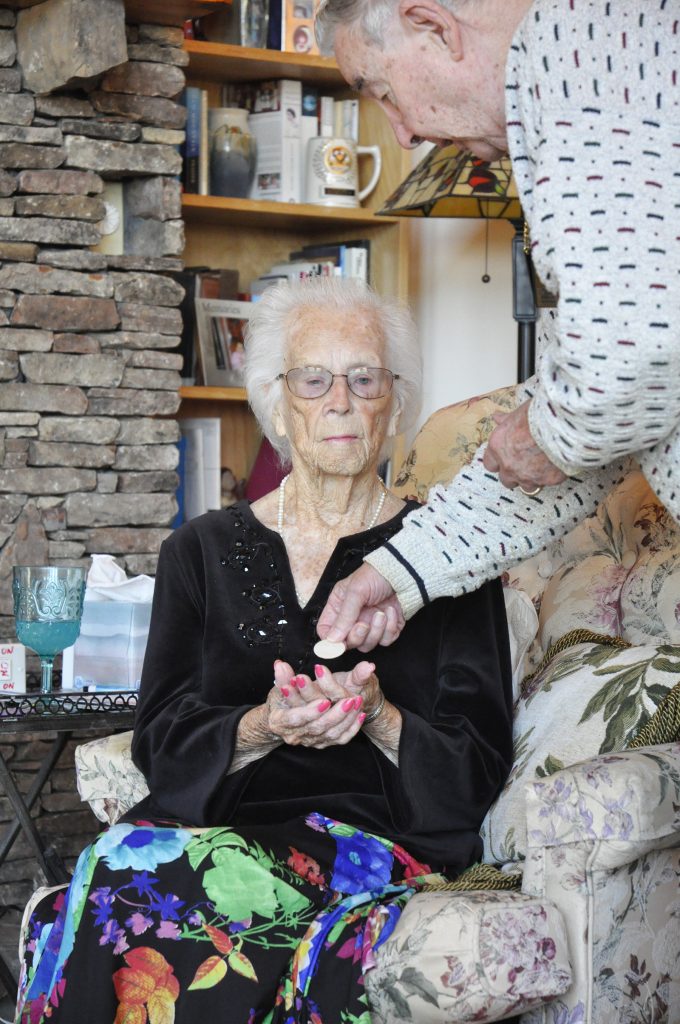 And it was that decision that led to the next 60 years of her life, when she met Army trainee Nicholas Guidara, a native of Boston, at a USO Dance at Fort Belvoir, Virginia.
Married life
After only five months together, Jeanie Smith married Nicholas Guidara at St. Martin's Chapel at Fort Belvoir on Jan. 17, 1943. Together they had seven children: Cathy born in May 1944, Tommy born in May 1946, Kenny born in November 1947, Michael born in December 1951, Jimmy born in November 1952, Rita born in February 1954 and David born in July 1956.
They raised the family in Kensington, Maryland, where after leaving active duty military service, although he stayed in the reserves until obtaining the rank of colonel, Nicholas Guidara worked as a teacher at Bethesda Chevy Chase High School, and Jeanie Guidara returned to an office job at a local junior high school after David reached his teenage years.
Kenny Guidara compares his childhood to the likes of 1950s sitcoms "Leave it to Beaver" and "Father Knows Best."
"They were functional families" on those shows, and "that's what I came from," Kenny Guidara said. "It's the kind of family that she and my dad provided for us.
"And I never saw them fight," he added. "When they weren't saying anything to each other at dinner, we knew there was something going on, but that was the amount of their fighting. … I never heard them raise their voice against each other.
"We had a pretty good family, and we've carried that tradition."
Nicholas and Jeanie showed their love in their weekly date nights, too, Kenny Guidara said, where they returned to the roots of their relationship and spent their evenings dancing together.
After retirement, Jeanie and Nicholas also took advantage of the opportunity to travel afforded to them by Nicholas' military service. All they had to do was travel to Dover Air Force Base where they could get on a plane and travel anywhere for free. Then, when they reached their destination be it Russia, Italy or Ireland, they'd be able to stay on a nearby military base for only $10 a night.
"It was convenient and cheap, and they took advantage of it," Kenny Guidara said.
Returning to Tennessee
It was after the 9-11 terrorist attacks when talk began of Nick and Jeanie Guidara returning to Tennessee where several of their children had returned, including Kenny Guidara and his wife, Paula, who were the first to settle on "Guido Acres."
"We thought, 'We've got all this land here, let's move them down here,'" Kenny Guidara explained. "It turned out to be good because Dad needed help immediately" because of his Parkinson's disease, which eventually took his life in 2004.
"He used to say that he did like it here and wished he'd moved here sooner," Kenny Guidara added.
Witnessing the growing community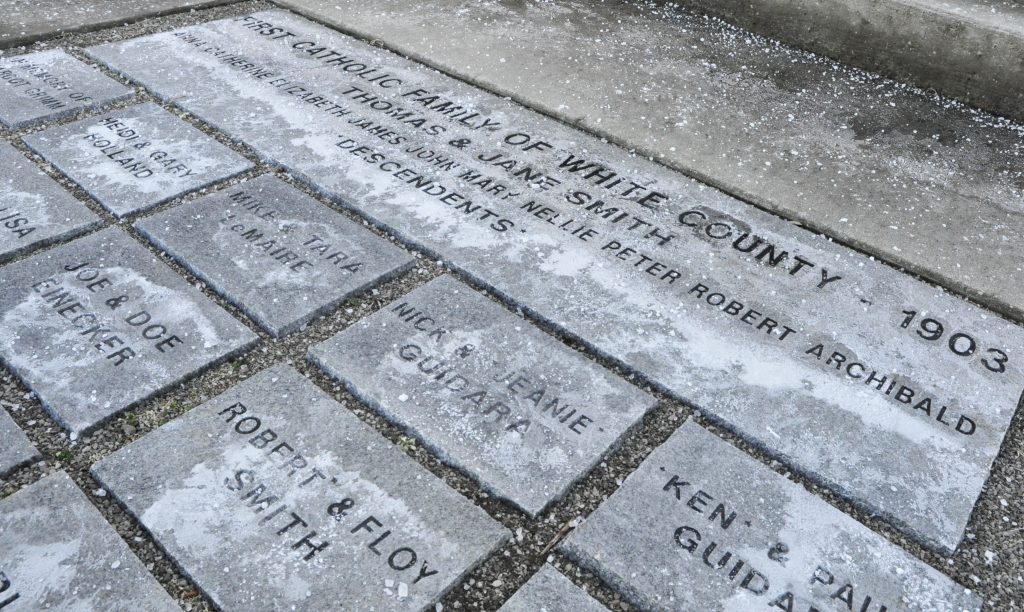 By returning to White County, Jeanie Guidara got to officially become part of the established Catholic community that her father, Archibald, was able to start in the 1950s after he donated land to build St. Charles Church in Mowberry.
Although St. Charles eventually had to close after only 15 years because "it was too far for priests to go and there were not enough people to support it," another church, St. Andrew Church in Sparta, became the second church of White County in the 1970s, Kenny Guidara said. As the church continued to grow, more space was required leading to the groundbreaking of a more permanent church on March 26, 2000, under Bishop Edward Kmiec, 10th bishop of Nashville. The church as it stands today, was completed in October 2001 and was dedicated by Bishop Kmiec on Nov. 18, 2001.
And Jeanie's family, beginning with her paternal grandparents, Thomas and Jane Smith, are forever memorialized as the First Catholic Family of White County by a stone path outside the church.
"There are very few Catholics in this area," said Father John Patrick Day, pastor of St. Andrew Church in Sparta and St. Gregory Church in Smithville. "Jeanie and her family were some of the real pioneers. It's because of their dedication that the church really got its foot in the ground, and it has continued to grow and be very active."