Parishioners at St. Ann Church in Nashville gathered on Monday, July 26, to bless a new grotto on the church grounds as it celebrates the 100th anniversary of the parish's founding.
Bishop J. Mark Spalding celebrated Mass and then blessed and dedicated the grotto, which features a new statue of St. Ann and her daughter, the Blessed Virgin Mary as a young girl, handcrafted in Italy by the Demetz Art Studio.
"We wanted to leave a legacy from the Centennial Celebration with an outdoor spiritual place for prayer and meditation," said Jeff Hooper, a member of the parish's Centennial Team, who helped design the grotto.
Also included in the grotto, which is located on 51st Avenue North behind the Parish Life Center, is a statue of an angel and a brick paver walkway in the shape of a cross with the logo of the Centennial in the center.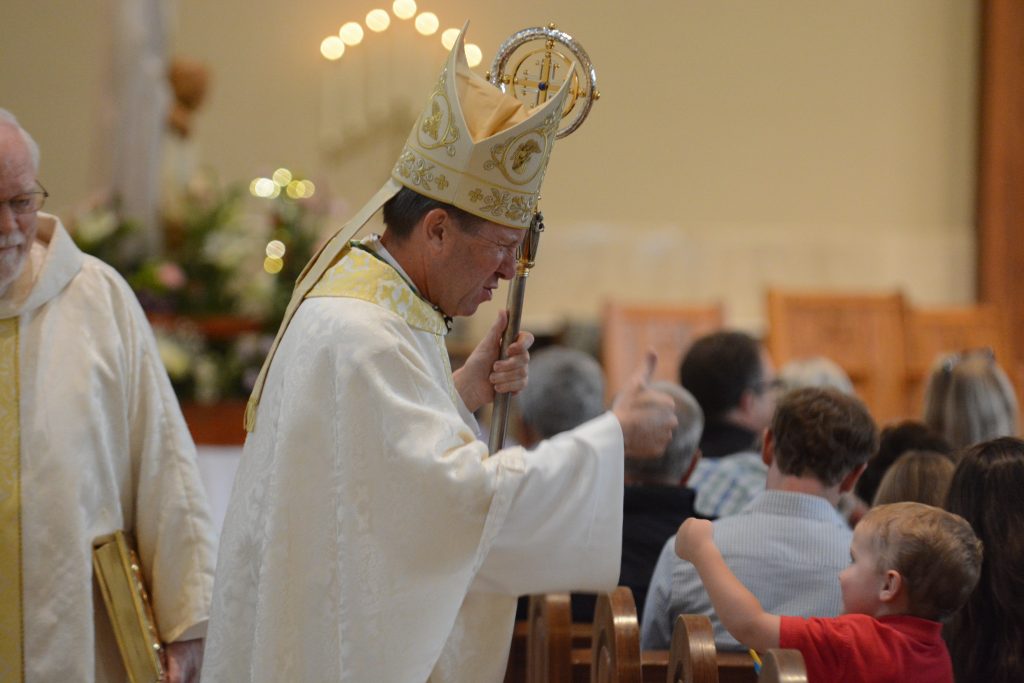 "We wanted to give parishioners the opportunity to be part of the grotto," Hooper said. They had the opportunity to purchase bricks with proceeds going towards its construction, which were then inscribed to memorialize their family and loved ones, he explained. The parish sold more than 200 bricks.
The landscaping for the grotto, by landscape architect and parishioner Jason Brake, will be installed in the fall when the weather is more conducive to planting, Hooper said.
After the Mass, parishioners processed from the church to the grotto for the blessing and dedication. State Sen. Jeff Yarbro presented to St. Ann pastor Father Michael Fye and the bishop a framed copy of a resolution passed by the Legislature honoring St. Ann for its contributions to the community during its 100 years.
The dedication was followed by a dinner prepared by the parish's Hispanic community.
"The Centennial Celebration has been fantastic so far," Hooper said. "It's brought even more unity and community to our parish" through a series of special events, including planting trees in the community, a women's retreat, an organ concert. The parish celebration took place on Saturday, July 31, and included the installation of a historical marker, burial of a time capsule, and other events for the parish and school.  
"It has shone a light on this parish and its deep roots," Hooper said of the Centennial Celebration.
Hooper has been a parishioner at St. Ann for about 12 years with his wife Sara and their children Kaylen and Zane, who attend St. Ann School, he said. "We love this parish because of its community of believers. There are so many welcoming and caring people from all backgrounds. The strength of the community, that's what keeps us here. … St. Ann is 100 years old for a reason!"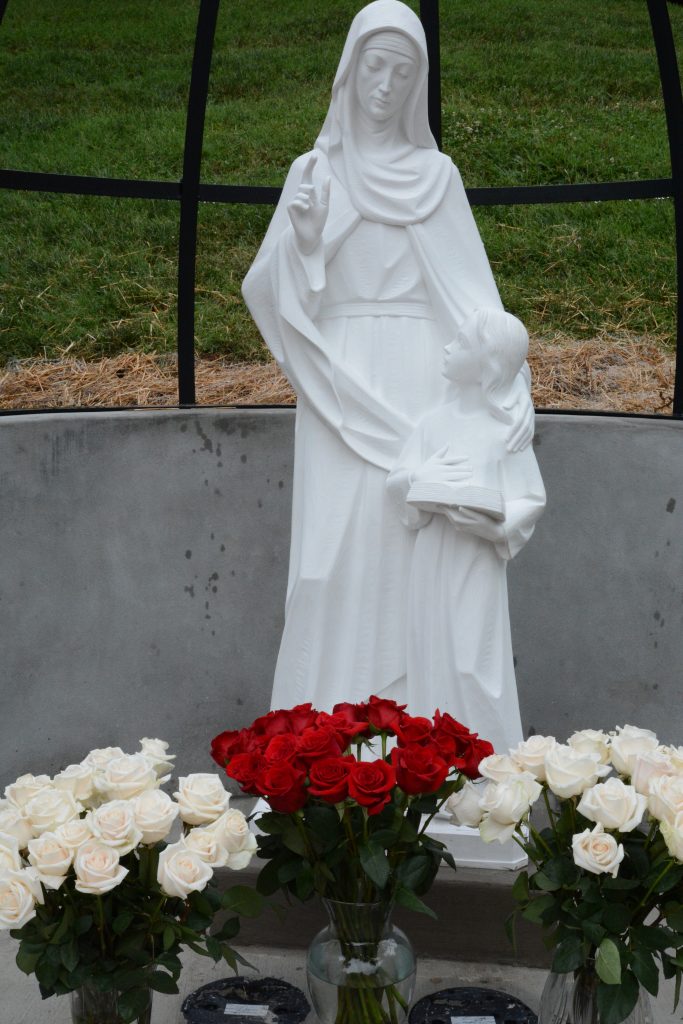 In her 90 years, Betty Verchota Nelms has seen the parish grow and change. Her parents, Marie and Lawrence Verchota, were married at St. Ann and her grandfather, L.J. Verchota, who started Verchota Floors Inc., was one of the founders of the parish. 
When she was still a child, her family moved to 5200 Park Avenue, a block from the church. "My mom lived there until she died," Mrs. Nelms said.
She and her late husband, Carl Darden Nelms, raised their family at St. Ann and were active in the parish. "We always worked together at church," Mrs. Nelms said. "Whatever they did we helped with. You just thought you were supposed to."
But that's not unusual at St. Ann, she said. Mrs. Nelms and her husband were part of a large group of parishioners who were always there to help at the church when needed, she said.
Her husband, who attended Mass at St. Ann with her before he converted to Catholicism nine years after they were married, "called bingo up there for I don't know how many years," and helped with the youth sports in the parish, Mrs. Nelms said.
At the Mass for the grotto dedication, St. Ann Pastor Father Michael Fye acknowledged Mrs. Nelms and her long membership in the parish.
"I was so shocked. I didn't know they were going to mention my name," Mrs. Nelms said. "I was very happy and surprised at that."
She was pleased to see the new grotto. "It's very nice," Mrs. Nelms said. "I was so proud."
In his homily, Bishop Spalding urged St. Ann's parishioners to continue the work of the generations that have come before them in bringing the presence of Christ to the world.
"We as Roman Catholics place Jesus Christ at the center of our lives and we experience him most profoundly … celebrating the eucharist," he said. "Roman Catholics gather for Mass, period, exclamation mark. Week in and week out. It is who we are. It makes us who we must become in this world."
Through the sacraments, Christ shapes our lives "making us more his very presence in this world," the bishop said. "The world is starving for the presence of Christ in you."
Just as previous generations at St. Ann were that presence of Christ in the world, Bishop Spalding said, "Now it's our turn … to be responsible for sharing your faith and love and all the things that make a parish grow and prosper.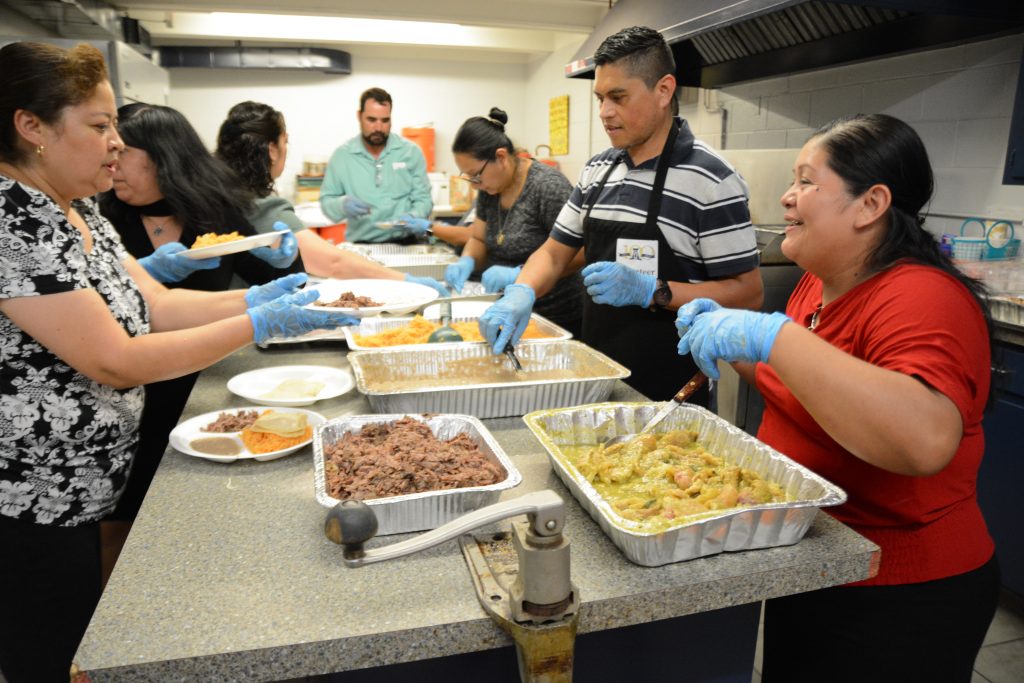 "You've got a great tomorrow. It only happens if we work together," he added.
Parishioners' parents and grandparents "wanted our lives to be better in faith, hope and love. It's our turn. It's our turn to take up the responsibility for this parish and prepare for the next 100 years. It's our turn to make ready for the next generation.
"Our world is hungry and thirsty for Christ," Bishop Spalding said. "It is our turn now to take up this responsibility to bring that presence to others." 
A free parish festival on the church grounds was held on Saturday, July 31, to celebrate the Centennial Jubilee. The event ran from noon until 5 p.m. and was for all ages, with a separate event for those 21 and older which began at 6:30 p.m. Bishop Spalding was joined by U.S. Rep. Jim Cooper, diocesan Superintendent of Schools Dr. Rebecca Hammel, Metro Councilwoman Kathleen Murphy and others for a special salute and video presentation at 2:30 p.m. 
Sponsors of the Centennial Celebration include Choate Construction, Maxwell Roofing and Sheet Metal, Bradley Health Services, The Forte Family, The Hooper Family, Tara and David McGuire, Ascension Saint Thomas, Southern Made, WMV Production, Cumberland Creative, the Diocese of Nashville, Father Ryan High School, Pope John Paul II Preparatory School, St. Cecilia Academy, tpmbLAW, the Marchetti Family, Burgundy Group, the Pitt and Reed Families, Donna and John Braniff, and others.