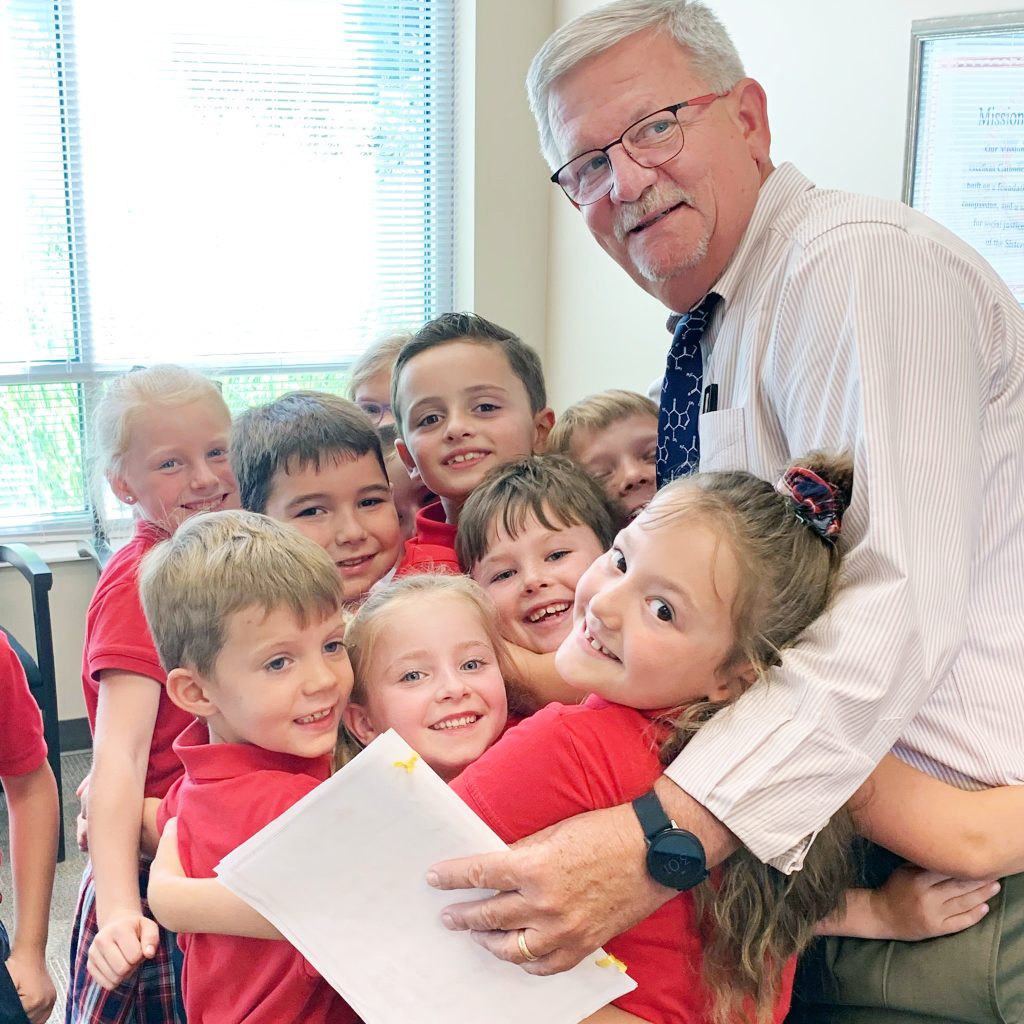 After nearly doubling the school's enrollment, overseeing a major expansion, and stabilizing the school's finances, Chuck Sabo has decided to make this school year his final one as St. Bernard Academy Head of School.
"I think it's time," said Sabo. "This is my 15th year here. We're in a good place enrollment wise, and we're in a really good place financially."
Sabo announced his intention to step down at the end of the 2021-22 school year last May.
"Typically, the procedure working in an independent school is to give the board and search committee time to find the ideal candidate," Sabo said. "I didn't want to leave them high and dry."
The school has been conducting a nationwide search to find Sabo's successor with the help of consultants at The Education Group.
"We understand the response has been significant and the candidate pool is both experienced and talented," Search Committee Co-Chairs Stephen Zralek and Chase Wright wrote in a letter to the St. Bernard Academy community that was posted on the school's website. "We are thrilled to share that SBA is proving to be as desirable as we had hoped it would be for potential candidates." 
The Education Group will provide the Search Committee with a list of candidates for the committee to interview. From those interviews, a list of finalists will be selected and invited to the campus for two days each for further interviews beginning in mid-October.
By the end of 2021, the school hopes to name a new Head of School, who would start in July 2022, Sabo said.
"We're certainly in a much better place" than when he started, Sabo said. "A lot of people are responsible for that."
When he arrived in 2006, the enrollment at St. Bernard was 220 students. Today, the number is 390 students in pre-kindergarten for 4-year-olds through eighth grade.
"We've had a steady increase during my tenure, but we've been at this number probably the last three or four years," Sabo said.
"We've got a solid connection with the Vanderbilt community," Sabo noted. "Sixty percent of our families have a connection to Vanderbilt."
To make it easier for families to access an education at St. Bernard, the school has initiated bus routes to Brentwood and East Nashville during Sabo's tenure.
The growth in enrollment created the need for a major expansion of the facilities in 2016. "We were using every nook and cranny before to manage our growth," Sabo said. The space squeeze was eased with the addition of seven classrooms and a multipurpose space that serves as an auxiliary gymnasium.
As part of the expansion, the school created a new entrance that allowed it to change its address from 24th Avenue South to Bernard Avenue. Now, Sabo said, "our address matches our name."
Further expansion could be in the school's future. St. Bernard has launched a feasibility study about expanding the cafeteria facilities to meet the growing enrollment, Sabo said. "That's going to be enough to keep me busy" in his final year, he added.
The school is sound financially, Sabo said. "We're managing our debt service very well."
During his tenure, St. Bernard has worked to improve its already excellent academic program. "It's a good school with a great tradition," Sabo said. "Our expectations are very high, but reasonable."
Academic success starts with the school's teachers, Sabo said. "I've been fortunate during my time to have great faculty," Sabo said. "They're the ones … to make the magic happen."
St. Bernard was established in 1866 by the Sisters of Mercy. Although the school is no longer owned and operated by the religious order, Sabo and his staff have maintained the school's connection to the Mercy Sisters and its Catholic identity.
"If it wasn't for the six sisters who showed up here in 1866, we wouldn't be here," Sabo said. "That Mercy charism and that mission, caring for the earth and welcoming everyone, … we try to live our life every day in that spirit."
St. Bernard is part of the Mercy Educational System of the Americas, a network of schools sponsored or affiliated with the Mercy Sisters in the United States, Argentina, Belize, Guam, Honduras, Jamaica, and the Philippines. Member schools meet criteria that roots their identity and practice in the Gospel of Jesus Christ and the legacy of the Sisters of Mercy and their foundress, Catherine McAuley.
"MESA really speaks to our roots, our charism," Sabo said.