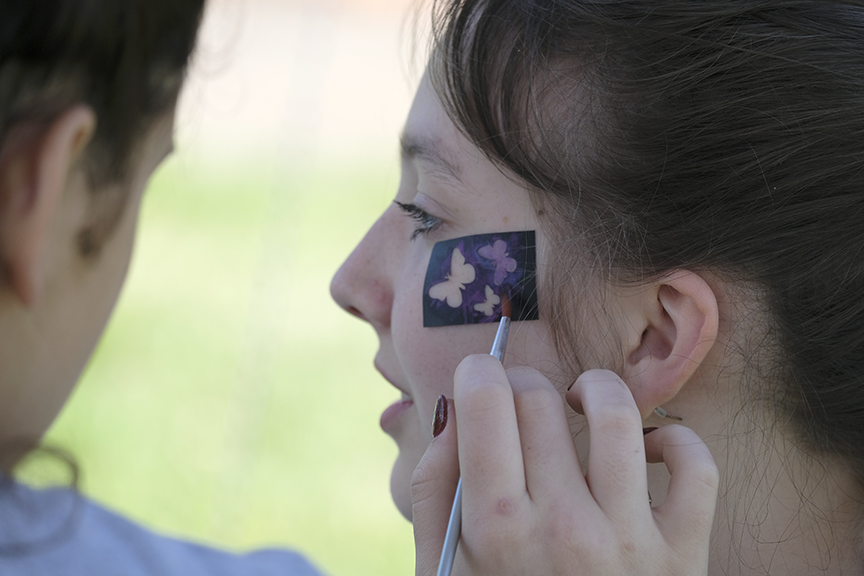 Over the last 70 years, St. Frances Cabrini Church in Lebanon has grown from its humble beginnings into a vibrant community of around 720 registered families, and more growth awaits in the next 70 years.
"We have a lot to do for the future," said St. Frances Cabrini Pastor Father James Panackal, CMI, noting plans to address the continued growth by building a parish life center with enough room for the growing number of students in religious education every year, a full business kitchen, and more.
But, before that project starts, it was important to celebrate what it took to get the parish to where it is now, and that's what church members did on Saturday, April 22, as the Knights of Columbus Council 9787 hosted a picnic for the community.
"We wanted to thank the parishioners for the many years of support they've given us and the church," said Grand Knight Scott Schell. "Our council started in 1988, and I've been grand knight for almost two years now.
"We've held many events, they've come out, they've supported us, brought stuff to us, and we just wanted to throw a big thank you party for them," he said. "It was easy to incorporate the 70th anniversary into it and run with it."
"We got a committee together and said, 'How can we make this a family, fun, faith day," added Deputy Grand Knight William Brezsnyak.
The Hispanic community at St. Frances Cabrini makes up about 30 percent of the parish, Brezsnyak said. "Their support particularly has been absolutely tremendous. They're involved, they're big, they're growing, extremely faithful, family-oriented, everything you would want as a Knight, so we're looking to grow and thank them for their support at this event as well."
The event included a free barbecue lunch, games, face-painting, an obstacle course, presentations, and more.
"The Knights participate in every ministry in the parish," Father Panackal said, from religious education, Lenten fish fries, providing Stations of the Cross, serving as church ushers and more. "It's beautiful that they're putting on this picnic for the parish."
The event also included a table set up with information and pictures highlighting the last 70 years.
The history of the church
Lebanon can trace its roots of Catholicism back to 1915 when the first Mass was offered by Father John Cunningham in the home of John J. Marin Sr. For the next several years, many Masses were celebrated in the home and other places around Lebanon.
Then, in the late 1940s and early 1950s, Masses were offered in the Cumberland University Chapel and at the Castle Heights Military Academy study hall, which seated approximately 400 people. Even that space wasn't big enough however, and many times Mass was held outside to accommodate the large crowds that would gather.
Eventually, Mass was moved to the Castle Heights library, which could house more people, and then-Father James Niedergeses, who later became the Bishop of Nashville, had a convertible altar and curtains added to make it feel and look more like a church.
As time passed, the congregation began to outgrow the space, so, in 1951, Msgr. George Rohling, who had been originally assigned to Gallatin in 1947 as well as to the newly established mission of Lebanon, turned to Bishop William Adrian for permission to build a church in Lebanon. Although Bishop Adrian initially said no, he changed his mind after confirming several adults during a Sunday Mass in front of an overflowing crowd. That was partly thanks to Msgr. Rohling inviting everyone in the city to ensure that was the case.
After a search for property, the current site on Tarver Avenue was purchased from Cumberland University, and the church was built across the 1952 year, with the first Mass celebrated just a week before Christmas. Because of a substantial donation made by the Catholic Extension Service of Chicago to build the church in the name of Frances Crowley, the church was named in her honor as well as in honor of Mother Frances Xavier Cabrini, the first American to be canonized a saint.
Bishop Adrian officially dedicated the church on April 19, 1953.
Ever since, the community has continued to make updates to serve the growing community, including purchasing property south of the church in 1964 for a rectory, which came in handy in 1967, when the community got its first in-resident priest, Father Edgar M. Kelly.
Later, additional space was added in 1975 for the growing religious education classes. The new space was dedicated to honor Parish Council member Porter Robinson, who died during an accident while painting the church.
Over the next several decades, more updates were made including the addition of even more classrooms, the building of a new rectory, the purchase of the Ashley House for office and meeting space, and the expansion of the sanctuary.
Construction on the current church building was begun in 2015 and was officially completed and dedicated two years later in November 2017.
By then, the church had more than 500 families registered in the parish, and although Father Panackal, who was assigned as pastor in 2019, said the COVID-19 pandemic caused a decrease for some time, that has passed, and the community is larger and more vibrant than ever.
The church community
Lou Ann Hutto is one of the parishioners who has been around for many of the changes over the years, as she and her family came to the church more than 45 years ago. At the time, she and her husband, Roger Hutto, had been going to a Baptist church, but, she said, to them, something was missing. The answer was found when they attended St. Frances for the first time.
Although she said the first time they came was overwhelming because of the constant standing, sitting, and kneeling, noting "we didn't do that in the Baptist church," they continued to come, and "you could just feel the spirituality of it," Hutto continued. "We joined right off."
From the get-go, she said, the family was always involved whether it was she and her husband teaching religious education classes or their three boys – Brian, Zach, and Craig – serving on the altar. Then, when tragedy struck in 2005 when their youngest son, Craig, was attacked by a shark during a family vacation, she said the church community rallied around them.
"The whole church came together and did a fundraiser for him and had a blood drive because he lost half his body's blood," she explained. "The support they showed our family during that time was just so awesome and beautiful."
"I just love this community. I've watched all these kids grow up, and now they have their own families, and it just goes full circle," Hutto said emotionally. "It's been a blessing to be a part of it for so many years."
"We love Father James," she added. "We prayed for someone like him, a spiritual leader that he is, and we're just so lucky and so fortunate."
Dan and Cristina Pineda and their two young sons are newer to the community having moved from Los Angeles just a little over a year ago. But, they said, the feeling of welcome was immediate.
"One of the parishioners here invited us to dinner the first night we were in town, and they showed us around. It was wonderful," Dan Pineda said. "It's a great community. When we come to Mass, everyone is so welcoming and people always say, 'We love seeing your kids and having you here.'"
"We love Father James. He's such a kind man," added Cristina Pineda, who would often come to morning Mass with their oldest son before their 3-month-old was born. "It's a beautiful morning Mass and everyone is so welcoming."
Cristina Pineda also noted two families in particular in the parish who have continually extended hands in welcome to them – the Butkevicius family and the Cotton family. "They are the most lovely families."
Celebrating 70 years
As the parish community celebrated at the picnic, they all noted the significance of the church celebrating such a milestone.
"I've been a member for over 10 years now," Schell said. "Our parish is growing, we're getting new members in, we're gaining members in the Knights, and so many other wonderful things.
"The parish is great," he said. "It's a small, nice community, and I couldn't ask for any better church."
"It's been amazing," Brezsnyak added. "I wish everyone in the diocese could come just once to see what we've got going here with Father James. He's just an awesome guy."
The Pinedas noted the church's important status in the community.
"It is amazing, especially for a somewhat smaller town, a suburb of a larger city, that there is such a vibrant community here," Dan Pineda said. "It's a rock of the community."
"It's so nice that it's right by the college so that college kids can come here," Cristina Pineda added. "I know Tennessee is mostly Protestant, so this is a nice bedrock of Catholicism in a place where students might be searching. It's a beautiful area, a beautiful campus, a beautiful church."