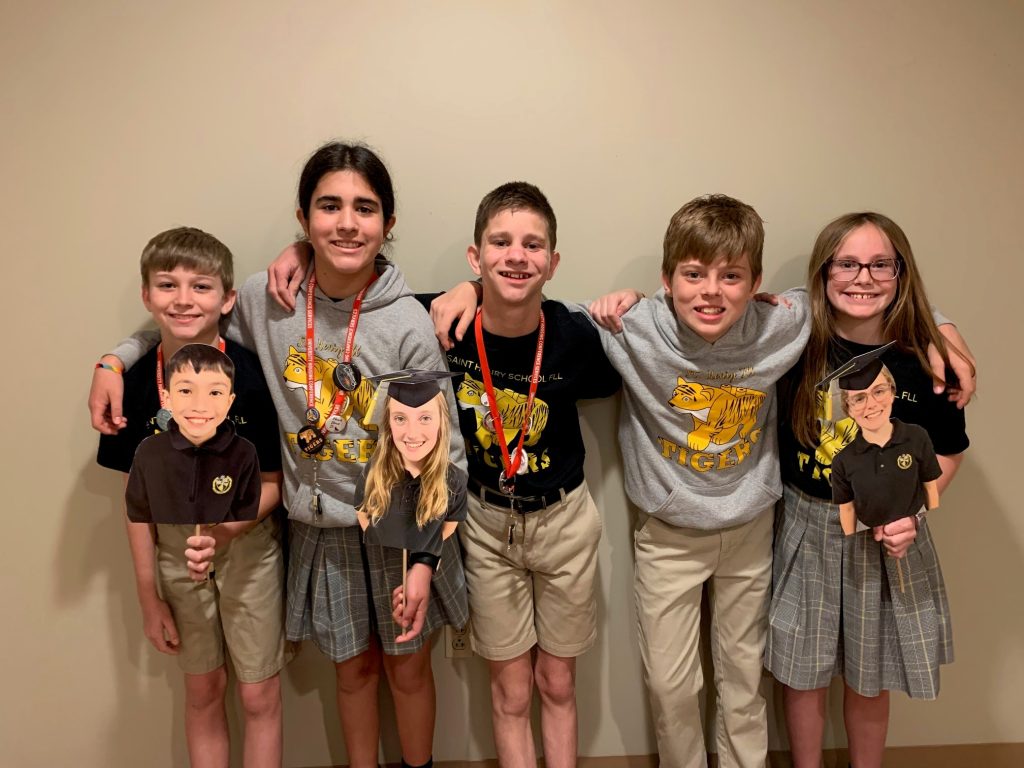 The two St. Henry School FIRST Lego League teams completed a successful season in the spring.
At the Regional Tournament, both St. Henry teams, which are mentored by the St. Cecilia Academy LadyBots robotics team, had success and qualified for the State Tournament. The St. Henry Black Team came in first place for its Innovative Project and first place for Robot Performance. The Gold Team came in second place for Core Values and second place for Robot Performance.
The St. Ann FIRST Lego League team, which is mentored by the St. Henry teams, came in second place for their innovative project.
The St. Henry Black team earned an invitation to the State Tournament based on their performance at the Regional Tournament, and finished in second place and received the Champion's Award. That performance earned the team a spot in the FIRST LEGO League Razorback Open Invitational on the campus of the University of Arkansas.
The two-day competition featured 80 teams from around the world who have achieved significant recognition in their own region.
At the Razorback Open, the Black team was a finalist for its Innovative Project. The team had a call back for its project and for its pit design with its Alliance Partner, a team from Beaton, Oregon.
Black Team members include: Emma Kate Kittrell, Abby Greer, George Penne, Isa Rubadeau, Noah Wiley, Kate Greer, John Spencer, and Tommy Tracy. The team is coached by Gina Coode and Heather Penne.
Gold Team members include: Roberto Sergio, Tessa Brodhag, Anderson Pillow, Henry Thomas, Patrick Barnett, Mollie Donlon, Ruth Armour, and Grey Daigle.
The St. Ann team members include: Nick Oberlander, Henry Braniff, Nicholas Jackson, Greta Davis, Ruby Wolcott, Jonathan Wassef, Reagan Bernard, Ian deVera, Lucas Scalia, and Kairi Sikora.
FIRST LEGO League introduces science, technology, engineering, and math (STEM) to children ages 4-14 through fun, exciting hands-on learning. Participants gain real-world problem-solving experiences through a guided, global robotics program, helping today's students and teachers build a better future together.
The three divisions inspire youth to experiment and grow their critical thinking, coding, and design skills through hands-on STEM learning and robotics by building and programming a LEGO robot that navigates the missions of a robot game.