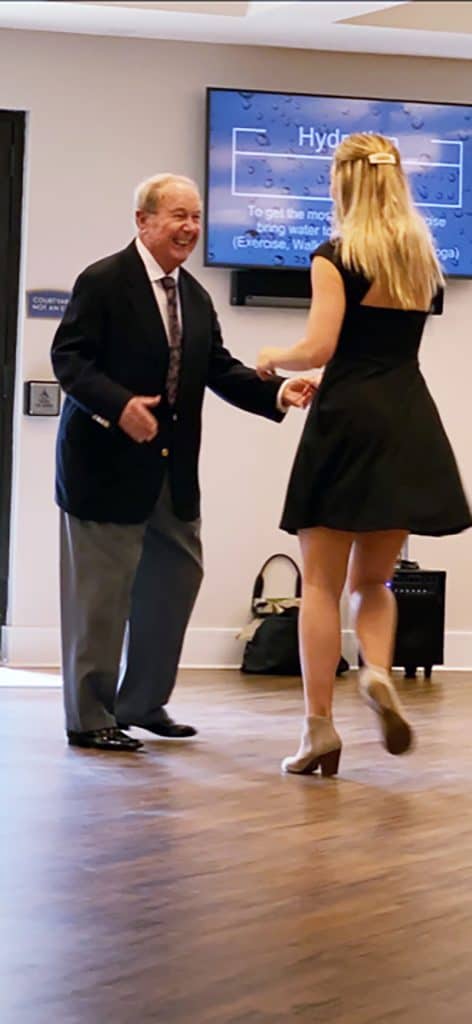 Dan Coen met Suzanne Shea when they were students at Catholic University of America in Washington, D.C., during the 1950s, and they started dating. 
"We kind of danced away the last year at Catholic University," said Coen, who married Suzanne in his senior year.
They kept dancing through the early years of their marriage, often at the Knights of Columbus Club in Donelson, where he was a charter member.
"We really had a good time," Coen said.
When Suzanne, a former Latin teacher at St. Cecilia Academy, died in 2005 after more than 49 years of marriage, "I was sitting over here doing nothing," said Coen, who has been a parishioner at St. Henry Church since 1982.
That's when his seven children stepped in and convinced him to get out of the house and to a local dance studio to start taking lessons.
Eleven years later, Coen is a champion ballroom dancer at 88 years old, often competing against men 30 years younger.
Ballroom dancing is much more exacting than the typical social dancing he did with his wife, Coen said. For competitions, the steps are choreographed and dancers must complete the steps in time to the rhythm of the music, he explained.
Coen competes in a variety of styles of ballroom dancing, including the Rumba, the Cha Cha, the Tango, the Bolero, the Viennese Waltz, the Texas Two-Step, West Coast Swing and East Coast Swing.
"I like it all," Coen said. His standard answer to the question of which he likes best is, "The one I'm doing now."
For competitions, Coen partners with one of his dance instructors. "When you go to a competition, you and your instructor look over what dances are available that you want to compete in," he said. Before the competition, "You practice like mad."
Dancers earn points for each dance category they compete in, Coen said.
"Ballroom dancing is a lot like ice skating," he said. In some competitions, there are closed heats where all the competitors perform the same choreography, followed by an open heat where they can perform their own choreography.
Coen began competing, and "I gradually started working my way up."
Over the years, he has earned "reams and reams of trophies" and other prizes, he said.
But the trophies aren't the only pay off. It's a great way to stay in shape, Coen said. "I'm an 88-year-old guy. I don't know many who can do a Viennese Waltz where you twirl around and go across the floor at a hundred miles an hour.
"And it gives you something to do," Coen said.
Before the COVID-19 pandemic forced people to keep socially distant, Coen would dance four or five times a week. That's been put on hiatus for now. "How can you do ballroom dancing and stay 6 feet apart?" he asked.
Coen spent most of his life as an aeronautical engineer, working for several companies that manufactured both private and military jets, including AVCO in Nashville, Gate Lear Jet and Lockheed. He retired in 1994 as vice president of engineering for the company Avions Marcel Dassault. Throughout his career, Coen joked, "I was an aeronautical bum. I was chasing the latest developments in aircraft."
His interest in aircraft and flying began as a child, when he was growing up in East Nashville and was a parishioner at Holy Name Church.
When he was young, Coen said, "you could build model planes with an engine and fly them. I built tons of those models."
He received a scholarship to study aeronautical engineering at Catholic University, which was the first school to have a wind tunnel on campus, Coen said.
Coen stays close to his Catholic faith. He is a member of the Serra Club of Nashville, an organization that supports vocations to the priesthood and religious life, and he attends daily Mass at St. Henry.
His brother, Father Bill Coen, is a Trinitarian priest, and a cousin, Sister Mary Jerome, O.P., was a member of the Dominican Sisters of St. Cecilia, Coen said. "I've got seven kids. All my kids are still active" Catholics, he added.