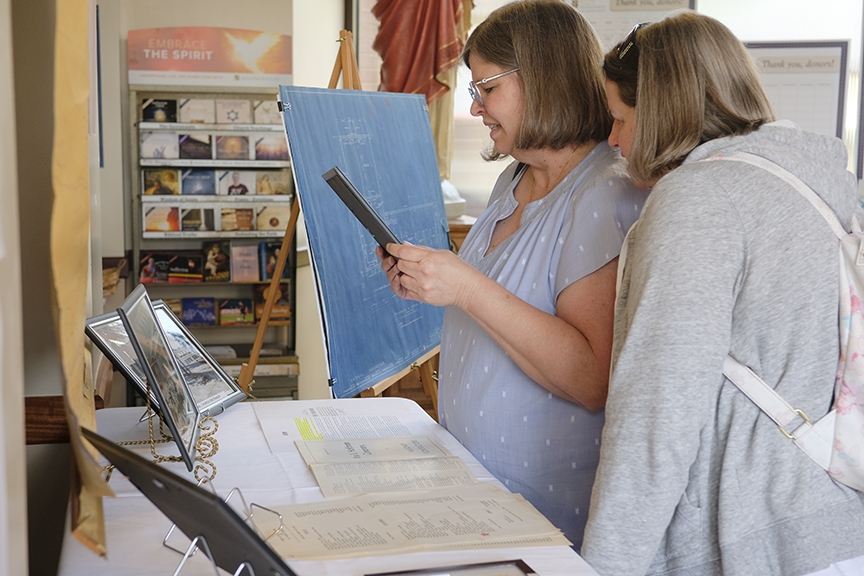 Seventy years ago, 10-year-old Clair Petre Ivanov sat with her parents and eight siblings in a small chapel as Father George W. Rohling celebrated the first Mass at St. Joseph Church in Madison in June 1953.
Seven decades later, she remains a proud parishioner of the church, living in the same home that she grew up in.
"It's the community of worshippers and the legacy that I've been given," she said of her love of the church.
St. Joseph celebrated the 70th anniversary of the first Mass the weekend of June 24-25, with a display in the narthex featuring several pictures, including the first graduating class of St. Joseph School, the inaugural First Holy Communion class, the first May Crowning, the original church entrance, and more. Additionally, there was a write-up of the history of the church, the first year's financial report, and the first prayer for the parish.
St. Joseph Church was first established in 1952 as the result of the division of Holy Name Church in East Nashville to accommodate the growing membership of the church. Msgr. Joseph Siener, then-pastor of Holy Name, helped initiate the new church.
Patty Warner Self's family was one of those who helped with that process, with her parents, John and Patsy Warner, donating funds and time toward the initiative.
"They did whatever was needed to be done and were continually active through all their years," explained Self, who remains a lifetime member.
In the parish's beginnings, the 178 registered families came to Mass in an eight-room building with four rooms used for the church and four rooms used for the school, which opened in the fall of 1953 under the direction of the Dominican Sisters of St. Cecilia Congregation, with 160 children enrolled in the first year. It would later expand to include four more classrooms.
Petre Ivanov, whose family came to St. Joseph from the Church of the Assumption in Germantown, was one of those children. She later graduated in 1956, and her eight siblings soon followed behind.
Later, she would go on to watch her own children, Mary Kelly Vicars and Ivan Ivanov, attend the school as well.
"It's quite a legacy," she said.
The case is the same for Self, as she and her five siblings went on to graduate from St. Joseph School, as have all six of her children, and two grandchildren, with three more grandchildren still in attendance.
"It is awesome" to see the tradition continue through the generations, said Self. "There is nothing better. It's just amazing that my children and grandchildren are doing the same things I did there and getting all their sacraments here. It's just so exciting."
By December of 1959, both St. Joseph School and Church were becoming overgrown, so groundbreaking ceremonies were held, with the cornerstone for the new church and school being laid on Dec. 4, 1960. The campus was later dedicated by the late Bishop William L. Adrian on May 1, 1961.
Ever since, the church has only continued to grow, with more than 530 registered families and individuals in the parish.
"We have had wonderful leadership from our priests, and the bishops in our assistance," Petre Ivanov said of the church's 70th anniversary. "We've always had a very hard-working laity with very strong organizations.
"We are named St. Joseph because of St. Joseph, the Worker, and that's what we are; we are workers," she continued. "We've taken that name and that legacy, and it's strong leadership, strong fellowship, and strong liturgy that's brought us to where we are."
"It's like a family," added Self. "The school and church, we have a great priest in Father Jean Baptiste Kyabuta and a great principal in Amy Lavender that work really well together, and they're doing really great things."
Pat Samour, who has been a parishioner for 33 years, agreed.
"I tell people at St. Joseph all the time, they are my church family. I have flaws, but they are overlooked. Others have flaws. I don't care because they are my family," Samour said. "That feeling is prevalent here. I also love that there is appreciation of each other and our backgrounds here. Both church and school are full of all races, and no one cares.
"The qualities that have kept St. Joseph as a family, neighborhood parish for 70 years is exactly that. It belongs to the neighborhood of Madison," Samour continued. "Without that feeling, the family bonding over the years, kids growing up together and playing and praying together, as their parents did and their kids will, wouldn't be possible."
St. Joseph's feeling of family, foundation and leadership will only continue to grow as St. Joseph Church and School continues its Together We Build Our Future to Greater Heights Capital Campaign, a multi-phase project to help build and expand St. Joseph School and Parish facilities.
The three-phases will seek to move the current school playground; build a multi-purpose center and regulation-sized gymnasium with a stage for theatrical and musical performances and a full-fledged locker room so the Room in the Inn ministry can further accommodate guests; and the renovation of the current gym into more classrooms to accommodate the continued growth in enrollment at the school once the new gym is built.
"We're looking forward to the future and being excited about what is going to be provided here," Petre Ivanov said. "We've met the challenge, we're overcoming the obstacles, and we have an opportunity to make something better for whoever comes next."
The hope for the continued future of the parish only makes that very first prayer 70 years ago just as prevalent today as it was then.
"O God, who has brought up into the church of Thy dear Son, make all in our parish a family of one heart and mind in love toward Thee; grant that our common life and work may be an example to all about us; guide our pastor and his assistants in their work; acknowledge the intercessions of St. Joseph, our patron: and keep us secure in Thy love. Amen."