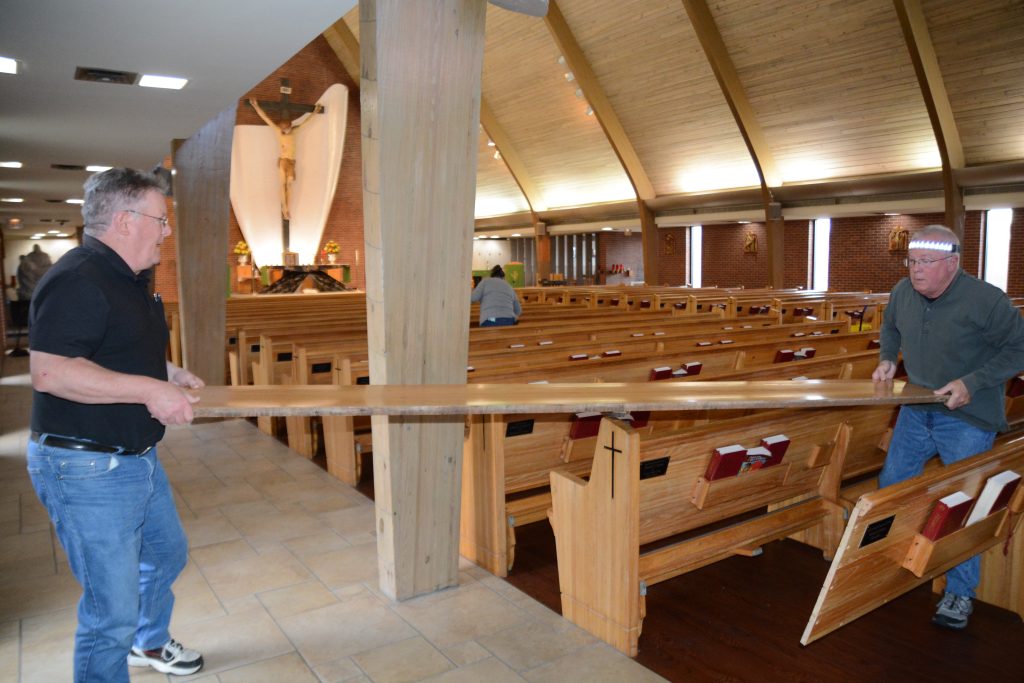 Every Wednesday for the last six months, a handful of men have been gathering at St. Joseph Church in Madison once a week to remove cracked and split pews and kneelers, take them to their home workshops to repair them, and then reinstall them.
The crew has finally worked their way through the church and completed repairing the last pew, said Steve Pentecost, the Grand Knight of Knights of Columbus Council 3763, who has led the project.
The pews are original to the church, which was built in 1960. Many were showing cracks and splits, Pentecost said.
"There were about 90 supports that were broken and some of those had multiple breaks," Pentecost said. "There were also about 12 cracked pew seats and many kneelers that needed care."
The Knights in the parish, with the help of several other parishioners, took on the task of repairing all the damaged pews, which are made of oak.
The crew has put in close to 1,000 hours of work on the project, Pentecost said.
"I underestimated the time it would take for the work, but I assured our pastor, Father Jean Baptiste Kyabuta, that we would be finished by Christmas," Pentecost said.
By taking on the project, the council saved the parish at least $20,000, Pentecost estimated. "Our guys just treated it as time and talent to the church. A bit of treasure in supplies too maybe."
The Knights Council also paid $1,200 to have two handrails built and installed on either side of the altar to assist people climbing the steps to the tabernacle. Pentecost designed the moveable handrails to not only be stable but to prevent drilling into the marble steps. Duck Welding of Nashville was the fabricator and painter.
The Knights and parishioners who have helped with the project include: Pentecost, Toby Werrbach, Bob Fogarty, Jim Droppleman, Ralph Juergens, Brian Kennedy, Dr. Pachavit Kasemsap, Jose Kurian, and Sergio Rodriguez.