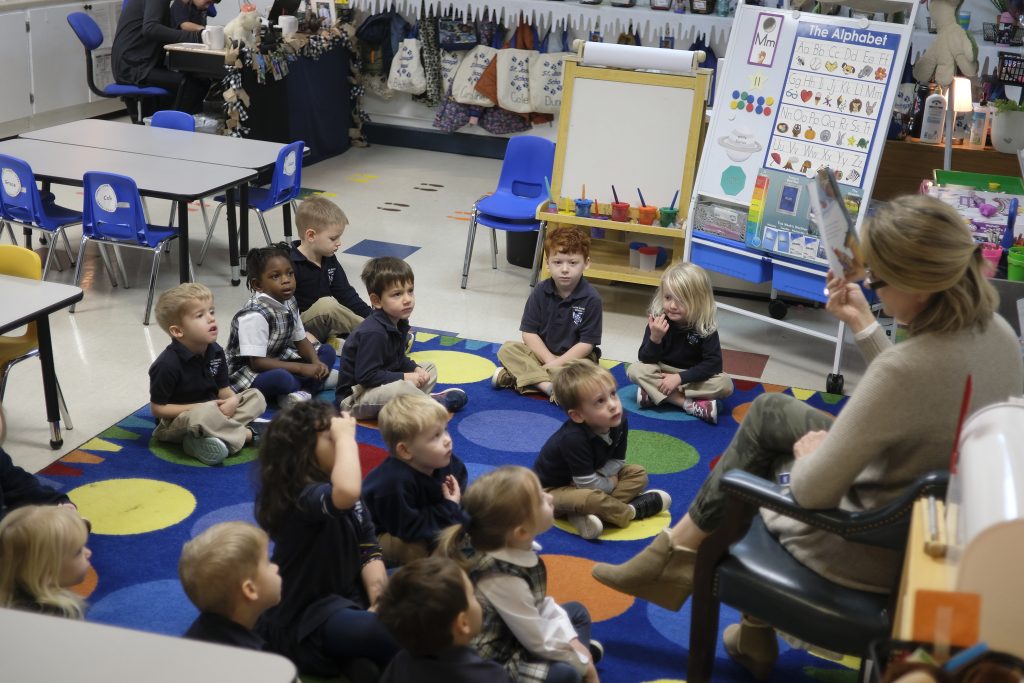 St. Joseph School in Madison is celebrating two significant anniversaries this year – the 70th anniversary of its school's founding in 1953 and the 20th anniversary of the founding of its preschool program.
The expansion of that preschool program in recent years to include 2-year-olds has provided a big boost to the school's enrollment, which has climbed to 311 for the 2022-23 academic year.
Nashville's growth has helped fuel St. Joseph's growth, and the school has seen a massive demand for its preschool offerings, prompting school officials to add classes.
The school initially operated one pre-kindergarten class for 3-year-olds and one for 4-year-olds. It first offered a class for 2-year-olds in the 2021-22 school year and this year added a class for each age group. St. Joseph now has more than 100 students in just its preschool programs.
Principal Amy Lavender joined St. Joseph two years ago and she has facilitated much of the school's expansion, recognizing that Middle Tennessee has a growing population in need of quality, faith-based childcare.
"When people walk in the door, people sense our Christian-based education and a family feel," she said. "They tell us it's warm and inviting and that teachers go out of their way to make students and families feel comfortable. We're giving a really excellent program to everyone from the age of 2.
"Our goal is to meet families when children are small, form a partnership that they'll want to continue completing their education with us, and graduate as eighth graders," she said.
"That's what led to expanding to extra classrooms last summer," Lavender said. "Daycare is very competitive in Nashville, and it works for us that we're in an area where we've made a strong name for ourselves as a preschool childcare option. We get phone calls all year long to get applications in."
As parents continued to approach and the waiting list began to grow, Lavender saw an interest in early 2022 to create additional classes, and looked to see if the school had the space and staff to meet the demand. She believed the school had an opportunity to meet the demands of East Nashville's childcare needs, and she made the decision to expand to meet that demand.
St. Joseph has more expansion in its future. The school is in the early stages of a major expansion to the campus that will involve rearranging facilities, building new additions to the school, and repurposing current infrastructure to add more classrooms.
"We're in the middle of a capital campaign, and we're doing a huge campus renovation and expansion," says Lavender. "There are multiple phases, and we're in phase one right now, which will address relocating the playground, adding two parking lots, and moving the soccer field to a different place on our 28-acre property. Subsequent phases will include a multi-purpose gym facility and the repurposing of our current gym into six additional classrooms."
Ginger DuBose, the director of the school's preschool program, notes that this school year also marked the first year a second-generation student came through the program. The son of a woman who was in the first-ever pre-kindergarten class enrolled her son in the pre-kindergarten 3-year-old class in 2022. It is also very common for families to sign up siblings after their eldest has gone through the program. Many families have continued their education with St. Joseph.
"Parents really love the program," said DuBose. "A huge testament to the program is when they come back, and they talk about it as an experience that gave them a good way to start school, learning to love to learn.
"Some parents join St. Joseph specifically for PreK. However, in time, they learn what St. Joseph is about and what a treasure they found for their children, and now they can't imagine being anywhere else," DuBose added. "That is our hope and goal."
"Our goal is to introduce new families to our wonderful community and mission so they want to stay," said Lavender. "We hope the increased Pre-K population will spread into a larger K-8 group going forward.
"Our Pre-K families and students are our best marketing tool," she said. "They are happy and eager to share with their friends, neighbors, and family the wonderful program at St. Joseph School."