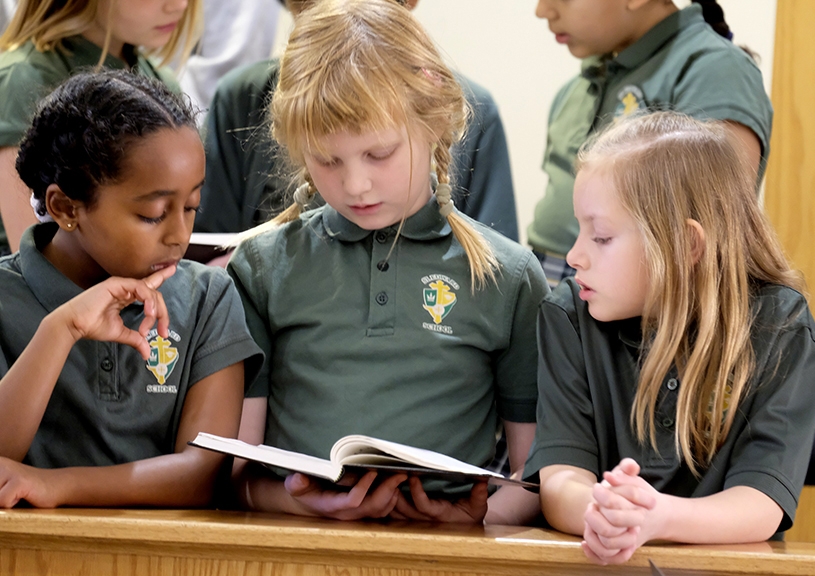 As Catholic schools in the Diocese of Nashville mark Catholic Schools Week Jan. 29 to Feb. 4, they have much to celebrate.
"We are thriving right now," said Dr. Rebecca Hammel, superintendent of schools for the diocese. "Our schools are growing and we are making Catholic education accessible to more families."
Enrollment at the 16 diocesan schools has topped 5,200, the highest point it's been in the last decade, and has increased more than 14 percent since the 2019-20 school year. Contributing to the growth has been the addition of middle school grades at Pope John Paul II Preparatory School in Hendersonville, Dr. Hammel said, "and several of our elementaries are opening their doors to younger students" such as preschool classes for 2-year-olds, she added.
"So by understanding the needs of the community and our families, we are evolving in an attempt to meet those needs in the best ways possible," Dr. Hammel said.
The growth will continue when the diocese's newest school, St. Michael Academy in Nolensville, opens in the fall of 2024.
Another source of growth has been the state's Education Savings Account program, which allows eligible families whose children are zoned for public schools in Davidson and Shelby counties to use state funds to send their children to a private school. So far 39 students are attending Catholic schools in the diocese through the ESA program, Dr. Hammel said.
"We are happy to welcome families who benefit from the Education Savings Account program because we are confident that we can make a difference for their family, " Dr. Hammel said. "If they desire a Catholic education, then we certainly want to partner with that family to make that happen. …
"When we consider the contributions our schools deliver in the way of a strong academic program, fantastic faith formation, and character development, it's not only a gift to the family but to society," she said. "These are the children who will become leaders and good neighbors in their communities, modeling their moral principles and living in service to others."
St. Edward School in Nashville is one of the schools that has benefitted from the ESA program, with 14 students participating. "I think we have the most right now in the diocese," said Susan Blankenship, principal at St. Edward.
With more applicants for the 2023-24 school year planning to participate in the ESA program, Blankenship expects the number of participants at St. Edward to grow.
"ESAs have opened up a whole new world for families seeking a Catholic education who otherwise couldn't afford it," Blankenship said.
Many of the St. Edward families who are participating in the ESA program are parishioners at St. Edward Church, Blankenship noted. "I know that this has really helped us serve our Burmese community that is part of our parish."
Peter Kaapnou's family is among those who have benefitted from the ESA program. With the financial assistance from the state, he was able to enroll his son Khai Tang in kindergarten and his daughter Mang Lun in third grade at St. Edward.
"They've been wonderful additions to our schools," Dr. Hammel said of the families participating in the ESA program. "We're happy to welcome them.
"I think the challenge in the program is that not enough people know about it yet," she said. The Catholic Schools Office is partnering with the American Federation for Children and the Tennessee Campaign for Achievement Now to help market the program.
A bill has been introduced in the General Assembly that would broaden the eligibility requirements for the program, which would allow more families to participate, Dr. Hammel noted. "We'll have to see where that goes, but I would love to see the program expand throughout the state, because children and families deserve a choice of where they go to school."
'We are better together'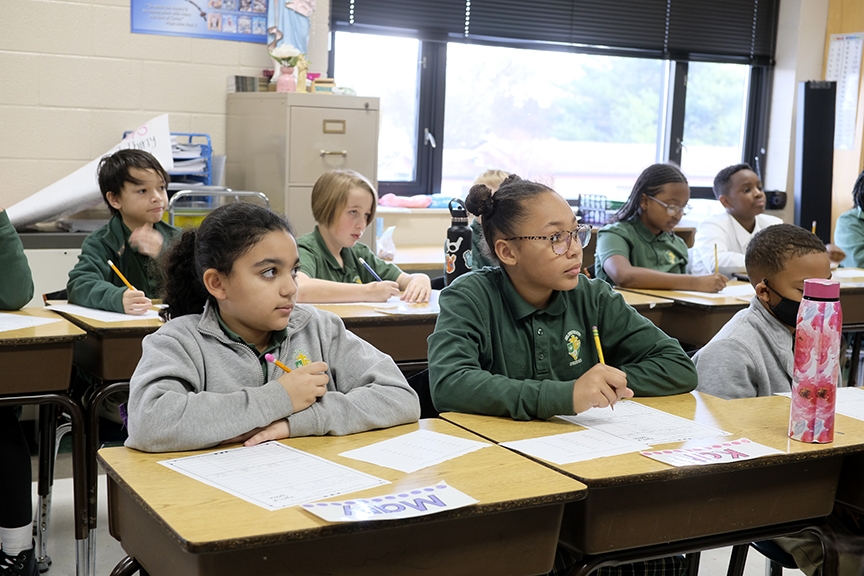 Since coming to the diocese in the summer of 2018, Dr. Hammel has worked to increase collaboration between the Catholic Schools Office and the individual schools, "to operate more as a system of schools," she said.
"As Bishop (J. Mark) Spalding often says, we are better together," Dr. Hammel said.
The Catholic Schools Office is using its resources to help individual schools operate more effectively and efficiently, she said. "To that end, we first started with the marketing and branding of our Catholic schools. We developed a Catholic Schools Office strategic plan, formed the Catholic Schools Advisory Council, and brought people together in meaningful ways to help tell our story and strengthen our schools."
The goal, Dr. Hammel said, is to provide assistance to the schools "while respecting local leadership and the unique aspects of each school community."
Several schools are preparing for new leadership. The diocese has engaged Carney Sandoe and Associates to lead the searches for the president of Pope Prep and for the principal for St. Michael Academy.
"Both of the searches are in the phase of narrowing down candidate applicants to bring in for interviews," Dr. Hammel said. "Once that begins, the processes will pick up quickly. I anticipate naming leaders by the end of March, which is perfect timing for us."
Father Ryan High School has also hired Carney Sandoe to help with its search for a new principal, after Paul Davis moved from that position to become the school's president last year.
"It's also progressing," Dr. Hammel said of the Father Ryan search, and a new principal is expected to be named in the coming weeks.
Immaculate Conception School in Clarksville is also looking for a new principal. At the beginning of the school year, the former principal informed diocesan officials she planned to step down at the end of 2022, Dr. Hammel explained. Efforts to hire a new principal in time to begin in January 2023 were difficult because most candidates are already committed to their current schools through the rest of the school year, she added.
"We have since opened that search again," Dr. Hammel said. The position is being advertised nationally, and she expects to have a new principal named later this spring.
The positions at all the schools have generated much interest, Dr. Hammel said. Several factors are helping to attract candidates, she said. "Nashville is growing, that's attractive. There is a dynamic energy and spirit in our diocese, and that's certainly appealing to candidates. And the opportunities themselves are very exciting because they offer the ability to truly impact a school community. So I think that's especially enticing to our candidate pool."
Also, Dr. Hammel said, "People are looking to serve in roles that honor human dignity," which is core to the mission of Catholic schools.
"Being able to live your faith out loud is a gift," Dr. Hammel said, "and I think that's a draw for our families, and I think it's a draw for our employees, and certainly school leaders."
With the Catholic schools in the diocese on an upward trajectory, "we just look forward to continued growth and expansion," Dr. Hammel said. "It's a very exciting time to be part of this diocese. We certainly look forward to the future successes of our school system."