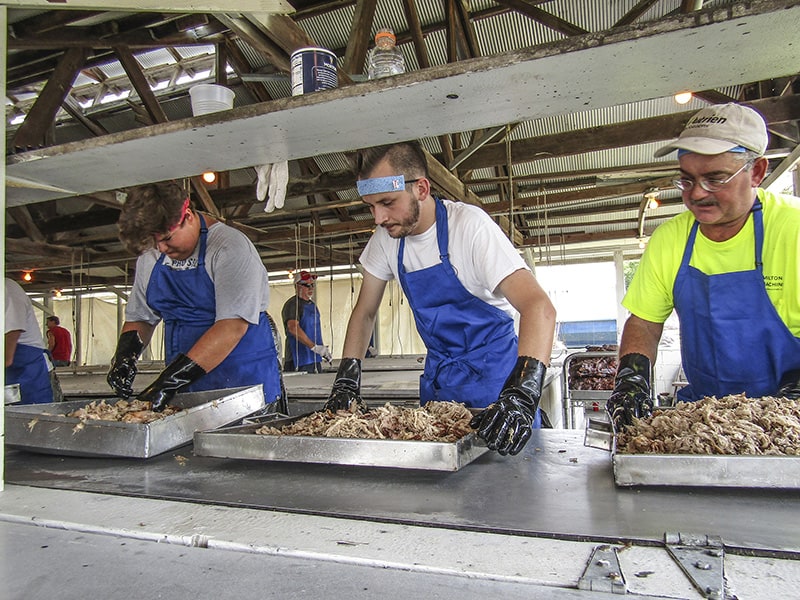 The COVID-19 pandemic may have upended the world, but it won't stop the 138th annual St. Lawrence Barbecue.
The usual picnic will be replaced by a drive-through sale of St. Lawrence's famous barbecue, sauce, desserts and side dishes, which will be held noon to 7 p.m. Saturday, Aug. 1.
"We've done it so many years, we held off" deciding how to move forward amidst the coronavirus, said Marcia McGinnity, one of the co-chairs of this year's event with Tom Wagner and Judy Colorigh. "It got to the point that there had to be a decision. We talked about changing the date. We talked about skipping it all together. We talked about the drive-through.
"This has been a good compromise," McGinnity said. "We've been doing a drive-through for years."
When people drive up to St. Lawrence Church on Clarksville Highway in Joelton, a volunteer will hand them a menu so they can fill out their order, McGinnity explained. After turning in their order, more volunteers will fill it and hand it to them.
"Nobody will have to leave their cars," McGinnity said. "We'll have two lanes of cars (making orders) if all goes well."
As a further protection, volunteers will be questioned about whether they have been experiencing any symptoms of the COVID-19 virus, will have their temperature checked, and will be wearing masks, McGinnity said.
"We have purchased special masks for the people who will be interacting with the community," McGinnity said. "It has a clear mouth area so you can read lips and see smiles. Nobody likes the fact that you can't see faces."
The menu for the drive-through sales includes pulled pork and whole pork shoulders that will be sold by the pound, bottles of the special St. Lawrence barbecue sauce made from a secret recipe, baked beans, cole slaw, pies and cakes sold whole or by the slice, and tea sold by the half gallon.
"We'll keep going until 7 or we run out of barbecue," McGinnity said.
There also will be a drawing for the $500 Grand Award Giveaway at 7 p.m.
The proceeds from the barbecue sale will once again be used to subsidize the cost of a Catholic education for parishioners' families, McGinnity said.
Work is already under way to get the parish ready for the barbecue sale. "They've already been stacking the wood and cleaning the pits getting everything ready," McGinnity said.
St. Lawrence Church is located at 5655 Clarksville Pike in Joelton.
For more information, visit: www.stlawrencejoelton.com/138th-annual-bbq-picnic.