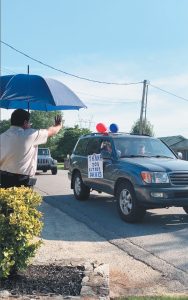 The parishioners of St. Catherine Church in Columbia wanted to give their pastor, Father Davis Chackaleckel, MSFS, a proper sendoff to his new assignment as pastor of St. Stephen Church in Old Hickory.
But the COVID-19 pandemic and the resulting limitations on public gatherings made the typical parish luncheon or dinner impossible. "We really wanted to have a cake and food and all that, but we couldn't," said Pat Jakubisin, the receptionist at the church office.
Instead, parishioners surprised Father Chackaleckel with a parade past his rectory on Sunday, July 19.
"I saw the lights flashing and the cops' cars were there. I thought somebody got a ticket," said Father Chackaleckel. "Then I saw a parishioner taking a video of me."
The cars passing by were decorated with balloons and signs saying "We love you" and "We'll miss you."
"It was very emotional," Father Chackaleckel said. "It was a great display of feeling and made me feel as a shepherd that's what you're looking for, and something I will treasure when I leave this place on Sunday."
The organizers of the goodbye parade were inspired by an article that made the case that even in uncertain times like these, some events are still important to recognize, including the departure of a pastor, explained Terri Bailey, the bookkeeper and secretary at St. Catherine.
"We got so much feedback from the parish that we need to do this for Father Davis," she said. "There's a lot of people who haven't made it back to Mass and wanted to say goodbye to Father Davis."
At the weekend Masses on July 18-19, parishioners presented special recognitions to Father Chachaleckel from the parish and community groups, including: a proclamation from the City of Columbia honoring him; a testimonial from Lyndall Probst, a chaplain at Maury Regional Medical Center, about Father Chackaleckel's willingness to drop everything and come to the aid of a patient when needed. Gary Fisher, the Grand Knight of Knights of Columbus Council 7447 at the parish, presented Father Chackaleckel with a plaque in honor of his service to the parish; the Ladies Ministry group at the parish presented a papal blessing from Pope Francis; Kurt Kristensen of the English Language Learner program at Woodard Middle School spoke about the support of Father Davis and the parish for the program; and representatives of the parish council, finance board and stewardship committee all presented gifts.
The parish also distributed to parishioners at the weekend Masses a flashlight engraved with Father Chackaleckel's name and one of his favorite quotes, "Bloom where you are planted," Jakubisin said.
On Sunday evening, parishioners gathered at the church for the parade, which was led by Joe Yzaguire, a Maury County Sheriff's deputy and parishioner. Fifty-four cars participated in the parade.
"Father at first wasn't sure what it was," Jakubisin said. "Once the cars started going by, he started to get into it. … It was really great."
Among those who helped organize the send-off were Jakubisin, Director of Religious Education Jeannette Sparkman, Deacon Ray Siebold, Deacon Dan McCulley, Deacon Price Keller, Parish Council Chair Lynn Reed, Finance Council Chair Gerald Hamm, Stewardship Committee Chair Dr. Albert Domm, and Kevin and Ken Thompson.
Father Chackaleckel was born in India and according to family tradition, his ancestors are believed to have been baptized by St. Thomas the Apostle, who brought Christianity to India.
He was ordained as a priest for the Missionaries of St. Francis de Sales religious order in November 1980. He served for the next 15 years in the Catholic missions in the remote tribal belt of northeastern India near the borders with China and Myanmar. He later served as the rector of a Fransalian minor rectory.
He came to the Diocese of Nashville in 2001 and was appointed as the pastor of St. Francis of Assisi Church in Dover. In 2006, he was appointed pastor of St. Catherine.
"It's hard to say goodbye to that," Bailey said. "You have to have a way to say goodbye when someone's been guiding you that long."
Father Chackaleckel will begin his new assignment at St. Stephen on Monday, July 27.