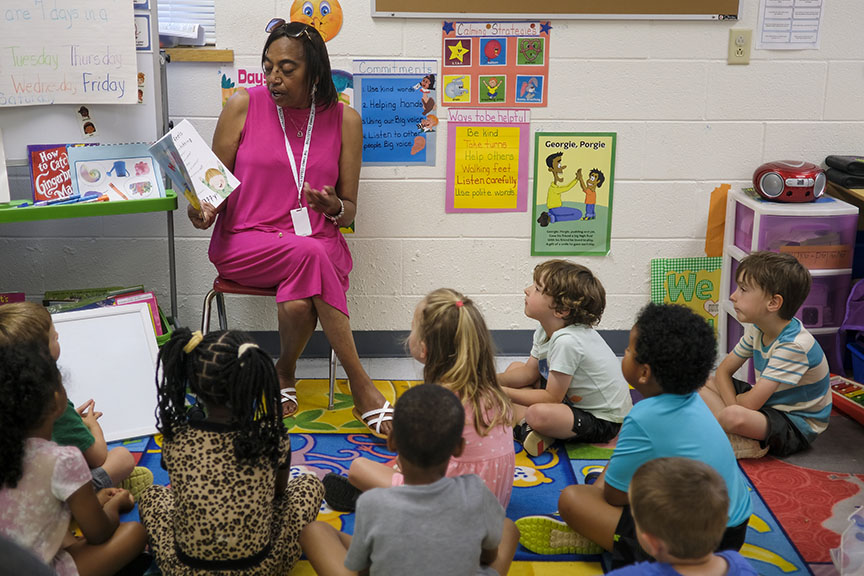 Although the COVID-19 pandemic left so many child development centers around the country with no option but to close their doors, St. Mary Villa Child Development Center continued to thrive. It now is preparing an expansion to accommodate the growing need for quality child care.
"St. Mary Villa provides licensed, '3-star' rated (the highest rating awarded by the State of Tennessee) full-time childcare," according to the official website. "Our formalized approach to child development is centered around educational 'play' in a nurturing environment. We tailor programs according to each child's needs, based on evaluation and strategic planning activities."
Currently, St. Mary Villa is operating 12 classrooms in the former St. Vincent de Paul School building, teaching 157 children ranging in age from 6 weeks old to 5 years old, with plans to open a 13th classroom in August, to serve some of the more than 300 families currently on the waitlist.
"This is the third time we will have expanded since I've been here," explained Alyssa Garnett-Arno, St. Mary Villa executive director, who came on in 2019. "When I started here four years ago, we were only downstairs, and we only had five classrooms" accommodating about 60 students.
The COVID-19 pandemic is part of the reason for the growth that has been seen in recent years, she said, because more families who no longer had other options available started to come to St. Mary Villa.
"The pandemic had a huge role in people's ability to stay open," Garnett-Arno explained. "Many run from child care payment to child care payment. We were lucky because we had outside funding helping us," like United Way, a regular contributor, as well as temporary help from Catholic Charities, and the Diocese of Nashville, of which St. Mary Villa is officially a ministry.
"During the pandemic, I know people were scared, but we stayed open. We have many families that were those essential employees," she said, "so, we felt it was important for us to be part of the community during that time when people were scared and be that place that was stable. You can't go to work if you don't have childcare."
She noted how that included earning a new level of trust among parents as they were unable to come into the building during that time. This allowed for St. Mary Villa to find ways to better serve families, which included starting the ProCare app that allows parents to communicate with teachers during the day, check up on what happened during their child's day, as well as see pictures and videos.
"You literally have an idea of how your child's day was before you even get here," Garnett-Arno said. "The app has helped us improve our communication."
The growth was so extensive just during the pandemic, that St. Mary Villa's license with the State of Tennessee expanded to allow them to open additional classrooms on the second floor of the building, for children 3 years old and up.
It allowed the center to continue the mission it started more than 150 years ago.
Focusing on the whole child
St. Mary Villa has focused on the whole child from the very beginning of care.
Instead of moving at the beginning of each school year, Garnett-Arno said moving up to a new classroom, especially for infants to 3-year-olds, is based on development and age. Using the Frog Street and Conscious Discipline programs, St. Mary Villa focuses on developmental skills, social-emotional skills, fine motor skills, gross motor skills, pre-reading skills, and more.
Much of this is done through play, she said. "That's how they learn to socialize, to share, to communicate, outside of our structured learning times that the teachers provide for them."
Through this daily effort, St. Mary Villa is able to track how the child is developing, and if there seems to be an area that is lacking, be it speech, or motor skills, "we can share that data with parents. Our job is to give parents guidance and point them to the resources they may need to help their child be successful," Garnett-Arno explained, noting how it would often take months of appointments to come to the same conclusion with a pediatrician.
"We see these kids every day, and we can give them resources and things that will help them be successful as parents and as caregivers," she continued. "Parenting takes a village, and this is just a small part of that."
"We're taking care of the whole child, and it doesn't end at the child," Garnett-Arno continued. "We take care of the whole family."
It is this successful approach that has led to such an extensive waitlist of families who want to work with the St. Mary Villa staff that, on average, has a tenure of 14.5 years amongst them, with two staff members in their 37th year.
"Our parents tell other parents to get on the waitlist," Garnett-Arno said. "Parents do the marketing for me. Most of our waitlist applications say it's because somebody told them to come here."
"These classrooms are real life. They're about as real as they get," she said, noting the wide range of diversity across the families including racial and ethnic diversity, as well as socio-economic differences. "In this building, everybody brings something different to the table, kids and parents."
Because of regular events, which approximately 95 percent of families attend, parents receive support outside the classroom, too, Garnett-Arno said.
"They leave here with social capital because we have events where they get to be part of their child's school with other parents that they see on a daily basis, but they may not have the time to have a conversation with," she said. "By giving them a place to meet on neutral ground, it's not as awkward as if they meet at a birthday party between two friends.
"For families who don't come from a huge village or don't have a lot of support, that social capital alone is important," she added. "That's something they need."
As they work to accommodate the growing need for childcare, Garnett-Arno said St. Mary Villa has high hopes for the future.
"St. Mary Villa is looking to expand in other places and other avenues because we know that there is a need and the city needs more childcare," she said. "Childcare is part of the infrastructure and there is not enough of it, especially for families that are on assistance and need immediate care but can't find the resources."
St. Mary Villa provides full-time childcare from 6 a.m. to 6 p.m. Monday through Friday, as well as after-school care at St. Ann School in Nashville. Cost is based on a family's income, but St. Mary Villa also accepts Tennessee state assistance.
For more information or to join the waitlist, visit stmaryvilla.org.