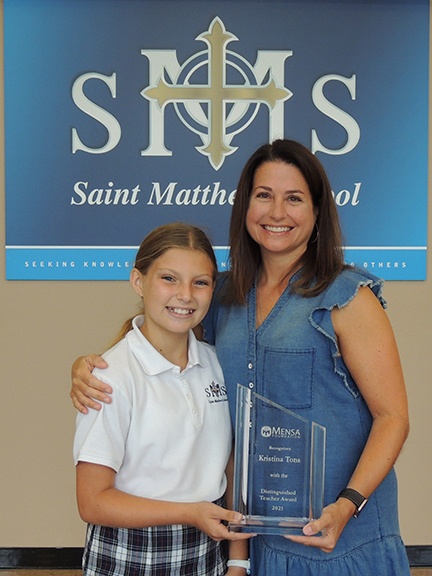 Molly Maguire used to dread science class. That changed when the sixth grade student at St. Matthew School in Franklin entered Kristina Tons fourth grade science class.
"She makes us see science in a real and exciting way," Maguire, now in the sixth grade, wrote in her nomination of Tons for the Mensa Education and Research Foundation's Distinguished Teacher Award. "She turns her passion for teaching science into our passion for learning science." 
On the strength of Maguire's nomination, Tons has been named the winner of the 2021 Mensa Foundation's Distinguished Teacher Award, which recognizes a teacher, professor or instructor at any educational level who has had an especially positive influence on the education or life of a Mensa member. The 2020 winner was a professor at Southern Connecticut State University, and Tons was the first Catholic school teacher to receive the award.
"It's such an honor because it came about from one of my students," said Tons, who teaches fourth and fifth grade science and fourth grade religion at St. Matthew. "Last year, she presented me with this beautiful letter telling me she had nominated me. … It was such a beautiful letter, I cried. I was really touched." 
In her nomination, Maguire wrote: "My teacher has made me think of things in new ways that have stretched my learning and my wondering about how things work. She has given me the confidence to actually consider a career in science, and has challenged me to think about how I can use my interest and skills to make the world a better place.
"My teacher has empowered me to believe that I 'can do' science, that I am good at it, and that I might just do something important with science in my future," she added. "I am nominating my science teacher for this special award because she has made a difference in my life. The really cool part of it though is that only time will tell how the difference she has made in my life might someday make a difference for the rest of the world and make it a better place." 
"My whole life as a teacher, my goal has always been to make a difference," Tons said. "I think every teacher wants that."
Tons is in her 21st year of teaching and her 10th year at St. Matthew.
Growing up in California, Tons decided she wanted to be a teacher early. "I grew up as a dancer, and would teach, even in high school, dance classes to the little ones," she said. "I loved that. I knew … I wanted to be a teacher."
She graduated from Fresno State University and received a teaching credential from California State University, Long Beach. It was in one of her education courses that a professor showed Tons and her fellow students how to use hands-on activities to teach science. She knew that was the approach she wanted to use, Tons said. 
"As a teacher I try to bring science to life for my students," Tons said, using hands-on activities "so kids can actually touch science."
To teach her young students about the scientific method, she pulls from "Willy Wonka and the Chocolate Factory." Using the scientific method, her students conduct experiments to determine if the Everlasting Gobstopper is indeed everlasting.
They learn what a hypothesis is and how to test it through experiments, and they also compare it with other types of candy, Tons said.
"They can visibly see that scientific method come to life," she said. "They tend to remember what the scientific steps are. Once you put that in place, they are going to use that in every science course they take through college."
To learn about the three states of matter – gases, liquids and solids – Tons fills balloons with air, water and frozen water, she explained. She asks them to pop the balloons and record how the states of matter react.
The students can peel the balloon off the ice, then watch it melt, turning from a solid to a liquid, and eventually evaporate, turning from a liquid to a gas.
The lessons have had a lasting impact on Maguire and Tons' other students. "Another reason why my classmates and I respect our science teacher is because she really knows and loves science," Maguire wrote. "She knows all about the different topics that she teaches us.
"When my teacher has a STEM lab planned or a special in-class experiment, she is so excited to teach the lesson to her students," Maguire added. "She never makes her students feel like she does not like what she is doing. You can tell every day that this teacher really does love science and loves teaching fourth and fifth graders to love science, too."
Tons is just as impressed with Maguire. "She's a really bright little girl," Tons said. "She's an amazing model student. … Her work was always beautiful and well thought out."
Tons knew Maguire was an excellent science student, but until she shared her nomination letter, "I didn't realize what a gifted writer she was."
During the summer, representatives from the Mensa Foundation called to interview Tons, she said. "I didn't think anything further would come from that."
So, she was surprised earlier this school year when St. Matthew Principal Tim Forbes arrived at her classroom with her award. "It's so humbling."