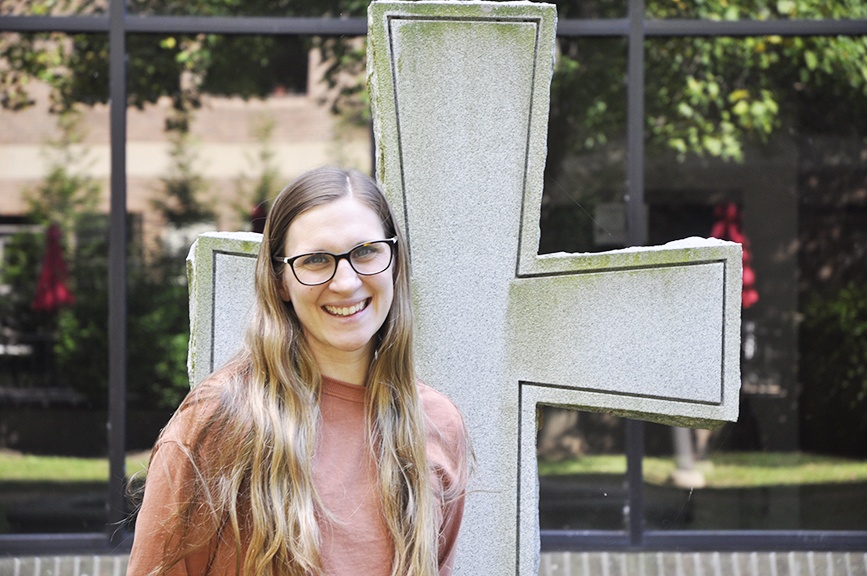 It was a leap of faith for Shelby Conner when she applied for the Assistant Director of Faith Formation for Youth and Young Adult Ministry position with the Diocese of Nashville.
"I was hesitant to apply, but I just took the dive and here we are," Conner said, as she reflected on her first week in the new position. "I've loved getting to meet the people within the diocese, and I'm excited to see everything that we're planning come to fruition."
Conner moved to Nashville from her hometown of Ocala, Florida, with her husband, Daniel, and their two children, 3-year-old Finn and 1-year-old Lily, in June after environmental scientist Daniel got a job with Barge Design Solutions, an environmental consulting firm.
"We weren't looking for Nashville. It just fell into our laps," Conner said. "So far, we have loved living in Nashville. We have been exploring nearby parks, festivals and a little bit of downtown."
In the fall of 2015, Conner received a Bachelor of Arts degree in Theology and Catechetics from Franciscan University of Steubenville in Steubenville, Ohio.
"I originally went to Franciscan University with a plan to join the nursing program, but I didn't end up having a passion for it," Conner explained. "The academic adviser at Franciscan encouraged me to apply to be a summer missionary for a LifeTeen Summer Camp in Georgia to see if I could make it into the program."
She did and ended up serving as a summer missionary for two years.
"Serving as a summer missionary is when I fell in love with the idea of youth ministry. I enjoyed helping the teens grow in their relationship with God and just being there for them," she said. "After my first summer, I decided to go back to Franciscan and change my major to Theology and Catechetics."
Conner said that interest was only heightened after taking the theology courses at Franciscan.
"I just fell in love with the way that they taught the faith, and I wanted to be able to do that as well," Conner said. "The Catholic faith was taught in a way that was so welcoming and exciting that it made me want to do that myself."
Following her graduation from Franciscan University, Conner fulfilled her goals teaching middle school religion for one year at Queen of Peace Catholic Academy in Gainesville, Florida, and then serving four years as the coordinator of Youth and Young Adult Ministry at Blessed Trinity Catholic Church in Ocala before her family relocated to Nashville.
Now, Conner said, she's excited to bring her previous experiences to this new role with the diocese.
"Learning what I learned in youth ministry, I'm excited about being able to take that experience and guide, mentor and support youth ministers throughout the diocese," Conner said. "I think it is really important to establish relationships with the parishes, and I look forward to getting to know the youth ministers throughout the diocese.
"I'm also excited to form relationships with the teens we serve and to present the faith to them in a way that is understandable and applicable to their lives."
In her new role, Conner will help with the SEARCH program, plan for trips such as the National Catholic Youth Conference and March for Life, and more.
"We are very excited to have Shelby join our Faith Formation team as the new Assistant Director of Youth and Young Adults," said Dr. Brad Peper, diocesan director of the Office of Faith Formation. "With her previous experience and education, Shelby will be instrumental in continuing and developing our diocesan youth and young adult programs.
"She will also help further our office's mission to serve our pastors and parishes as they foster the faith from cradle to grave," he added.
Conner said she's glad to continue in a role that focuses on the Catholic Church at its core.
"Being in an opportunity where I can truly live out the Catholic faith, because it is so misconstrued to a lot of people, is amazing," Conner said. "The Catholic Church is a family, and I'm lucky to be a part of it."
And that's only one of many reasons she said she loves the Catholic Church.
"It's hard to pick one specific thing because it's everything," Conner said. "I feel really connected with Mary, especially since I became a mom, but even before that just as a guide and model of who I want to be as a woman.
"Then, most importantly, there's the Eucharist," she added. "How lucky are we that no matter where we go, we can truly receive Jesus every time we go to Mass?"
Conner and her family are parishioners at St. Henry Church in Nashville.