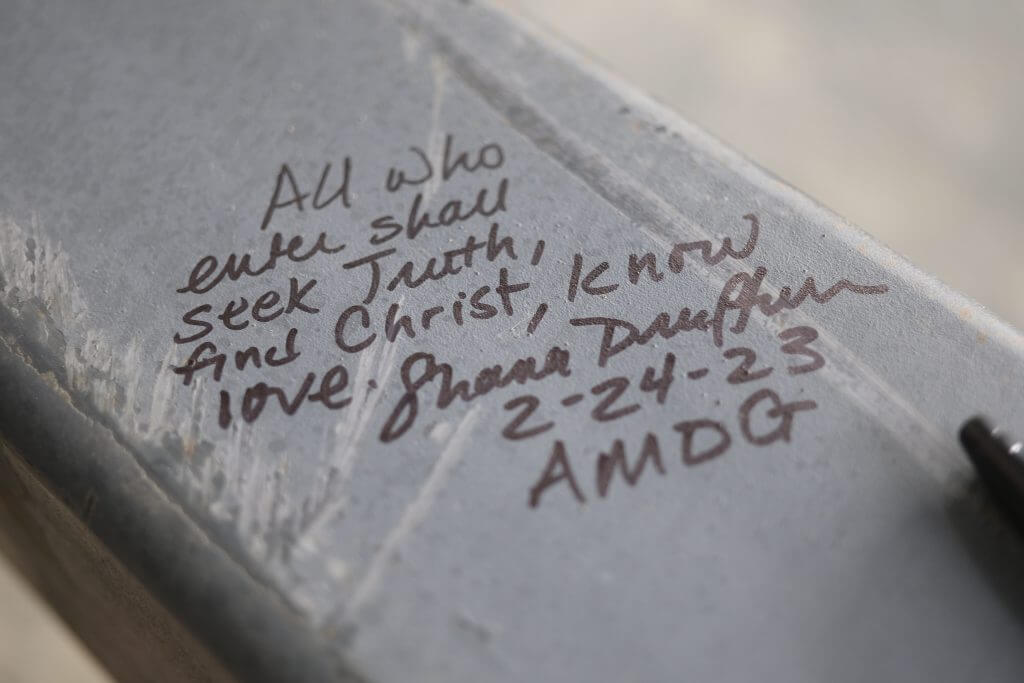 As of 12:26 p.m. on Friday, Feb. 24, the countdown continues with 235 days, 4 hours, and 38 minutes left in the construction of St. Michael Academy in Nolensville.
Representatives of the Diocese of Nashville and the St. Michael Academy Board of Trustees joined Carter Group, LLC, the project contractor, in celebrating the construction crew who have continued to put in the work to make the dream a reality during a topping ceremony Feb. 24, on the Nolensville Campus.
The topping ceremony, which included attendees signing the final beam that will be placed, completing the structural portion of the building, marked a significant milestone in the project.
"When I first arrived on site, this was nothing but green grass and farmland, but the Diocese of Nashville had a vision of a campus here to enlighten the minds of the children that will attend this school," said Dann Hall, senior superintendent for Carter Group, as he addressed the construction crew. "It is through your efforts and hard work that we are here today."
Caleb Williams, project manager for Carter Group, also addressed the crew, as they enjoyed a catered lunch in celebration.
"Thank you to all those here for the hard work you guys have put in to make this campus and this project a reality," Williams said. "I want to thank the design team for helping put that vision on the paper, so we could be out here building it. We couldn't do it without you, and we're honored to be a part of it."
The 102,000 square foot elementary school, a multi-million dollar project, sits on 166 acres of land on Nolensville Pike, and will be able to serve approximately 525 students in pre-kindergarten through eighth grade.
Expected to open in August 2024, the building of the elementary school is the first of three phases as the Nolensville Catholic Campus continues to develop. Phase two will address the need to build a home for Mother Teresa Catholic Church, which will start meeting for Mass in the school once construction is complete. Phase three will focus on the construction of a high school. The timing, design, and cost of the second and third phases of the project are yet to be determined.
The Diocese of Nashville recently announced a major milestone on the executive end, too, as Shana Druffner was hired as the school's first principal. She will officially begin her new role on July 1.
The Nolensville Catholic Campus is one of several projects the Diocese of Nashville and Carter Group have collaborated on over the years, including the building of Church of the Nativity in Thompson's Station, and renovations of St. Philip Church in Franklin, St. Ignatius Church in Antioch, and most recently, the Cathedral of the Incarnation.
After hearing from Carter Group representatives, Dr. Rebecca Hammel, superintendent of schools, and Bishop J. Mark Spalding also addressed the crew, thanking them for helping make the diocese's dream a reality.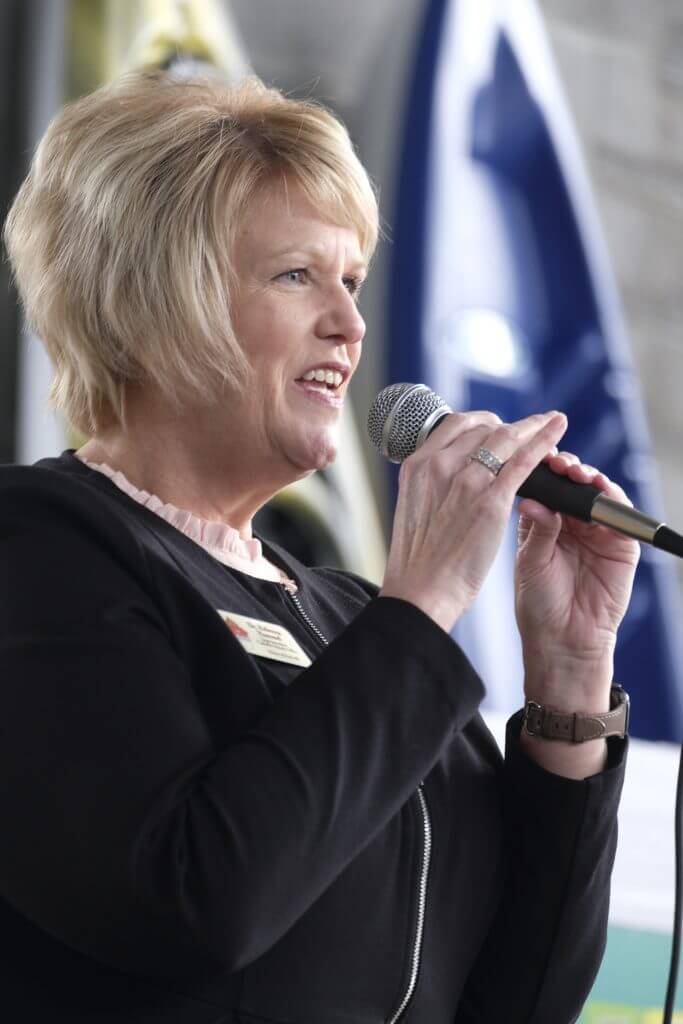 "This has been such a dream of ours for a long time now, and we are so blessed to come together with you on this day and to celebrate what good work you have done to enable our dream," Dr. Hammel said. "I want you to envision what we envision.
"Imagine when this is all finished, the landscape is in, and we're ready to open those doors," she led. "Imagine the 3- and 4-year-olds who will be learning about God and their relationship with one another, learning to read and socialize, and to become what they want to be."
Then, noting the kindergarten through eighth-grade students, she continued, "imagine all they do, the learning, the writing, the mathematics. Everything is all because of this dream that you helped us make come true," Dr. Hammel said. "So, from the bottom of our hearts, we sincerely thank you for building this beautiful place. It will be for the glory of God."
Bishop Spalding also thanked the crew for helping make a long-time dream come true.
"When people come together, share dreams with each other, make a commitment to share their gifts, their resources to make it happen, good things happen on this earth and that's what we're celebrating today," Bishop Spalding said. "Let us continue to dream. Let us continue to work together.
"This building will make sure we have children and grandchildren and great grandchildren that will be winners, that will have dreams," he said, "and be educated and formed in Christ, but also formed in the ways of God's creation and the wisdom that is found here."
For more information about St. Michael Academy, visit stmichael-academy.com.